Performance: Holland Christian's Mike Mokma
April 29, 2016
Mike Mokma
Holland Christian senior – Baseball
Mokma has accomplished more than most during a varsity career now in its fourth season. But until last week, he'd never achieved perfection. The 6-foot-6 right-hander struck out eight of the first nine Holland batters he faced April 19 in tossing his first perfect game, a 3-0 victory that also has earned him the Michigan National Guard Performance of the Week.
Mokma has helped his team to District championships the last two seasons, and last spring despite an injury that briefly kept him off the mound – although he still contributed as the team's first baseman. He's back to full strength and has started this season 4-0 with a save, an ERA of 0.53 and 40 strikeouts against only three walks, and while also hitting .425 with 12 runs batted in. He's been clocked on the mound consistently in the high 80s, topping out at 91 mph, and mixes in a curve that drops from the top of the zone and a slider that rips across the plate. Over the last three seasons, Mokma is 12-3 with a 1.07 ERA and 153 strikeouts with only 24 bases on balls; he's also hit .410 with 17 doubles, three triples and three home runs. He finished his perfect game with 15 strikeouts, and Holland Christian now stands 14-2.  

Also the center on the Maroons' basketball team, Mokma has had his heart set on a college baseball career since elementary school and committed to Michigan State University during the fall of his sophomore year. He carries a 3.3 grade-point average and will major in kinesiology – but has some unfinished business first as he hopes to help a strong senior class carry the team into this season's final week for the first time since 2006.
Coach Jim Caserta said: "When your best pitcher is a leader, it sets the tone for the whole team. We have a lot of confidence when Mike is on the mound. There's some pressure that comes with that, but he's handled that great. He's contributed not only pitching, but batting as well. But more importantly than that, he's supported his teammates. Really this year, he's seen the importance of being a senior leader and taking ownership of the team. We have a nice group of seniors; Mike has contributed a lot the last four years, obviously, and for him and the other seniors being the guys leading the team, it's great. He's a baseball guy. He studies the game and he's been around it a lot, and that carries over to his teammates."
Performance Point: "It was always a childhood dream of mine to throw (a perfect game), and I had put a lot of work into it. I didn't know (I was close) until the seventh inning, to be honest. With one out, there was a ground ball to second base and our second basemen (Brandon Riemersma) made a heck of a play on it. Our third baseman (Josh Sternberg) turned to me and took a huge deep breath and said, 'You've got a perfect game going.' From there, the adrenaline started pumping a little bit. … The pitch calls, our catcher (David Williams) did a heck of a job with that; it was probably the best game he's ever called. Our coach had a big deal with that too, suggesting stuff to throw. The off-speed, the curveball, was probably the best it's ever been."
Swing and miss: "Besides the fastball, (my favorite pitch) is probably the slider. Just to see the swings and misses on it, they're not always the prettiest."
Dreams come true: "I've wanted to go somewhere for baseball since I was 6 or 7. It's just been a dream of mine. My dad (Scott Mokma) played baseball through high school, and it was a big thing for me. … (MSU) is where I always wanted to go. My grandpa (Earl Mokma) was a big Spartan fan, my dad is a big Spartan fan, and I grew up a big Spartan fan. When they called and I got the offer, it was a no-doubter."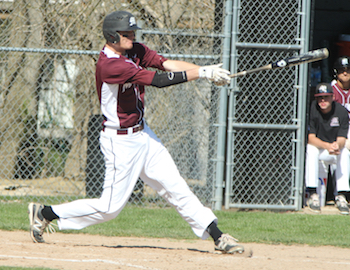 Lead the way: "The goal has been to win in Districts and Regionals, but we have a long way to go to get there. We have to put in a lot of work, but it's been a good year so far; we know where we want to be, and we've got to put in a lot of work the next couple of weeks. I've been given a leadership role, and our coach has stepped back and told us seniors to take over with that. When someone isn't hustling, he tells us to get on them. We ask them where they want to be in life, where they need to be specifically in baseball for us to be able to win. They usually get on it."
Changing lives: "I want to do something with physical therapy or be a massage therapist. I've been going to a guy in Zeeland who is a massage therapist and I've gotten to know the guy really well, and it interests me. You can do a lot of different things, not just work on people, but see how their lives are and make a difference in their lives."
– Geoff Kimmerly, Second Half editor
Every week during the 2015-16 school year, Second Half and the Michigan National Guard will recognize a "Performance of the Week" from among the MHSAA's 750 member high schools.
The Michigan Army National Guard provides trained and ready forces in support of the National Military Strategy, and responds as needed to state, local, and regional emergencies to ensure peace, order, and public safety. The Guard adds value to our communities through continuous interaction. National Guard soldiers are part of the local community. Guardsmen typically train one weekend per month and two weeks in the summer. This training maintains readiness when needed, be it either to defend our nation's freedom, or protecting lives and property of Michigan citizens during a local natural disaster. 
Previous 2015-16 honorees
April 20: Abby Divozzo, Cadillac girls soccer - Read
March 30: Cassius Winston, Detroit U-D Jesuit boys basketball - Read
March 23: Kierra Fletcher, Warren Cousino girls basketball - Read
March 16: Jacob Montague, Grosse Pointe South swimming & diving - Read
March 9: Kyle Tuttle, St. Charles boys bowling - Read
March 2: Brittney Schnicke, Caledonia girls bowling - Read
Feb. 24: Kamari Newman, Detroit East English boys basketball - Read
Feb. 17: Jason Whitens, Powers North Central boys basketball - Read 
Feb. 10: Rachel Hogan, Grand Ledge gymnastics - Read
Feb. 3: Nehemiah Mork, Midland Dow swimming & diving - Read
Jan. 27: Mardrekia Cook, Muskegon girls basketball - Read
Jan. 20: Sage Castillo, Hartland wrestling - Read
Jan. 13: Rob Zofchak, Dexter swimming & diving - Read
Jan. 6: Tyler Deming, Caro wrestling – Read
Dec. 15: Jordan Weber, East Jordan boys basketball – Read
Dec. 8: Kaitlyn Geers, Kent City girls basketball – Read
PHOTOS: (Top) Mike Mokma begins his move toward the plate. (Middle) Mokma also is a top hitter and plays first base when he's not on the mound. (Photos by BKBrewer Photography.)