Performance: Hudson's Jordan Hamdan
March 8, 2019
Jordan Hamdan
Hudson wrestling – Senior
Hamdan became the 26th wrestler to win four MHSAA Individual Finals championships when he pinned New Lothrop's Logan Zell in 55 seconds Saturday in the Division 4 title match at 135 pounds, earning the Michigan Army National Guard "Performance of the Week." Hamdan walked off the mat at Ford Field with a record of 48-0 this season and 208-8 for his career, and with titles as well at 112, 119 and 130 pounds.  
Hamdan entered this season as one of three three-time champs in Hudson history. He had two pins and two technical falls during his final high school tournament, earning his fourth championship not long after Detroit Catholic Central's Kevon Davenport became the 25th four-time champ earlier Saturday. Like Davenport, Hamdan also helped his team reach the highest echelon this winter as Hudson repeated as the Division 4 team champion two weeks ago.

A pair of widely-respected mentors helped Hamdan reach this point; Hudson coach Scott Marry is the second-winningest coach in MHSAA wrestling history with 792 wins over 30 seasons, and Hamdan's club coach Nick Simmons became the ninth four-time MHSAA champion while wrestling for Williamston from 1998-2001. Hamdan – who also played football through his junior season – will continue his wrestling career at Michigan State University. He carries a 3.5 GPA and is continuing to consider what he will major in at MSU.
Coach Scott Marry said: "That kid has done a lot for the sport and a lot for Hudson wrestling. He is almost the perfect child; he doesn't talk back to Mom and Dad, doesn't talk back to his teachers and doesn't talk back to the coaches. You say do it, and he does it. He is a really good person beyond wrestling. … He now leaves Hudson and stands alone because now all the youth wrestlers will look at him and want to be him, and he is a really good example. He is a 3.5 student in the classroom, he has won national championships, has won four state titles and now will be going on to wrestle at a Division I school at Michigan State. That is the poster child that you want for your program."
Performance Point: "I think it just shows the workouts I've been through and the work that I've put in has paid off," Hamdan said of his four-championship legacy. "I think that's the big thing. The more work I put in, the more of these achievements that I'll be able to achieve. I can't wrap my mind around it yet. It's an honor. All these kids and everybody grows up looking up to these guys. Now to be one of those, it's wild."
Nick knows: "I train with him every summer. We work a lot on catching up things that we already know. He's been on that level, even above college. The toughness, that comes with (training with him) a lot. It's just tweaking all of these things, finding new ways to do certain moves that I already know that really will help me in a match when I'm not even thinking about it. … He came up and hugged me after the (championship) match and congratulated me. I think the coolest thing, when I was coming off the mat, he told me 'Welcome to the club.' I thought that was pretty sweet."
For Hudson: "Growing up, I started in that program when I was 3. It's just amazing because I've seen all these greats come through and just fall short. All sorts of three-timers, and everybody's fallen short of the goal. Just to be the guy … when I won it, the guys I looked up to, some of them texted me, 'Way to break the curse,' because we considered it a curse because there were all these three-timers. It's good that I can do it not just for me, but for the program."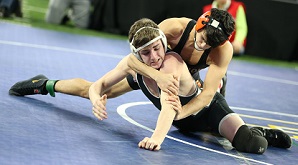 Winning attitude: "In the (wrestling) room and even out of the room, we talk to each other and always stay positive about things that are going on around us. And (we're) always keeping a good mindset about things, even when they aren't going your way. I think (Coach Marry) helped me with that a lot, and it helps me in a match because when something's not going my way I can focus on the next position, try to win the next position, keep a cool, calm and collected head, and that helps a lot. With the mindset, that brought me to the next level. It just helped me so much. Even when I'm in a bad position, I feel like I'm in a good position now because I'm confident in there, I'm positive in there. Because even if I don't win that position, I've still got another one and I know that, and it helps me a lot."
Team title means more: "With all the kids you train with, and everybody has the same goal. You're fighting it for each other and not just yourself. I think that's important to me. … I want to be an NCAA (individual) champ, obviously. But the main thing I want to do (at MSU), I want to help with the team aspect. I want to get our team to be as close as we can. Because from what I've experienced at Hudson, the closer you are as a team, the better you perform. That's Hudson – that's how it is here. Everybody is trying to support each other and trying to get better as a unit, rather than as an individual. At Hudson, you're just growing up with that mentality; you're doing it for someone else, not just yourself. That's a big part of this community."
- Geoff Kimmerly & Jeff Chaney, Second Half
Every week during the 2018-19 school year, Second Half and the Michigan Army National Guard recognizes a "Performance of the Week" from among the MHSAA's 750 member high schools.
The Michigan Army National Guard provides trained and ready forces in support of the National Military Strategy, and responds as needed to state, local, and regional emergencies to ensure peace, order, and public safety. The Guard adds value to our communities through continuous interaction. National Guard soldiers are part of the local community. Guardsmen typically train one weekend per month and two weeks in the summer. This training maintains readiness when needed, be it either to defend our nation's freedom or protect lives and property of Michigan citizens during a local natural disaster. 
Past 2018-19 honorees
February 28: Kevon Davenport, Detroit Catholic Central wrestling - Read
February 21: Reagan Olli, Gaylord skiing - Read 
February 14: Jake Stevenson, Traverse City Bay Reps hockey - Read
February 7: Molly Davis, Midland Dow basketball - Read
January 31: Chris DeRocher, Alpena basketball - Read
January 24: Imari Blond, Flint Kearsley bowling - Read
January 17: William Dunn, Quincy basketball - Read
November 29: Dequan Finn, Detroit Martin Luther King football - Read
November 22: Paige Briggs, Lake Orion volleyball - Read
November 15: Hunter Nowak, Morrice football - Read
November 8: Jon Dougherty, Detroit Country Day soccer - Read
November 1: Jordan Stump, Camden-Frontier volleyball - Read
October 25: Danielle Staskowski, Pontiac Notre Dame Prep golf - Read
October 18: Adam Bruce, Gladstone cross country - Read
October 11: Ericka VanderLende, Rockford cross country - Read
October 4: Kobe Clark, Schoolcraft football - Read
September 27: Jonathan Kliewer, Grand Rapids Forest Hills Northern soccer - Read
September 20: Kiera Lasky, Bronson volleyball - Read
September 13: Judy Rector, Hanover-Horton cross country - Read
PHOTOS: (Top) Hudson's Jordan Hamdan has his armed raised in victory Saturday afternoon at Ford Field. (Middle) Hamdan works toward a pin in the Division 4 135-pound championship match. (Click for more from HighSchoolSportsScene.com.)