Performance: Lake Orion's Paige Briggs
November 21, 2018
Paige Briggs
Lake Orion senior – Volleyball
The Dragons outside hitter was one of the state's top players this fall, and led her team to an unprecedented accomplishment. Briggs put together back-to-back unforgettable performances during last weekend's Division 1 Semifinals and Final to lead Lake Orion to its first MHSAA championship in volleyball and earn the Michigan Army National Guard "Performance of the Week."
In Saturday's Final against Rockford, a 25-18, 25-23, 23-25, 25-16 victory, Briggs had 30 kills on 53 attacks – good for a .491 hitting percentage. She also added nine digs, as she was all over the court for the Dragons, who were making their first appearance in a title match since 2011. Amazingly, that performance may have been second-best on the weekend for Briggs, as she had 43 kills on 84 attacks in Lake Orion's five-set Semifinal win over top-ranked Farmington Hills Mercy. The 43 kills tied for fifth-most in one match in MHSAA history. Lake Orion entered the postseason ranked No. 2 in Division 1 by the state coaches association and finished 68-5.

After missing four months including half of last season with a broken vertebrae, Briggs came back this fall to become a finalist for the Miss Volleyball Award, and she finished fifth among 10 finalists. On the season, she tallied a record book-qualifying 767 kills, averaging 4.7 per set, with a .408 hitting percentage. Briggs is still deciding what she will study after high school, but she'll attend Western Kentucky University on a volleyball scholarship. 
Lake Orion coach Tony Scavarda said: "I've watched a lot of high school volleyball, and I haven't seen too many kids just take over games at this level of a tournament the way she has (Friday and Saturday) against that type of competition – such high-level teams. She's been great all year, but she took her game to a whole new level in the Finals here. It was incredible." 
Performance Point: "As a team, we could clean things up, but we played flawless," Briggs said after Lake Orion's title-winning performance. "We played together as a team. You could feel it, almost. As a player, I loved the way I played, but you always want to do better, I guess."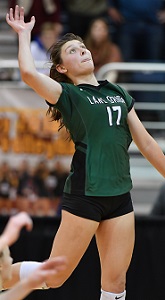 Taking control: "I ask for the ball all the time – I love hitting," Briggs noted, explaining the team's strategy of shifting to set her whenever possible during the final. "Those were some good stats, but I have to give it to my team, though. They helped me through this." 
Bouncing back, no pun intended: "Leaning back hurt – I was happy to get back."
Peaking at the right time: "We all pulled together. We really wanted this. Going into Districts, we were watching film and doing the most we could possibly do to win this, because we all wanted it. We had multiple team talks, and they were really beneficial. It laser-focused everyone, and we got on the same page. It was really great." 
Next step: "I'm so excited for college. (Western Kentucky) is doing great, and I just can't wait to be a part of it, and kind of try it on my own." 
- Paul Costanzo, Second Half contributor
Every week during the 2018-19 school year, Second Half and the Michigan Army National Guard recognizes a "Performance of the Week" from among the MHSAA's 750 member high schools.
The Michigan Army National Guard provides trained and ready forces in support of the National Military Strategy, and responds as needed to state, local, and regional emergencies to ensure peace, order, and public safety. The Guard adds value to our communities through continuous interaction. National Guard soldiers are part of the local community. Guardsmen typically train one weekend per month and two weeks in the summer. This training maintains readiness when needed, be it either to defend our nation's freedom or protect lives and property of Michigan citizens during a local natural disaster. 
Past 2018-19 honorees
November 15: Hunter Nowak, Morrice football - Read
November 8: Jon Dougherty, Detroit Country Day soccer - Read
November 1: Jordan Stump, Camden-Frontier volleyball - Read
October 25: Danielle Staskowski, Pontiac Notre Dame Prep golf - Read
October 18: Adam Bruce, Gladstone cross country - Read
October 11: Ericka VanderLende, Rockford cross country - Read
October 4: Kobe Clark, Schoolcraft football - Read
September 27: Jonathan Kliewer, Grand Rapids Forest Hills Northern soccer - Read
September 20: Kiera Lasky, Bronson volleyball - Read
September 13: Judy Rector, Hanover-Horton cross country - Read
PHOTOS: (Top) Lake Orion's Paige Briggs serves during Saturday's Division 1 Final against Rockford. (Middle) Briggs prepares to hit during a Semifinal win over Farmington Hills Mercy.