Pioneers Conquer Title Territory
November 23, 2013
By Geoff Kimmerly
Second Half editor
BATTLE CREEK – The East Grand Rapids High School trophy case is so full, it's reserved for awards celebrating only those teams that win MHSAA championships.
There are more than 120 trophies already in the case. And the Pioneers' volleyball team finally can claim a spot among them.
In what was nearly the closest a three-set match could go, East Grand Rapids claimed its first MHSAA title by edging Bloomfield Hills Marian 25-22, 25-22, 25-20 in the Class A Final on Saturday at Kellogg Arena.
The Pioneers twice had made MHSAA Semifinals – in Class B in both 2010 and 2011 – and then last season, when seemingly on the verge, moved into Class A. But instead of being disappointed, East Grand Rapids relished the new opportunity.
"Moving to Class A, a lot of people didn't expect a lot from us. A lot of people took the scary, 'Oooohh, you're going to Class A.' But we didn't take it as scary at all. We embraced it," Pioneers outside hitter Caroline Knooihuizen said.
"Knowing we were even going to states, we had made history. But the job wasn't done yet. ... It's just crazy knowing we added on to our state championships at our school. It wasn't any other trophy; it was our first volleyball championship."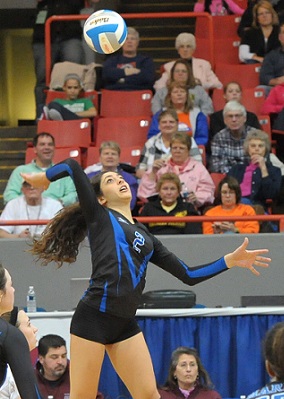 East Grand Rapids entered the tournament ranked No. 8 in Class A and finished 50-5-3. The Pioneers beat No. 4 Rockford and No. 6 Northville on the way to Saturday before surviving repeated challenges from No. 3 Marian, which finished 50-16 after advancing to its first championship game since 2010.
Coach Christine Grunewald also improved her career record this weekend to 351-60-4, and had plenty of experience to draw upon in bringing the Pioneers back to Battle Creek – she not only coached the second of those Semifinal teams but Lakewood's winter 2007 semifinalist as well.
And it couldn't have hurt that East Grand Rapids had faced, and swept, Marian in a tournament match this fall.
"I think this whole year has been a little bit different in our approach. We're really focusing on controlling the volleyball when it's on our side of the net, becoming really skilled at the out-of-system ball ... and I think we did a really good job this year on doing that," Grunewald said. 
"We wanted to be the best defensive team in the state, and I think we are, and I think we've proven that. We have a few big girls, but the rest of us are just scrappy. That was one of our goals, to be the best defensive team and wear those other big teams out."  
Aside from the first point in the first set, East Grand Rapids never trailed in that game or the third. The Pioneers did get down five points midway through the second set before outscoring Marian 10-4 to turn the game's direction in their favor.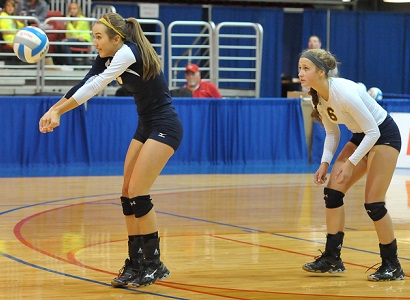 It's no coincidence the team's three statistical leaders were seniors. Knooihuizen led East Grand Rapids with 15 kills to go with nine digs, and Miss Volleyball finalist Maeve McDonald had 27 assists, eight kills, 13 digs and three blocks. Senior Jordan Clappison added nine kills. Together, they kept the ship steady.
"They stayed in the moment. They didn't get ahead of themselves," Grunewald said. "And when we needed some big plays from other players, they did it. And I just can't believe we're here in three."
The Mustangs also were keyed by their set of experienced leaders – senior hitter Jessie Kopmeyer had 10 kills and seven digs and senior hitter Paige Carey added seven kills. 
But they were two of only four seniors, and the majority of the team's other top contributors Saturday should be back in 2014 – including junior setter Meghan Cotant (26 assists, 11 digs), junior hitter Alannah Barash (seven kills, seven digs) and sophomore libero Delaney Backonen (18 digs).  
PHOTOS: (Top) East Grand Rapids players celebrate their first MHSAA volleyball championship at Kellogg Arena. (Middle) Marian's Alannah Barash prepares to smash a potential kill Saturday. (Below) East Grand Rapids libero Jamie Wolffis connects on one of her 14 digs in the Final.