Pitcher Saves Best for Team's 1st Final
June 15, 2013
By Andy Sneddon
Special to Second Half
BATTLE CREEK – Connor Foley saved his absolute best for last, much to the delight of longtime Bay City Western coach Tim McDonald.
Foley put on a gutsy mound performance Saturday in pitching the Warriors to a 1-0 win over Birmingham Brother Rice in the MHSAA Division 1 Final at C.O. Brown Stadium in Battle Creek.
"Best game I've pitched in my life, and I couldn't have picked a better day to do it," said Foley, who went the distance in limiting a formidable Rice lineup to six hits while striking out four and walking one. "Every single pitch – if I wanted it on the outside corner, it was going there; if I wanted it on the inside corner, it was there."
It was the first MHSAA baseball championship for the Warriors and the first for McDonald, who is 564-198-7 in 21 years at the school. He was recently inducted into the Michigan High School Baseball Coaches Association Hall of Fame.
"We wanted to get him his first ring," Foley said. "He just got inducted into the hall of fame, so we wanted to give him something else to be happy about."
Western got the game's only run when senior Grant Bridgewater drew a two-out walk in the top of the sixth inning. Bridgewater, Western's catcher, gave way to courtesy runner David Fegan, a sophomore, and Fegan was balked by Rice's Dalton Greyerbiehl to second – the first of two costly Rice miscues in the late innings. On the pitch after the balk, senior Brendan Harrison smacked a solid single to center, and Fegan slid home well ahead of the throw.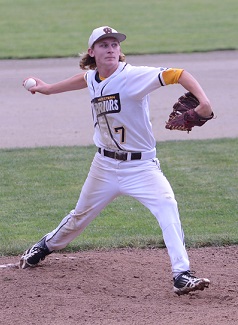 The confident Foley did the rest. And, as is the case with any good pitcher, he got some help from his defense.
"Once I got that run, I knew," he said, "I knew we were getting it."
Foley allowed a one-out single in the sixth, but the courtesy runner was doubled off of first after a long flyout to center fielder Briton Ott to end the inning.
"Throw to contact," Foley said of his pitching philosophy. "I've got a great 'D'. I knew to throw to contact and they'd take care of it. Before the game I was telling the guys we'd probably need four or five runs because, you know, I'm pitching. But all we needed was one today. Inexplicable."
The Warriors also had their ace in the hole, literally, with University of Michigan-bound lefthander Brett Adcock – who pitched the Warriors to a 2-1 Semifinal win over Sterling Heights Stevenson on Friday – warming up in the bullpen.
After Foley surrendered a two-out single to Bobby Cross in the bottom of the seventh, McDonald went to the mound to speak with his pitcher, but he didn't replace him. The next hitter popped out to end the game.
"(Rice) had a left-handed hitter coming up in a couple batters, but to be honest, I don't think I could have pulled the plug on Connor," McDonald said. "He didn't throw a lot of pitches. He deserved to close out a state championship.
"Adcock gets a lot of attention, (and) he deserves all of it, but Connor Foley's been equal to the task. He's a great complement to Brett and anybody who knows Connor will tell you you know exactly what you're going to get. He is a gutsy kid, he's confident and he's got a little swagger to him, maybe, but it's all about him wanting the ball. He wants the big game."
And for Western, there were plenty of them this year. Saturday's win was its 35th consecutive. Rice finished 32-8-1.
"I told the guys last night, if we had to play (Rice) in a seven-game series, we might not win," McDonald said. "But we just had to play them once and beat them once and I'm beyond proud.
"I've been proud of every team I've coached and I've coached some incredible teams. But this team separated themselves. They set the bar. I don't know how much longer I'm going to coach, but I'm not sure if we'll ever do the things we did this year. … Maybe people can put it into perspective for me, but I don't know what else to say about what we've done."
PHOTOS: (Top) Bay City Western sophomore David Fegan slides into home for the Warriors' deciding run in a 1-0 win Saturday at Bailey Park. (Middle) Senior Connor Foley threw a complete game in earning the win on the mound for Bay City Western. (Click to see more from Hockey Weekly Action Photos.)