Practicing, Playing Like Potential Champs
June 14, 2013
By Geoff Kimmerly
Second Half editor
BATTLE CREEK – Richmond baseball coach Scott Evans has been something of a drill sergeant during his two seasons running the program, junior Austin Harvey said.
But that's exactly what the Blue Devils needed to reach a game they'd never played in before.
Richmond played in its first MHSAA Semifinal on Friday at Bailey Park. And thanks to a 3-2 win over Milan, the Blue Devils now will face reigning champion Grand Rapids Christian with a championship on the line.
"These juniors and seniors are a bunch of overachievers, and they were tired of the status quo," Evans said. "They decided to hit the weight room, decided they wanted something better. They set goals and worked for it.
"When you get a group of kids, a bunch of teenagers, to believe in you and do what you ask them to do, go through a wall for you, then you can overachieve. That's what's going on here."
Evans is a 1986 Richmond grad who went on to play at Eastern Michigan University and then coached at Clinton Township Clintondale for 16 seasons before coming home last spring.
By calling his players overachievers, Evans was not saying they lacked in talent. Far from it. Richmond (34-4) has plenty of ability. But it began to transform into more than potential last season as the Blue Devils began to see they could compete with highly-regarded opponents.
"Practice like we play. That's what we always say," Harvey said.
And that's put this team in position to create school history.
Evans' practices are intense to put his players in game-like situations. Drills are hard, but beneficial. "Coach likes to make things tough," Harvey said. "He changed practices, and that changed the way we play."
Richmond had to be on point Friday against Milan, which also was hoping to make its first Final.
The teams combined for only 12 hits, and after taking a second-inning lead Richmond faced a 1-1 deadlock heading into the bottom of the sixth.
Harvey led off with a single, stole second base and scored on a single by Evan Kratt. Junior Nick Ottenbacher, who pinch-ran for Kratt, also scored – which would prove necessary as Milan scored once in the top of the seventh inning before stranding two runners to end the game.
Kratt and senior Mitchell Ward both had two hits for Richmond, and Ward gave up only one run in six innings pitched.
Sophomore Thomas Lindeman was 2-for-4 for Milan (26-13) and threw four innings of one-run ball.
Grand Rapids Christian 1, Remus Chippewa Hills 0
The Eagles continued their run at a repeat championship thanks in large part to senior pitcher Alex VanDeVusse.
One of the heroes of Grand Rapids Christian's Division 3 football championship in the fall, the quarterback-now-pitcher tossed a two-hit shutout and struck out 11.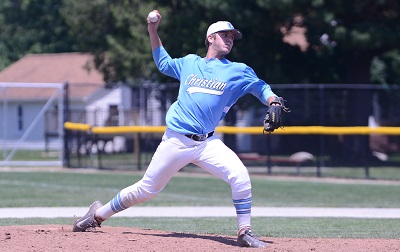 He also was 2-for-3 from the lead-off spot and drove in senior rightfielder Tyler Davison in the fourth inning for the game's only run.
The Eagles improved to 18-15 after entering the playoffs 12-15.
Senior Jake Tarbell was similarly masterful on the mound for Chippewa Hills. He gave up only five hits, and the run was unearned because Davison reached base on a throwing error. The Warriors finished 27-7.
PHOTOS: (Top) Richmond's Austin Harvey (20) slides in front of Milan catcher Jacob Friese to give the Blue Devils a 2-1 lead in the sixth inning Friday. (Middle) Grand Rapids Christian's Alex VanDeVusse throws a pitch during his shutout performance against Remus Chippewa Hills. (Click to see more from Hockey Weekly Action Photos.)