Red Arrows Find Target Again with Record Win
March 14, 2019
By Geoff Kimmerly
Second Half editor 
Lowell wrestling has had more to celebrate than most teams over the last six winters.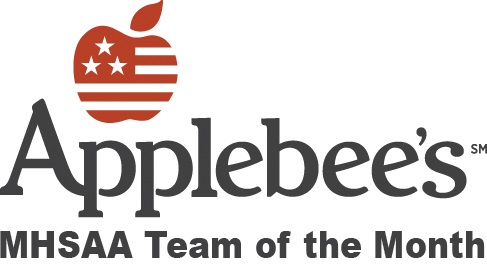 But something a little extra has accompanied the buzz after the Red Arrows won their record sixth-straight MHSAA Finals team championship Feb. 23 at Wings Events Center.
The Division 2 back-to-back-to-back-to-back-to-back-to-back champion edged Goodrich 29-23 to surpass Davison 2002-06 and Hudson 2009-13 for the longest championship streak since the team match format was added to the Finals lineup in 1988.
People ask for the secret. Lowell coach R.J. Boudro isn't sure where to start.
"It's not one thing; it's so many things," Boudro said. "It's hard work across all levels – coaching staff, obviously the wrestlers, and parents and community and administration, and our youth wrestling program is extremely strong.
"When it's all said and done, the Lowell wrestling program is something we're all willing to give ourselves too. We're all better because of the Lowell wrestling program, so it's a win-win. Whether it's a fundraiser, reading to young kids, there are so many things people don't see. It's pretty cool to be a part of, and there are a lot of people willing to sacrifice to make it successful."
Lowell is the MHSAA/Applebee's "Team of the Month" for February. The Red Arrows finished 22-3, their only team losses this season to eventual Division 1 champion Detroit Catholic Central, Division 1 runner-up Brighton and semifinalist Davison. Lowell followed up the team title with two champions and five more placers the first weekend of March at the Individual Finals at Ford Field.
The team title streak began in 2014 under then-coach Dave Dean, when the Red Arrows ended St. Johns' four-season hold on Division 2 with a one-point win in the Final. Boudro was an assistant to Dean and took over the program the next season.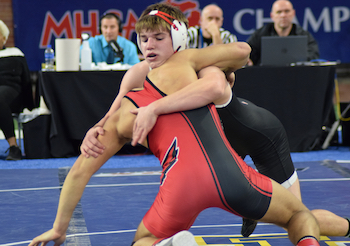 The toughest part of continuing such a run is probably the expectation that it's going to continue. The pressure stacks up – Boudro noticed his team wrestling a little tight at the end of this regular season. But he and his staff worked to get the Red Arrows focusing again on the postseason tournaments being the same as those the team wrestles during the regular season – which is helped because Lowell stacks its schedule with playoff-caliber competition to prepare for February and March.
The season ended with junior Austin Boone winning the individual title at 152 pounds – he'll attempt next year to become the 27th in MHSAA history to win four championships – and senior Avry Mutchler claiming the title at 140. Senior Jeff Leach (fourth at 135), junior James Fotis (fifth at 145), sophomore Doak Dean (seventh at 145), sophomore Jacob Lee (fifth at 160), junior Tyler Delooff (fifth at 285) and freshman Ramsy Mutschler (fourth at 103) also placed among the top eight at their weights. Avry Mutschler went over 150 career wins during the season, and Leach won his 100th. Leach also clinched this season's championship in his match against Goodrich, after doing the same against Warren Woods-Tower in the 2016 Final.
Additionally, the Red Arrows earned first-team academic all-state honors for the 13th year in a row, this time with a team GPA of 3.844.
Lowell had scheduled to celebrate Wednesday with its postseason banquet, before jumping back into planning for next season and the pursuits that will come with it.
"We don't do the same things every year. We're always trying to get better," Boudro said. "We try to push the envelope so we're not staying stagnate."
Past Teams of the Month, 2018-19
January: Farmington United gymnastics – Read 
December: Warren Woods-Tower wrestling – Read
November: Rochester Adams girls swimming & diving – Read
October: Leland boys soccer – Read
September: Pickford football – Read
August: Northville girls golf – Read 
PHOTOS: (Top) Lowell wrestlers congratulate Jeff Leach after he won the last and clinching match of the Division 2 Final last month against Goodrich. (Middle) The Red Arrows' Austin Boone wrestles Melvindale's Devin Spears for the Division 2 title at 152 pounds. (Click for more from HighSchoolSportsScene.com.)