Regina, Howell Advance with Late Rallies
By Jason Schmitt
Special for Second Half
EAST LANSING – There's no such thing as ugly when it comes to advancing in the MHSAA softball playoffs.
Warren Regina manufactured the game-winning run in a most unusual way Thursday afternoon against Bay City Western. And the Saddlelites aren't going to apologize to anyone after their 4-0 victory over the Warriors in a Division 1 Semifinal matchup at Secchia Stadium.
Senior Marisa Muglia led the seventh inning off with a single to get things going for her Saddlelites (29-11). The next batter, sophomore Mia Konyvka, dropped down a sacrifice bunt. Western made the play at first base, but freshman Jenna Holt, courtesy running for Muglia, pressed the issue, rounding second and heading for third. The throw to third base ricocheted off Holt and went into Regina's dugout. A dead ball was called, allowing Holt to score what would be the winning run.
"To be honest, I've done that many times before," said Holt, who actually overran second base before deciding to just head to third. "I just knew that, with my speed, I could cause chaos. I don't even know what was going through my head. All I remember is sliding into third and hearing, 'The ball is dead.' And I was awarded home."
Regina head coach Diane Laffey saw the chaos play out in front of her while coaching third base. She was a little nervous, to say the least.
"I'm thinking, 'Oh my God, why did she overrun the base?'" said Laffey, with a smile on her face. "She does it a lot, and we keep reminding her. She played JV most of the season, and they can get away with it on JV. She's been out a couple times doing it since we've brought her up. So I'm like, 'Jenna, they're going to throw and get you out.' Fortunately they threw behind her, and the throw to third got away and we lucked out."
Muglia pitched a complete-game, two-hitter to pick up the victory for the Saddlelites, who will face Howell in the title game on Saturday. She did not hesitate when asked if it was her best pitching performance of her career.
"Most definitely," she said. "My riseball and my curveball were major components (for me) today."
For the first six innings, it was a pitchers' duel, with Western junior Adaline Ziehmer matching Muglia pitch for pitch. Ziehmer allowed five hits and two earned runs while taking the loss.
Regina added three more runs in the seventh, with sophomore Miranda Nicholas driving in a pair on a slap single down the left field line. Junior Jacqueline Jozefczyk added an RBI single to complete the scoring.
"The girls had a great six and a half innings, and I don't want to say the wheels fell off, but we're used to putting runs up on the board," Western head coach Kris Popp said. "It looks worse than it is, but we just didn't score. If we could have put some runs on the board right off the bat like we usually do, put some pressure on the other team, and it makes a huge difference in the game.
"(Muglia) did a good job keeping us off balance. She threw well. She was making us hit pitches that we're not used to swinging at."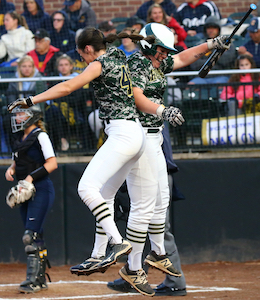 Western finished the season 31-6.
Howell 9, Clarkston 6
Juniors Skye Grant and Molly Carney weren't about to let a chance to get to the Division 1 championship game get away from their team Thursday night. Each had clutch hits as the Highlanders scored three runs in the top half of the seventh inning to pull out a victory over Clarkston, ensuring their team a spot in Saturday's final game against Warren Regina.
"The way the whole thing set up in that last inning was that they had the middle of their lineup coming up, and we had the bottom of our lineup coming up," said Howell head coach Ron Pezzoni, who will see his program play for its first Finals championship. "And Skye, Molly, sometimes your unlikely players come up clutch. Skye has been getting big hits for us all year, some big RBIs. And Molly, we keep putting her out there and she's getting hits. Those at bats were huge for us."
With one out and the game tied 6-6, Grant doubled, scoring pinch runner Avery Pruss, giving her team the lead. Carney, the next batter, drilled a base hit to right field, scoring sophomores Maddie Springer and Jane Anderson to give the Highlanders (36-3) some breathing room. Grant and Carney were a combined 0-for-4 heading into those last at bats.
Howell jumped out to a 6-1 lead through its half of the fourth inning. Senior Maddie Gillett, who finished 3-for-4 in the win, had a clutch two-run single in the third to help get things going for the Highlanders. Senior A.J. Militello, sophomore Avery Wolverton and Springer each added two hits in their team's win.
Pezzoni was still in shock after the game had ended, but he had nothing but respect for the Wolves and the effort they put into the game.
"Clarkston is a great team, as deep as any team around," Pezzoni said. "We knew, even when we were up 6-1, that it wasn't going to be easy, that we were going to have to get a lot of tough outs. Fortunately, we did."
Senior Anna Skvarce, junior Sierra Kersten and sophomore Sam Wycoff all had two hits to lead Clarkston (36-3). Juniors Hannah Cady and Nyah Ansel each scored a pair of runs in their team's loss.
"I'm just really proud of (my players)," Clarkston head coach Don Peters said. "I told them it was an amazing comeback and shows their grit and determination. I guess we were trying out how to stop them, and they were trying to figure out how to stop us. And they did a little better job."
PHOTOS: (Top) Warren Regina's Jenna Holt, right, is greeted after scoring her team's first run Thursday evening. (Middle) Howell players celebrate during their Semifinal win.