Richmond, Ida Earn Saturday Return
June 15, 2017
By Geoff Kimmerly
Second Half editor 
EAST LANSING – Even reigning champions get a little nervous returning to the diamond of their greatest accomplishment.
But it took Richmond only a couple innings to get comfortable again at Secchia Stadium while kicking off Thursday's Division 2 Semifinals.
The Blue Devils, ranked No. 2 at the end of the regular season and expected to reach this point all season after emerging to win their first title a year ago, will get a chance to play for another thanks to a 4-2 win over No. 3 Escanaba – last year's Semifinal opponent as well.
Richmond had won its last three games all in extra innings, but put up four runs during the third Thursday. Escanaba rallied for two runs in the fifth inning before sophomore pitcher Erin Shuboy – the star of last season's championship run – finished locking down the Eskymos for the second year in a row.
"Making it here once is something special. And now to be here twice … I think the returners got rid of the jitters a little bit, (and) all of the other people are starting to settle in," Richmond senior shortstop Carley Barjaktarovich said. "They score a couple of runs (and you tell yourself) relax, you've got a little bit of cushion. You've got another at bat. I wasn't nervous at all. I know Erin; she's going to bear down and she's going to get it done. And we go back in and we have our bats."
Richmond (33-4) will face Ida (36-7) in Saturday's first championship game, at 10 a.m.
A year ago, the Blue Devils entered the tournament as honorable mentions in the final state rankings, but reached MSU and downed Escanaba 6-2 in a Semifinal.
The teams should have recognized a number of faces in the opposing dugout. Longtime Richmond coach Howard Stuart also caught up with Saginaw Swan Valley's Tom Kennelly, whose top-ranked Vikings were downed by Escanaba in Tuesday's Quarterfinal, and felt as prepared as possible heading into the rematch.
Richmond got to Eskymos senior starting pitcher Katie Ross only in the third inning, and freshman Gabbi Salo threw three scoreless to finish the game. But that one frame was enough. A walk, infield single by Barjaktarovich and error loaded the bases, and after a fielder's choice knocked in the first run junior catcher Evelyn Swantek doubled in the next three.
Escanaba scored its two runs in the fifth inning and loaded the bases again with two outs. But Shuboy got a pop out to end that rally and allowed only one hit in each of the final two innings.
"I felt sorry for (Escanaba), because I thought that was a great team," Stuart said. "We just had one good inning. We had one key hit, and that's all it took."
Barjaktarovich finished 2 for 3, and junior leftfielder Emma Caperton also had a double. Shuboy struck out seven and gave up four hits.
Sophomore rightfielder Lexi Chaillier and senior centerfielder Emily Bruntjens drove in runs for Escanaba (33-5). Junior Maddie Griffin walked twice and scored. 
Ida 3, Stevensville Lakeshore 2
How did it feel for unranked Ida to down No. 6 Lakeshore in its first Semifinal since 2006, to make its first MHSAA Final in softball since that spring more than a decade ago?
"This is what you play for. This is what they started out wanting when they were kids. Look at their parents – they wanted the same thing, and here we are," Ida coach Dawn Forter said, pointing out an enthusiastic bunch waiting to greet the team. "I'm numb. I'm proud of every one of those kids, all 15."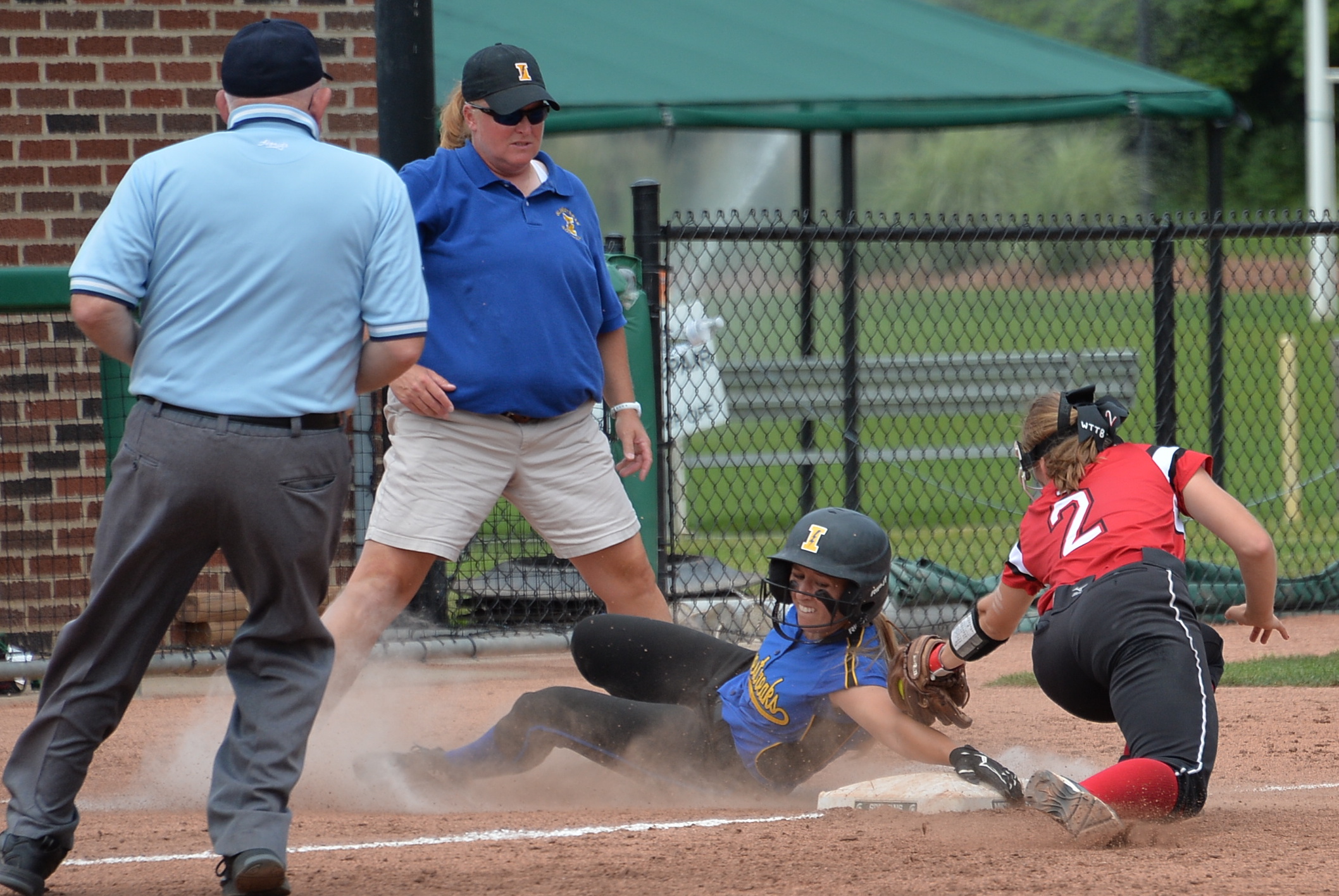 The Bluestreaks came back after Lakeshore jumped in with a run in the first inning, scoring one in the fourth and two in the fifth, and then withstood a last-inning Lancers rally to close out the victory.
Lakeshore scored that run when junior leftfielder Karlee Lambert misplayed a single by senior Olivia Freehling. But Lambert certainly made up for the brief miscue with a pair of triples, the second setting up her score on junior Hannah Tuller's triple.  Tuller kept going and scored on a throwing error to take the advantage up to 3-1.
"That's a hard-hit ball and the field plays fast, and it got to (Lambert) a little quicker than she thought it was going to. She stuck with it though – she knocked it down," Forter said of Freehling's hit. "That's the way every kid wearing a Bluestreak shirt has been all year. If they make a mistake on one side, they pick it up on the other."
Ida's first run came when senior Mallorie Duvall drove in senior Brooklyn Woelmer in the fourth inning. Woelmer, Lambert and Duvall all were 2 for 3 at the plate, and junior Lauren Kreps gave up only one earned run throwing all seven innings.
Junior third baseman Cassidy Zavoral and freshman designated player Sierra Ciesielski were 1 for 3 and scored for the Lancers (33-7-1). Junior Taylor Simon struck out four allowing only two earned runs while tossing a complete game.
PHOTOS: (Top) Richmond pitcher Erin Shuboy prepares to fire during Thursday's Division 2 Semifinal win over Escanaba. (Middle) Ida's Karlee Lambert gets to third base ahead of a tag after hitting one of her two triples Thursday.