Roles Reverse as North Branch Wins Rematch
November 22, 2014
By Geoff Kimmerly
Second Half editor 
BATTLE CREEK – Saturday's final MHSAA Volleyball Final felt familiar – and not just because North Branch and Lake Odessa Lakewood wore nearly identical uniforms. 
It wasn't long ago that the Class B powers met to finish another season, and a Lakewood team filled with seniors swept the then-much younger Broncos to claim the 2012 title.
This championship rematch turned into a role reversal. 
North Branch, with four major contributors who played on the losing side last time, swept Lakewood 25-19, 25-15, 25-23 to claim the program's second MHSAA championship and first since 2009.
"We went in wanting revenge. Two years ago … we were devastated," said North Branch senior Laura Willson, a key contributor on the 2012 team. "It feels great to do to them what they did to us."
Willson was her team's second-leading hitter with 10 kills in the 2012 Final. She took nearly half of her team's attempts Saturday and connected on 22 kills.
Seniors Calla McNulty, Victoria Severance and Mady Ruhlman also saw time in the championship game two years ago and led the Broncos in a statistical category this time – McNulty with three aces, Ruhlman with 14 digs and Severance with four blocks.
There were lessons to be learned after the 2012 Final loss – Willson said the Broncos came to understand the importance of fighting for every point and also developed a closer bond than when she was a sophomore and teammates "picked at each other a bit."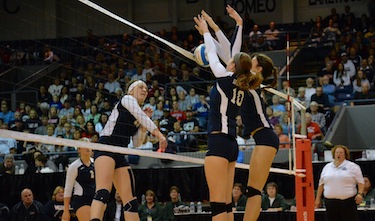 "They had some heartbreak two years ago, and it's all worth it with what happened today," North Branch coach Jim Fish said. "I knew we were the better team today. Two years ago, we knew they were the better team. They had four four-year starters, and we were up against it."
"We had more size, more experience and more power than they did two years ago," Lakewood coach Kellie Rowland agreed. "And they had it on us today."
Lakewood indeed had some of the look of North Branch 2012. Although three Vikings did also see time in that previous championship matchup, only two seniors were part of this season's main playing group.
Those seniors, Vanessa Reynhout and Gracie Shellenbarger, led Lakewood with seven kills apiece, and Shellenbarger also had 10 digs. 
The Vikings had an especially difficult time countering the 6-foot-1 Willson, which wasn't helped by not having freshman middle Alivia Benedict, who left Thursday's Semifinal with an injury.
Lakewood did open the first set by taking a 7-3 lead as North Branch piled up an uncharacteristic five errors early. But the Broncos came back to stay at 14-13 and led for good in the second set beginning at 4-3. 
The Vikings led the third set 21-19 before North Branch rattled off three straight points on the way to finishing the match.  
Sophomore Madee Miner had 39 assists for the Broncos (61-7-4), which entered the postseason ranked No. 2 and defeated No. 1 Pontiac Notre Dame in the Semifinal. 
Sophomore Gabie Shellenbarger had 26 assists for the Vikings, who finished 51-9 after entering the playoffs ranked No. 5 and should return 10 of their 15 players for the next two seasons.
"Like I told them, they could've let the Regional slip through their hands, the Quarterfinal slip, the Semifinal slip. And they didn't," Rowland said. "I told the young ones, look at it, feel it, know how bad it feels so you want to get back and win it all." 
PHOTOS: (Top) North Branch players raise their championship trophy after Saturday's Class B Final. (Middle) Lakewood's Vanessa Reynhout drives a kill into a North Branch block including Laura Willson (10). (Click for action photos and team photos from Hockey Weekly Action Photos.) 
VIDEO HIGHLIGHTS:
SHE'S A FRESHMAN! - Lake Odessa Lakewood's Lisa Hewitt comes up with the block in the first set against North Branch.
 
WILLSON FIRES DOWN THE MIDDLE - A key play at the end of the third set was this spike by Laura Willson which put North Branch at match point.
 
Watch the entire match and order DVDs by Clicking Here.