Sophomore Hurls Hartland into D1 Final
June 11, 2015
By Chip Mundy
Special for Second Half
EAST LANSING – It would not be an overstatement to say that Kyle Kletzka was the surprise star of the game Friday morning at McLane Baseball Stadium on the campus of Michigan State University.
Kletzka, a 5-foot-9 sophomore pitcher who was on the Hartland junior varsity eight weeks ago, hurled a four-hit shutout against Grand Rapids Kenowa Hills as the Eagles scored a 5-0 victory in the first of two MHSAA Division 1 Baseball Semifinals.
Unranked Hartland (27-16-1) will play unranked Portage Northern (30-7-1) at 9 a.m. Saturday in the championship game at McLane Stadium.
Kletzka, a right-hander, did not learn about the Semifinal starting assignment until Wednesday night.
"Coach just straight up told me, 'You're on the mound tomorrow,' " said Kletzka, who struck out four and walked two. "At first I was a little nervous, but I slept on it, and I was ready to go."
He certainly was ready to go. Kletzka struck out the first two batters of the game, and that helped ease whatever nerves he might have been feeling.
"It was big time," he said. "As soon as I got those two strikeouts, it was all over. I wanted the win so bad. Coming in, I had a little bit of doubt, but after those strikeouts, I didn't have any doubts."
Hartland coach Brian Morrison agreed that those initial strikeouts were "big time."
"It settled everybody down," Morrison said. "There were a bunch of nerves, and he calmed the entire team down. The plan was not for him to go seven, but once he got going he looked comfortable, so we let him go.
"We had confidence that he would go out there and throw strikes, and he did that, and they hit them at us and we made the plays."
Kletzka never got into serious trouble. Twice he allowed a runner to get to second base, but he got out of it both times with nobody scoring.
"My slider was working the most for me," Kletzka said. "It's my go-to pitch normally. I can't even explain the feeling. It's amazing."
Hartland took a 2-0 lead in the bottom of the first inning. After walks to Alex Vydick and Max Cadman, designated hitter Gary Turnbull punched a single over first base, scoring Vydick, and Cadman scored on a throwing error on the play.
The Eagles added two more in the third inning when Turnbull was hit by a pitch with the bases loaded, and a sacrifice fly by freshman Max Hendricks brought in another. Hartland's final run came in the fifth inning on an RBI single by Hendricks, who had two RBI, as did Turnbull.
Sophomore second baseman Hunter Delanoy was the only Hartland player with more than one hit as he had two singles, while John Baker, who had a single and a walk, was the only player to score twice.
"It's pretty surreal right now," said Cadman, the catcher who was one of just two seniors to start the game. "It still hasn't hit me that this team is going to the state final. I love this team and I love to play with them."
Grand Rapids Kenowa Hills (33-5), ranked eighth in the final Division I coaches poll, had four hits and two errors behind pitcher Bennett Norry, who struck out five and walked four in six innings. Jarod Nickel and Noah Gloe each doubled for the Knights.
"We didn't take great at-bats, and we made too many mistakes in the field," Kenowa Hills coach Joe Acker said. "We were hoping to jump on them early, and it just didn't happen. But take nothing away from their kid. He threw well. He threw strikes. The kid was good."
Morrison said it was not a slam-dunk decision to go with Kletzka as the starter.
"I just had a gut feeling," he said. "There were a few guys who I have confidence could have handled this game, but we thought if we had to go to multiple guys, we liked the order with him first."
Morrison is not facing a tough decision about the starter for the championship game Saturday. He will go with his ace, junior right-hander Baker. 
"If somebody is going to beat us with him on the hill, they're going to have to beat us," he said.
Portage Northern 8, Grosse Pointe South 0
Portage Northern senior pitcher Blake Therrian knew what to do with an early six-run lead Friday in the second Division 1 Semifinal.
"It's huge for us. Getting runs puts me in a position to just make my pitches and do what I do," Therrian said. "I don't have to force pitches."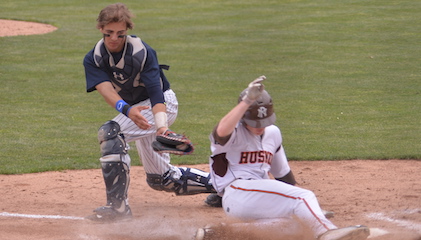 Portage Northern had a 5-0 lead before it picked up its first hit, as Grosse Pointe South made five errors in the first two innings.
"Them not making the routine plays kind of gave us the momentum," Portage Northern coach Chris Andrews said. "When we get ahead, the pitchers are just great at pounding the strike zone and pitching backwards, and our defense came through again.
"Blake can pitch backwards. He can throw his off-speed in fastball counts, and he was able to do that. That is tough on good hitters."
Portage Northern scored six runs in the first two innings on just one hit. The Huskies scored two in the first without a hit as they had a walk, a batter hit by a pitch and took advantage of two errors by Grosse Pointe South. Both errors came on the first two balls in play in the bottom of the first.
In the second inning, Portage Northern scored four as Grosse Pointe South committed three more errors, issued two walks and hit another batter. 
The lone hit in the first two innings by Portage Northern was a run-scoring single by senior first baseman Collin Hall.
"You can't make five errors in two innings and expect to have a good outcome," Grosse Pointe South coach Dan Griesbaum said. "But it doesn't take away from the year we had. We had a tremendous year, and one game doesn't spoil it." 
Brady Young had two hits and scored two runs for Portage Northern, while Max Schuemann and Tommy Henry each scored three runs.
Henry, the team's No. 1 pitcher, will start the championship game Saturday against Hartland. 
"I couldn't ask for anything more," Andrews said. "Tommy has been lights-out for us, and I'm glad he's on our team."
Grosse Pointe South (32-12), which out-hit Portage Northern 8-6, did not have a player with more than one. 
PHOTOS: (Top) Hartland sophomore Kyle Kletzka unloads a pitch during his team's Division 1 Semifinal win Thursday at McLane Stadium. (Middle) A Portage Northern runner slides into home past the tag by Grosse Pointe South catcher Logan Mico.