St. Phil Makes History with 8 Straight
November 23, 2013
By Geoff Kimmerly
Second Half editor
BATTLE CREEK – Sierra Hubbard-Neil finished the final roundhouse swing of her high school career and was on the Kellogg Arena floor with the rest of her Battle Creek St. Philip teammates Saturday before the ball hit the floor.
As with many of her swings during a four-year all-state career, this one finished a point – and one of the most historic victories during St. Philip's heralded run.
That final kill sealed a 25-19 Game 3 win over Waterford Our Lady and another Class D title for the Tigers – their eighth straight, which tied Marysville's teams from 1997-2004 for the longest championship streak in MHSAA volleyball history.
Although it's debatable how much anyone believed it, some said St. Philip might have a tougher challenge this fall after graduating seven seniors in the spring including six starters and Miss Volleyball Amanda McKinzie. But despite only Hubbard-Neil as a returning starter, the Tigers simply rolled on with three more seniors taking on bigger roles.
"Everyone looks up to the seniors. The seniors are just like top dogs," Hubbard-Neil said. "They lead the younger ones, and they try to keep that motivation through them and keep the enthusiasm to keep the tradition going."
And so it did, in another way as well. The title was the ninth for St. Philip coach Vicky Groat, tying the total won by her mother, former Tigers coach Sheila Guerra, who died in 2006 but is frequently noted by Groat for her enormous influence on the program and its current coach.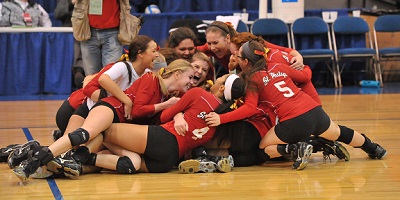 St. Philip finished this run 64-7-2 while again playing some of the best from every class in the state – among those victories were wins over the top-ranked teams in both Class B and Class C at the end of the regular season, Hudsonville and Mendon, respectively.
"Marysville always has been a wonderful program. It's an honor to be up there with them," Groat said. "It's pretty special, but I'm just glad we got nine. I wanted this one so badly for these girls, and to match my mom.
"She was an amazing coach, and I learned so much from her. Just to be on the same level as her; we have nine together, 18 as a family, and that's pretty special."
The last time a team took St. Philip to a fourth game in a Final was 2007. But after beating back nerves during a first-set 25-12 loss, Our Lady gave the Tigers plenty to consider.
The Lakers were playing in their first MHSAA championship game after returning to the Quarterfinals for the first time since 2001. After the team scored only 12 points in the opening set, hitters Allison Samulon, Courtney Wightman and Kristina Krupiak fell into stride.
"They first game was necessary to get the nerves out," said Samulon, who finished with seven kills. The second and third games we fought hard, and there were a couple of things we could've done differently. But I think the first game had to happen for it to work."
The Lakers three times gained the lead during a 25-22 loss in the second set, and wouldn't go away during the third scoring three straight points to pull within 23-19 and cause Groat to call an impassioned timeout.
She'd watched Our Lady come back multiple times during the Semifinal against Leland, which the Lakers beat in three sets by a combined eight points.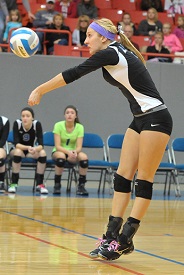 "You get to that point, and (the players) know what's in sight. So I just relaxed them a little bit," Groat said. "And they responded after that timeout.
"Coach (Angela) Williams and I were talking about how much we love this team, how special they are. They just keep battling and working hard and trying to prove people wrong, and they did that today."
Hubbard-Neil finished with 19 kills on 31 attempts for a match hitting percentage of .516. She'll be playing next season at Western Michigan University. Junior Emily Schaub capped her season with 26 assists, four aces and six digs, and senior libero Rachel Gallagher had nine digs.
Wightman, a sophomore, led the Lakers with 11 kills, five digs and three blocks. Our Lady (41-6-6) will graduate the rest of its starting hitters and setter, but return next fall with a new expectation after watching a number of other teams at the school have championship success over the years.
"Now we have a measuring point. The girls know how hard they have to work," Lakers coach Stephanie Swearingen said. "The younger kids have watched as our success has grown. I think it's really going to excite the school. Hopefully we'll be back soon."
PHOTOS: (Top) St. Philip's Sierra Hubbard-Neil sends one of her 19 kills during Saturday's championship match. (Middle) The Tigers celebrate their eighth straight Class D title. (Below) Waterford Our Lady senior Amanda Ludlow returns the ball.