Superior Round 3 Clinches P-W Title Win
March 2, 2019
By Tom Kendra
Special for Second Half
GRAND RAPIDS – Pewamo-Westphalia senior Kelsey Russell wiped away her happy tears and summed up the greatest afternoon of her life. 
"That is the best Round 3 we've ever had," said Russell, a first-team all-state selection last year. "We nailed all of our stunts, and we needed every single point."
Actually, every tenth of a point.
Pewamo-Westphalia sat in third place entering Saturday's final round, but a final performance to remember helped the Pirates leap past Sanford Meridian and Hudson and capture a thrilling Division 4 Finals championship at the raucous Delta Plex.
The Pirates finished with a three-round total of 780.42, edging 2018 champion Hudson by less than four tenths of a point in one of the narrowest wins in MHSAA Finals history.
Sanford Meridian led entering the final round, but had to go first in Round 3 and struggled. At that point, both Hudson (in second place) and P-W (third) gained extra motivation, knowing a great final round could produce the championship.
P-W went sixth and delivered a season-best Round 3 score of 320.30, which produced a thunderous roar from the Pirates' faithful, who sensed their team might have just won their ninth cheer Finals championship and first since 2010.
"We had an amazing final round," said 12th-year coach Staci Myers, who also led P-W to titles in 2008 and 2010 along with five runner-up finishes. "We have two major flip-over stunts in that round that the girls hit perfectly each time. They came through at the right time."
That just left Hudson, which was the final team to go in Round 3.
The Tigers, four-time Finals runners-up before last year's win, made a run at the title themselves. Despite a roster with just three seniors, Hudson calmly put down a stellar Round 3, which had everyone on the edge of their seats awaiting the final scores.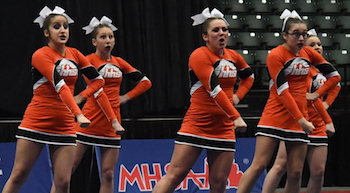 "I feel great right now, honestly, because we did the best we could," said Hudson coach Kelly Bailey, in her 22nd year, shortly after the final scores were announced.
On this day, the celebration belonged to the Pirates, who hugged and cried in each other's arms after they learned of their razor-thin victory.
"I was speechless when they announced Hudson second and we were the only team left," said P-W senior flyer Olivia Ferguson. "We were confident going into the final round. That's always been our best round and we practiced it so much, we knew we just had to go out and nail it one more time."
The Pirates, who do not compete in a conference but won District and Regional titles leading up to the Finals, produced a three-round 780.42, more than 16 points better than their previous season-best score of 764.16. 
Russell and Ferguson are two of five seniors on the P-W roster, with the others being Esmeralda Gonzalez, Amalie Hilligsoe and Cierra Van Ells.
Pewamo was one of the early state powers in cheer, winning five championships during the 1990s and early 2000s under coach Sherry Fedewa, who is still an assistant coach.
This title was especially sweet for Myers, whose daughter, Halie Myers, is a freshman on the team.
"It's been nine years since we've won state, and it was our ninth overall state championship," said Myers, who is assisted by Amber Weber, Olivia Nurenberg and Fedewa. "We've always been like a family, but it's extra special because I do have a daughter on the team."
Sanford Meridian ended up finishing fourth, as Adrian Madison moved into third with the meet's third-best Round 3. Michigan Center placed fifth overall, followed by Breckenridge, Grand Rapids NorthPointe Christian and Munising.
PHOTOS: (Top) Pewamo-Westphalia earned its first MHSAA Finals cheer championship since 2010 on Saturday. (Middle) Hudson performs a routine on the way to finishing runner-up.