Tabit Twins Drive Top-ranked Team in B
By Bill Khan
Special for Second Half
MOUNT MORRIS – In the heat of an intense volleyball match, it could be easy to get the wrong impression about Hannah and Sarah Tabit of Mount Morris.
A raised voice or a stern stare isn't an alarming indication of discord between the two. They're not mad at each other. They're not being mean. It's just two highly driven twins who have learned over the course of 17 years together which buttons to push without hurting each other's feelings.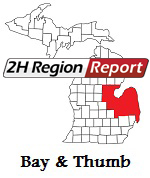 "Their chemistry is great," Mount Morris coach Jim Pender said. "I sympathize with them sometimes, because I'm an identical twin, too. Joe and I, when we competed, we got on each other. It wasn't anything we can't handle.
"Sometimes it seems like they're yelling at each other. It's just a different thing with identical twins. The kids now understand they're not yelling at each other. They're so competitive. They want the best out of each other. That's how they get it out of each other."
The tough-love approach seems to work.
The Tabits have been an integral part of Mount Morris' success over the past three seasons and to their fast start and No. 1 ranking in Class B as seniors this year. Sarah is an outside hitter who was second-team all-state after registering a school-record 867 kills last season. Hannah, an outside hitter and setter, made third-team all-state despite being limited by an injury.
Both are committed to play next season at Saginaw Valley State University, a short trip up I-75 from their hometown. Starting next fall, a new set of teammates will have to get accustomed to the in-your-face manner in which the Tabit twins motivate each other on the court.
Between twins, nothing that happens in the midst of competition is taken personally when they head home.
"I feel like I can be a little more firm with her and it's not like she'll cry or something," Sarah said.
"It's just because we've been playing together for so long," Hannah added. "We have a lot of chemistry together. If we mess up, we've got to figure out what's wrong. We have to fix it."
The Tabits have played volleyball together for quite a while, but not for as long as some high school teammates.
They became enthralled with the sport in elementary school when they went to Mount Morris matches to watch their brother's girlfriend play for the Panthers.
They couldn't wait to play volleyball themselves – but they had to.
Their father, Mount Morris assistant coach Pat Tabit, has witnessed many cases of burnout among athletes who have been playing the same sport from a young age. He didn't want that to happen to his daughters.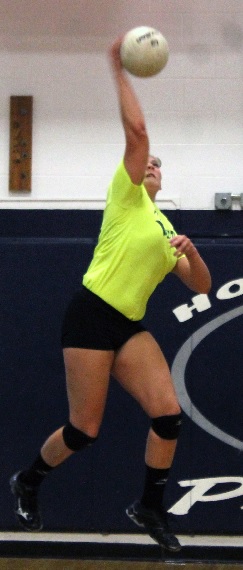 "Our parents actually wouldn't let us play until we were in sixth grade," Hannah said. "We kept trying to ask if we could. They'd say, 'Not yet, just wait it out.' They finally let us play. My dad didn't want us to get tired of it too quick, because it happens to a lot of girls who play now and start in third or fourth grade. He didn't want us to die out of it."
The Tabits enter their senior season very much energized about volleyball. It helps that they are on a team that could deliver only the second MHSAA championship in school history in any sport. The 1984 softball team won the Class B title, one year after Pender graduated from the school.
Mount Morris has won five district titles over the last seven years and nine overall, but has never advanced beyond regionals. The Panthers were strong before the Tabits arrived, but the program is at a different level with the twins leading the way.
"People come into the gym now and ask, 'When are those two going to be seniors?'" Pender said. "It seems like they've been on the team forever. They're noticed in the gym. Sarah got MVP of the first tournament and Hannah was on the all-tournament team. I haven't had too many players who could be a dynamic player for anybody in the state of Michigan. They know what's at stake and bring their game every time."
The Panthers didn't even make it out of their district last year, but it was understandable -- they lost to eventual Class B champion North Branch in the District Final. The teams have typically met in the regionals, with North Branch eliminating Mount Morris in that round in 2009, 2012 and 2013.
The teams are again in the same district this season. It will be played Nov. 2-7 at North Branch, the seventh-ranked team in Class B.
It's a testament to Mount Morris' returning talent that it earned the No. 1 ranking, despite its early exit last season and its history of never making it out of regionals.
"We're very happy about it, but we've still got to work hard every day," Sarah Tabit said. "That way we can maintain that No. 1 spot the whole season."
Mount Morris is off to a 16-1 start after three tournaments that have featured some of the best teams in the state. The Panthers beat Chelsea (No. 8 in Class B) and Birmingham Marian (preseason No. 9 in Class A) to win the first of two tournaments in Brownstown. They lost to Lake Orion (No. 2 in Class A) in the semifinals of the second tournament in Brownstown.
In their own tournament last Saturday, the Panthers beat long-time nemesis North Branch 25-13, 25-19 in the championship match.
In addition to the Tabits, libero Lauren Gibbs received postseason honors last year by making the all-region team as a freshman. Gibbs was injured and unable to play in the district, leaving the Panthers shorthanded against a powerful North Branch team it beat during the regular season.
Junior Summer Bruce, junior Mahogany Malone, sophomore Linda Allen, senior Kayla Sorensen and senior Madeline Clarke are other key contributors from last year's team.
"In the last six years, we've been ranked in the top 10 because of the tournaments we've been playing in," Pender said. "We've been playing some strong competition and competing with them. We graduated only two seniors, and they were basically in the same spot. We beat some really good teams last year. It puts a little more pressure on me, though, when they say you're that good. You have to have the kids to do what you need to get ranked. Now we have to put everything together. It puts a little added pressure."

Bill Khan served as a sportswriter at The Flint Journal from 1981-2011 and currently contributes to the State Champs! Sports Network. He can be reached at billkhan35@gmail.com with story ideas for Genesee, Lapeer, St. Clair, Sanilac, Huron, Tuscola, Saginaw, Bay, Arenac, Midland and Gladwin counties.
PHOTOS: (Top) Hannah Tabit works to get a ball past two opponents at the net during a match last season. (Middle) Sarah Tabit connects earlier this fall. (Below) The Tabit twins, numbers 12 and 16, lead the top-ranked team in Class B. (Top and middle photos by Greg Tunnicliff/Genesee County Herald; bottom photo courtesy of Mount Morris athletic department.)