This Time, for the 1st Time, it's Hartland
February 27, 2016
By Jeff Chaney
Special for Second Half
MOUNT PLEASANT – Todd Cheney sat on his chair in silence and wiped tears from his face.

With sophomore 119-pounder Carter Hankins losing by just a decision to Davison returning MHSAA individual champion A.J. Facundo, Cheney knew his Hartland wrestling team has locked up the Division 1 championship at the Team Wrestling Finals at Central Michigan University's McGuirk Arena Saturday evening.
The reason for the tears: it finally happened for Cheney and his program. His team won a title after so many near-misses, beating Davison 36-23.
"That runner-up stuff was for the birds," Cheney said. "Just to look at the kids' faces, and to see everything that they worked for – this was huge."
For 15 straight years, Cheney's Hartland teams qualified for the Finals. During that time, the Eagles made it to the Semifinal round 12 times, and five times were MHSAA runner-up, including after a heart-breaking loss to Brighton in last year's Division 1 championship match.
But this team was focused, and Davison coach Roy Hall knew that coming in.
"Those guys made a commitment, they cut down to scratch weight and they were focused for this," Hall said. "They came here on a mission this weekend."
After falling behind 3-0, Hartland went on a huge run, getting a decision from Reece Hughes at 140 pounds and pins from Sage Castillo at 145, Logan Vish at 152 and Lucas LaForge at 160.
That made the score 21-3, and the Eagles (34-1) never looked back.
"That was huge," Cheney said of the three straight pins. "We pinned them at 152 and 160 last time, and we beat them by one. This was good to get them early." 
Cheney said the way some of his wrestlers lost was big as well, like Hankins and freshman Corey Cavanaugh, who lost by technical fall to past MHSAA individual champion Max Johnson but did not give up a pin and six points.  
"Gosh, these kids, I hope you get pictures of their faces," an emotional Cheney said. "This means so much."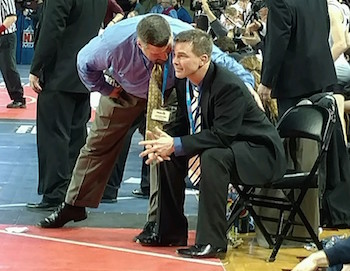 Hartland and Davison (24-5) earned their way to the Final with two totally different Semifinal wins.
Hartland had little trouble in beating Oxford 42-19, as the Eagles won the first four matches to jump out to a 20-point lead, and never looked back from there.
In all, Hartland won 10 of 14 matches wrestled against Oxford, five of those by bonus points, and three by pin (Castillo at 152 pounds, Vish at 160 and Brandon Krol at heavyweight).
In the other Semifinal, another highly anticipated match in Division 1, Davison beat Detroit Catholic Central 29-25. Kurt Schlak secured the win for the Cardinals with a 16-8 major decision over Tyler Johnson in the final match of the dual at 145 pounds.
That Semifinal was tight throughout, as each team won seven matches. But of Davison's seven wins, four were bonus-point wins (by major decision or pin), while the Shamrocks had only two bonus-point match wins. 
The MHSAA Wrestling Finals are presented by the Michigan Army National Guard.
PHOTOS: (Top) Logan Vish celebrates a pin at 152 pounds that put Hartland up 15-3. (Middle) Hartland coach Todd Cheney (right) and assistant Garnet Potter share a moment during the Eagles' first championship win. (Click to see more at HighSchoolSportsScene.com; bottom photo by Jeff Chaney.)