Unexpected Eagles Finish Repeat Run
June 15, 2013
By Andy Sneddon
Special to Second Half
BATTLE CREEK – There's a big difference between a mere thrower and pitcher.
Austin Batka epitomized Saturday what it means to be the latter.
Batka took a no-hitter into the seventh inning before settling for a two-hitter as Grand Rapids Christian held on to beat Richmond, 3-0, in the MHSAA Division 2 championship game at C.O. Brown Stadium.
It was the second consecutive title for the Eagles, who took a markedly different path than in 2012.
Saturday's win capped a remarkable run for Grand Rapids Christian, which was 6-12 at one point this season and entered the MHSAA tournament 12-15. The Eagles reeled off seven consecutive wins to finish 19-15. They went 36-5 a year ago, and were 30-8 in 2010, when they were the MHSAA runner-up.
"I don't know if you think that way," Christian coach Brent Gates said when asked if he was surprised his team found itself back in Battle Creek after the way it started the year. "I knew we had ability, but it was a young team so you really didn't know what they were going to become.
"What we saw over the course of that (early-to-midseason) time is every practice, the three-hour practices – they wanted to be there, they wanted to get better, and you just saw it become a little bit smoother. We've got some good athletes on the team, and they put the work in to get here."
Batka, a junior left-hander, tamed a Richmond (34-5) team making its first-ever appearance in Battle Creek.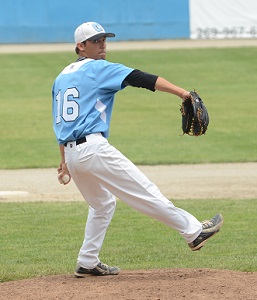 He mixed his breaking ball in effectively enough to keep the Blue Devils on their heels and, more importantly, off the bases. He struck out eight and walked two and at one point set down 11 consecutive Blue Devils.
"I wasn't necessarily overpowering," said Batka, who completed a one-week, three-game stretch, including Regional and Quarterfinal victories, during which he allowed a combined five hits. "I've been finding my curveball, so I don't have to throw my fastball as hard."
Batka's teammates gave him all the support he would need when cleanup man Tyler Sigler tripled leading off the second inning. He scored on Tyler Boyd's bunt.
The Eagles used two walks, a hit batsman, a wild pitch, and a fielder's choice to scratch out another run in the fifth inning. Batka then helped himself when he drove in the game's third and final run with a sacrifice fly in the sixth.
Though Batka had a three-run cushion – and his no-hitter still intact – to start the seventh, he wasn't out of the woods.
Ryan Boyd led off the bottom of the final frame with a looping liner to shallow center field to spoil the no-hit bid.
Batka said he didn't realize the significance of that turn of events until Gates made his way to the mound.
"He told me 'It doesn't matter; it's still going to be a complete game,' Batka said, "and I looked up at the scoreboard and there's the '1' on the hit."
A strikeout, an infield single, a fielder's choice forceout, and an error left the bases loaded with two out. Batka got the final out on a chopper back to the mound.
"He's thrown a lot of innings here in the last week," Gates said. "He's had three starts in less than a week. He's a consistent 85-87 (mph) kid with a consistent curveball. He strikes out a lot of kids. Today, he just battled. … He didn't have probably his best stuff, but he gutted through it. He knows how to pitch."
PHOTOS: (Top) Grand Rapids Christian baseball players pile onto the pitcher's mound and each other after clinching their second straight MHSAA championship. (Middle) Eagles junior Austin Batka threw a complete game to earn the victory.  (Click to see more from Hockey Weekly Action Photos.)