Unexpected Ubly Reaches Season Finale
June 14, 2013
By Bill Khan
Special to Second Half
BATTLE CREEK — Nobody outside of Ubly expected the Bearcats to be playing for the MHSAA Division 4 softball championship.
Even some within the inner circle were skeptical.
"It's crazy and unbelievable," senior catcher Alyssa Briolat said following an 8-6 victory over Grosse Pointe Woods University Liggett in a Semifinal on Friday at Bailey Park. "I would never have thought this would happen. It's just so surreal. I'm on cloud nine and my feet haven't touched the ground yet since we've been here. Now that we're going to the Final, we just need to keep it up and play our game."
It's understandable that Ubly's trip to the Final has caught everyone by surprise. The Bearcats (27-6) had never won a Regional championship until this season and were unranked. Even as they marched all the way to Battle Creek, they did so without facing a team that even merited honorable mention in the final state rankings.
But against a fourth-ranked Liggett team that allowed two runs or fewer in 26 of its 31 games, Ubly became the first team this season to put up eight runs against the Knights (27-5).
"At the beginning of the season, regionals was our goal," Ubly coach Courtney Dekoski said. "Last year we lost in the first round of regionals, so our goal was to improve there. Look where we are."
The Bearcats are playing on the final day of the season against top-ranked Kalamazoo Christian at 12:30 p.m. Saturday at Bailey Park. After toppling the fourth-ranked team in the state, the Bearcats won't be intimidated against a program that owns six MHSAA titles.
"I'm psyched," Dekoski said. "There's no stopping us now with the momentum we have and the girls we have. It's anybody's game."
The key to Ubly's victory was a four-run third inning that featured a two-run homer by Briolat.
"I definitely wasn't trying for a home run," Briolat said. "I just wanted to get a hit. I struggled a little in the quarterfinal and I struck out my first at bat. I just wanted to make some contact. Right from the bat, it felt good."
The home run gave Ubly a 4-1 lead. Liggett scored twice in the bottom of the third inning to make it 4-3, but the Knights could never catch up. A three-run fifth got Liggett within 7-6, but Ubly got breathing room when Maria Guza led off the seventh with a home run.
Julia DeRoo gave Liggett a chance by leading off the seventh with a single, but she was picked off when pitcher Michela Guza speared a line drive by Emily Kanakry and threw to first base to complete a rally-killing double play.
"I was paying attention and knew if I caught it, I saw her off the base and we might have a double play," Guza said.
Maria Guza and Briolat drove in three runs each for Ubly.
Kalamazoo Christian 2, Rogers City 0
Senior Stephanie VanderLugt pitched a two-hit shutout for Kalamazoo Christian. She struck out nine and allowed only one run.
Rogers City's only significant threat came in the top of the seventh inning, when it put runners on first and second with one out. VanderLugt forced two popups to second base to end the game.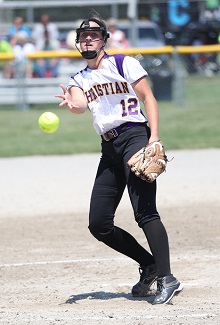 "I was a little nervous, because they could win with a home run, and I knew they had quite a few home runs over the whole year," VanderLugt said. "I was just trying to focus on my game, rather than what their batters had."
VanderLugt got all the support she would need when freshman Kara Gjeltema hit a solo homer to right field with one out in the fourth inning. The Comets got an insurance run when Carly Vandenberg led off the fifth with a double and scored on an error.
Kalamazoo Christian has won eight straight games, outscoring its competition 67-8, since getting swept 11-0, 15-5 late in the season by Division 1 powerhouse Mattawan.
"We don't see a Division 4 team until we get to this," Kalamazoo Christian coach Karla Reno said. "Locally, we've got Portage Central, Portage Northern, Mattawan, Coloma, Wayland, who are really top teams. All of the KVA teams are bigger schools than us. It helps prepare us tremendously. You can never play good teams too much. It helps bring our level of play up."
Rogers City (33-7) was in the semifinals for the first time since 2004, scoring 77 runs in six postseason games before getting blanked.
"We ran into a really good pitcher today," Rogers City coach Karl Grambau said. "We just couldn't come up with the big hit. We hit the ball all year. We're a great hitting team. You've got to give the Kalamazoo Christian pitcher a lot of credit."
Kalamazoo Christian is in the MHSAA Final for the ninth time, but the first time since 2002. The Comets have won the last six times they've reached the title game.
PHOTOS: (Top) Ubly first baseman Lindsey Briolat prepares to scoop up a grounder during Friday's Semifinal win over University Liggett. (Middle) Kalamazoo Christian pitcher Stephanie VanderLugt delivers during her shutout of Rogers City. (Click to see more from Hockey Weekly Action Photos.)