Veteran Eagles Soar to 1st Semi since '79
November 18, 2015
By Dean Holzwarth
Special for Second Half
GRAND RAPIDS – The Grand Rapids Christian volleyball team has enjoyed one of its best seasons in school history.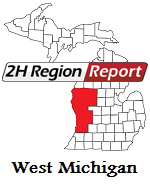 One main reason for the Eagles' unbridled success: Experience.
Grand Rapids Christian entered this fall with a wealth of it, including one four-year varsity player and a core of three-year varsity players.
"We have six seniors on this team and they have a lot of experience," Eagles fifth-year coach Tiffanie Gates said. "They have played together for a long time, in club and high school."
The veteran leadership has been beneficial in their historic run to the Class A Semifinals. Thursday's match against top-ranked Novi will be No. 3 Grand Rapids Christian's first at this late round of the MHSAA Tournament since 1979.
Grand Rapids Christian (49-4) defeated No. 2 Mattawan 3-1 (25-21, 18-25, 25-23, 25-21) in Tuesday night's Class A Quarterfinal at Caledonia High School.
"This season has been a blast," said senior outside hitter Sam McLean, who's been on the varsity all four years and earned all-state second-team honors last season. "We've been playing so well together as a team, and we've been playing some of our best games lately. It's fun because we're super close, and we're friends outside of the court. It's been a real good time."
The seniors, which also include returning all-state first-team outside hitter Dylynn Otte, plus Ellen Long, Jessa VanderWeide, Maria Bolt and Megan Noordewier, have provided a calming influence to the underclassmen. 
When things have gotten tough, they've persevered and proceeded with a confident demeanor. 
"Any outside factors that get in our way, like a huge crowd or a team that is good, our seniors have calmed our players down," McLean said. "We emphasize to our younger players to focus on us, and when we're down or struggling, our seniors have been huge in helping our team out."
The biggest evidence of a senior-dominated team has been its ability to not give an inch. They've developed a killer instinct, refusing to let other teams gain momentum.
The Eagles didn't drop a set through 10 conference matches en route to an Ottawa-Kent Conference White championship and have lost only one set during the MHSAA Tournament.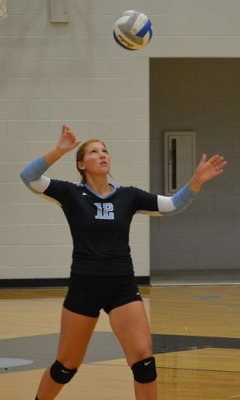 "In this sport, it is whoever finishes and sees matches through," Gates said. "I attribute that to our senior leadership with not letting up and not riding that rollercoaster that you see sometimes in high school volleyball." 
In last week's Regional Final against No. 9 Hudsonville, the Eagles were up 2-0, but on the verge of losing the third set down 21-18.
"They rallied and finished it in three," Gates said. "We've had conversations about not expecting it to go that way from here on out and the further you go the harder it gets, so they are prepared for it not to be that way. They have definitely worked hard to finish strong every time."
Grand Rapids Christian has drawn motivation from two straight years of early exits in District play. They have refused to allow history to repeat itself.
It has changed their mental approach to every match. 
"It's been our theme," McLean said. "We even break it down to one point at a time and one set at a time. Last year I think we looked ahead too much, and that's why we ended so early. This year we've barely looked at the state finals. 
"We've only looked at the next game and what we have to do to win the next one and the next one. That's all we've been focusing on, and it helps a ton." 
The seniors have dedicated themselves to making this season a memorable one.
"It's a special year for all of us, and we want to go as far as we can," McLean said. "A lot of the seniors won't play in college, so this is their final games. I love our underclassmen because they want to do well for us. It's really cool to see."    
Added Gates: "The core group have been playing club together since they were 11 or 12, so it's been a dream for them since they were little. You see it coming to fruition now, and it's pretty neat. They are definitely motivated and driven." 
On the court, Grand Rapids Christian doesn't have a lot of weaknesses. A balanced group of big hitters and solid blocking at the net have paced their attack.
"We have good ball control and defense," Gates said. "And we're pretty deep offensively. It's difficult for teams to camp out on one hitter. We can definitely mix it up. I don't think there's a hole in our game so far." 
The Eagles overcame a major hurdle when they swept perennial state powerhouse Grand Haven in the Regional Semifinal.  
The Bucs knocked Grand Rapids Christian out in the Quarterfinals in 2012 and entered this postseason ranked No. 5.
"We split with them in the regular season in tournament play so we knew their game and practiced for it," Gates said. "It's a fun little rivalry with them because it's always been back and forth. It was an exciting and emotional match for us."


Dean Holzwarth covered primarily high school sports for the Grand Rapids Press and MLive for 16 years and more recently served as sports editor of the Ionia Sentinel and as a sports photojournalist for WZZM. Contact him at dream100@comcast.net with story ideas for Allegan, Kent and Ottawa counties.
PHOTOS: (Top) Grand Rapids Christian players and coaches pose last week with their Class A Regional championship trophy. (Middle) Jessa VanderWeide, one of six seniors, prepares to unload a serve during a match earlier this fall. (Photos courtesy of Grand Rapids Christian High School.)