This Week In High School Sports: 11/9/21
This edition reviews the weekend's Boys Soccer Finals and highlights from the Lower Peninsula Cross Country Finals, awards Game Balls to high achievers in volleyball and football, and explains field goal attempt scenarios in football for "Be the Referee."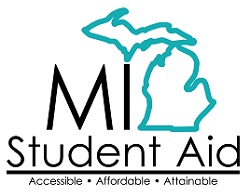 The 5-minute program each week includes feature stories from around the state from the MHSAA's Second Half or network affiliates, along with "Be The Referee," a 60-second look at the fine art of officiating.
"This Week in High School Sports" is powered by MI Student Aid, a part of the Office of Postsecondary Financial Planning located within the Michigan Department of Treasury.
Listen to this week's show by Clicking Here.
Previous editions
Nov. 2: Title IX at 50 celebration, Fall championship broadcasts – Listen
Oct. 27: Upper Peninsula Cross Country Finals review, soccer/volleyball playoff update – Listen
Oct. 20: Lower Peninsula Girls Golf & Boys Tennis Finals review – Listen
Oct. 13: Middle school/junior high cross country Regionals, football playoff selection – Listen
Oct. 6: Upper Peninsula girls tennis champions, football broadcast update – Listen
Sept. 29: Girls swimming & diving "Meet of Champions," Schoolcraft's star kicker – Listen
Sept. 22: Spartan Invitational "elite" races, John U. Bacon's "Let Them Lead" – Listen
Sept. 15: Volleyball powers face off, Tiger Teusink's tennis legacy – Listen
Sept. 8: Fall sports rules changes, Adrian Lenawee Christian inspiration – Listen
Sept. 1: Boys soccer seeding process, Beaver Island athletics – Listen
Aug. 25: Return of Fall sports, "enhanced strength-of-schedule" football playoff format – Listen