Eagles End Phenomenal Fall as Repeat Champ
November 23, 2019
BATTLE CREEK – Tiffannie Gates couldn't hold back the tears Saturday. 
The Grand Rapids Christian volleyball coach had just watched her team win a second-straight Division 2 title, sweeping Lake Odessa Lakewood 25-21, 25-15, 25-16, which is emotional enough. She also had just finished her last game as coach of her daughter, Jordyn, who shined in her final game as an Eagle. 
"It's really bittersweet right now to think I'm done coaching her," Tiffannie Gates said. "You couldn't ask for a better ending. It's been pretty neat." 
The Grand Rapids Christian program closed out an incredible run with another dominant showing at Kellogg Arena, sweeping the No. 2 team in the Final for the second straight year. The top-ranked Eagles actually swept both matches at Kellogg, also just like a year ago – defeating Kingsley in the Semifinal – and finished 46-3, dropping just 10 sets all season. 
All while carrying around the target that comes with being the reigning champion. 
"Every team came to play against us," junior outside hitter Addison VanderWeide said. "No matter who they were, they came to play their best volleyball. We definitely felt that, but we were able to push through and stay on top." 
At the center of it was Jordyn, a Miss Volleyball finalist who will play at Arkansas next season. The 5-foot-10 senior setter came into the weekend with more than 1,000 assists on the season, and finished Saturday's match with 39 assists, 13 digs and six kills.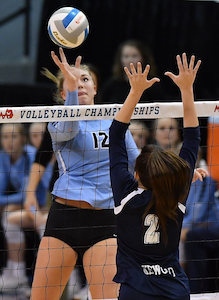 For her, it was also a bittersweet moment. 
"It was really emotional this morning, last time ever being coached by her," Jordyn said. "She's my biggest inspiration. Being able to play for her and having her coaching me and pushing me every single day. Even today she was still telling me things I needed to work on. It never stopped. She's definitely my biggest inspiration, so it's been awesome sharing this journey with her." 
Jordyn spread the ball around enough to keep Lakewood off balance Saturday night, as Ayva Kooistra and Evelyn Doezema each had six kills. But it was clear that VanderWeide was her main target, and she came through in a big way. VanderWeide had 28 kills on 55 attack attempts for a .436 attack percentage. 
"I even knew before we even showed up that she was going to have the game of her life," Jordyn said. "She was fired up and I knew to just dish the ball to Addi, she's the girl on fire. Keep dishing it to her no matter what, she's who we have to dish it to, and she was unstoppable tonight. I'm so proud of her." 
Lakewood (40-13) did come out strong, building a 13-9 lead in the first set. But Grand Rapids Christian responded to close out the set before controlling much of the rest of the match. 
"Our strength this year has just been playing very evenly – not getting too high or too low," Tiffannie Gates said. "I just said, 'You know what, you're fine. We're just going to go out there and play defense and serve tough and pass well and focus on your game, one point at a time.' That's been our motto all season, one point at a time. Don't project, 'What if we don't win? We're supposed to win.' So we're really trying to focus on the one point at a time." 
Tiffannie Gates said the goal for the Eagles coming into the match was to try and slow down the O'Gorman sisters. While they did have some success, the plan worked for the most part. Aubrey O'Gorman led Lakewood with 11 kills on the night, while Maradith O'Gorman had 10 kills and 10 digs. Skylar Bump added 25 assists for the Vikings. 
PHOTOS: (Top) Grand Rapids Christian's Addison VanderWeide (14) launches a kill attempt during Saturday's Division 2 Final. (Middle) Evelyn Doezema tips the ball over the block of Lakewood's Jaizah Pyle.