He hasn't met a sport he can't coach. And, he probably hasn't turned down a team he's met – yet.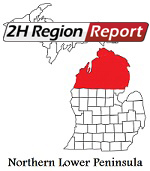 Many of the coaching jobs he's taken were actually offered to him by him.
Whenever he's started a new sport, he's sought mentors in the form of successful veteran coaches. But make no mistake, if they made a movie in Northern Michigan called "The Mentor" – this Hall of Fame coach would be the star of the show.
He's technically retired today. The teams he coaches don't get TV cameras and other media present. He's a middle school track and volleyball coach for Fife Lake Forest Area Community Schools.
He's perhaps most well-known as the past volleyball coach at Forest Area. Don't be surprised if you hear of graduated athletes – and current student-athletes – from Glen Lake, Manton, Kingsley and even McBain Northern Michigan Christian happily call him "Coach."
Name the coach? Ron Stremlow. He's a retired physical education teacher, athletic director and coach. He came out of retirement to return as the part-time athletic director for Forest Area, a district he served 32 years as a teacher.
He's also coaching a couple of middle school sports, just like he did when he was working full-time. Athletic directors often need to put themselves in tough-to-fill coaching slots.
"Ron Stremlow has been a tremendous ambassador of high school sports in Northern Michigan," said Dave Jackson, athletic director of Frankfort-Alberta Schools. "The number of coaches, parents and athletes Ron has encouraged during his years of service are too many to count.
"He is an athletic administrator that has always been about service and what (he) can do to help."
Help is exactly what he did once upon a time for then-new volleyball coach at McBain Northern Michigan Christian, Diane Eisenga. The call for help came from Eisenga's players.
Today, Eisenga is an athletic assistant for the Comets and mother of five boys, her youngest still attending NMC. Like Stremlow, she has built a very successful program. Back then, she was just getting started, pregnant and a mother of two children, and unable to coach her team during a Ferris State University tournament that Stremlow had planned to scout with longtime friend and Kingsley 1,000-win volleyball coach Dave Hall.  
Stremlow actually was planning to watch NMC at the tournament, anticipating the Comets would be a potential roadblock to a District title that upcoming season. (He was right: Forest Area would end up losing to NMC in a District Final as the Comets reached the Class D Quarterfinals.)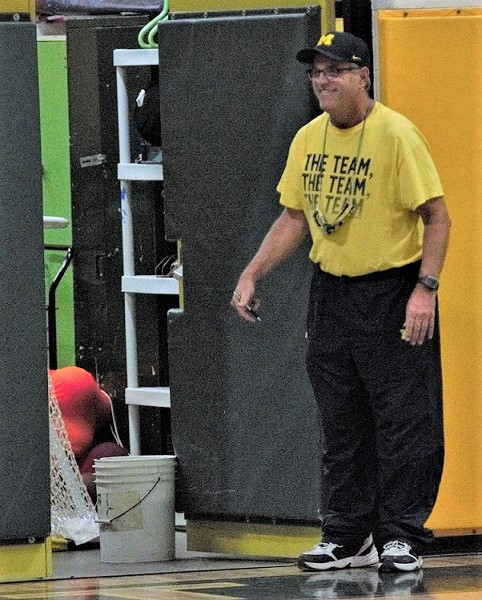 What Stremlow did not anticipate was being asked by the Comets players to step in and coach them at the Ferris tourney. Stremlow was told Eisenga was not feeling well enough to guide the team at that moment.
Stremlow did not hesitate to help. He had previously leant his wisdom to the former Dordt University (Iowa) athlete with tryouts, cutting decisions and NMC's summer camp.
"I had played in high school and college, but I was green," Eisenga acknowledged. "He was a good mentor."
She recalls her players asking for Stremlow's help.
"I got real light-headed and wasn't feeling well," she said. "Because the girls had known him, he took over for me that day."
It wasn't a surprise for Eisenga to witness Stremlow's contribution to her team's success that year.
"I always saw him as more of a mentor and more of a friend (than an opposing coach)," Eisenga said.  "He was happy with anyone's success.
"He was always happy for any team that played well," she continued. "Of course, he always wanted his own to win. … He was always respectful, and you never saw him cross the line."
Stremlow, who jokes about maybe not having the most wins among hall of fame volleyball coaches while claiming the most losses amongst the elite group (he still ranks 17th  in MHSAA history with 944 volleyball wins despite retiring from the Forest Area varsity after the 2018 season), spends his days taking care of Forest Area boys and girls basketball, completive cheer and the Warriors co-ed wresting teams. Many a night he does whatever it takes to run an event, including running the scoreboard for basketball.
In the fall, Forest Area offers 8-player football, cross country and volleyball. He's in the midst of finalizing spring softball, track and baseball.
Basketball is perhaps his favorite sport, but he loves the change of seasons.
"Once that season's up, I am ready to rock and roll and get into another," Stremlow noted.
Giving back is what keeps the 62-year-old Stremlow going. He sees at least three years of involvement ahead.
"A lot of kids do not get good role models or good coaches. And I thought if I can help kids out, I am going to," Stremlow said.
Today Stremlow wears many school colors, especially the Warriors' forest green. You also often can find him in Kingsley orange, or perhaps it is actually the Manton orange. 
You will definitely find him in his favorite, maize and blue. His forest green should never be confused with the Michigan State green. The Wolverines became the favorite of the Central Michigan grad when he got into the Big House as a high school student with a $2 ticket to watch Michigan take on Navy.
"I have green, but it is not the Michigan State green," Stremlow said he often jokes with fans of the Spartans and Warriors.
Stremlow uses all his team colors as he follows another passion, photography. He got a camera for college graduation, and student-athletes all over Northern Michigan have benefited.
"There are thousands of former players from Forest Area and Kingsley that can point to pictures in their homes that Ron has taken of them playing sports," Jackson said. "These pictures are not just cute shots, but pictures that were used to teach form and techniques."
Stremlow takes satisfaction from capturing sports on film, rather digitally, as he does today.
"I take a lot of pictures – I've always liked it," he said. "That's the best gift you can give any kid and parents – just getting pictures.
"It really helps, plus I like doing it."

Tom Spencer is a longtime MHSAA-registered basketball and soccer official, and former softball and baseball official, and he also has coached in the northern Lower Peninsula area. He previously has written for the Saginaw News, Bay County Sports Page and Midland Daily News. He can be reached at tomspencer@chartermi.net with story ideas for Manistee, Wexford, Missaukee, Roscommon, Ogemaw, Iosco, Alcona, Oscoda, Crawford, Kalkaska, Grand Traverse, Benzie, Leelanau, Antrim, Otsego, Montmorency, Alpena, Presque Isle, Cheboygan, Charlevoix and Emmet counties.
PHOTOS (Top) Fife Lake Forest Area athletic director Ron Stremlow talks with official Chuck Bott (right) before a basketball game against Indian River Inland Lakes this season. (Middle) Stremlow shows support for his favorite college team while prepping before a game against Johannesburg-Lewiston. (Top photo by Tom Spencer; middle photo by Andrew Fish/Gaylord Herald-Times.)