Undefeated Calumet Upholding Tradition
October 22, 2020
CALUMET — Over nearly two decades, Calumet has developed a tradition of excellence in high school volleyball.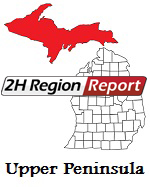 First-year coach Kate (Twardzik) Bonacorsi remembers what it was like during the early years.
"We were an unknown," she said. "Hardly anybody would come to the volleyball matches. Then we won the (Class B) Regional in 2003 and kind of raised the bar.
"A lot of the credit has to go to my mom (Lisa Twardzik) for all the work she put into the program and the passion she had for the game."
Their multiple-generation coaching connection is just the latest from a legacy that is again producing a team capable of achieving high aspirations.  
The Copper Kings – honorable mentions in this week's Division 3 coaches poll – are fresh from Monday's 3-0 victory over Houghton and will take an 11-0 record into Saturday's Western Peninsula Athletic Conference finals on their home court.
Calumet finishes its regular season at Marquette on Oct. 29, then hosts Hancock in a District opener Nov. 4.
"This is pretty exciting after putting all the time in the gym," said senior libero Cami Johnson. "We have good chemistry on our team for sure. It's inspiring too for us to be on a competitive team. We were able to see our older sisters play and be part of a successful program, and that motivated us to work harder. I'm proud to be from Calumet."
The Copper Kings, who fell to Manistique in Regional openers the past two seasons, hope to go deeper in this year's MHSAA Tournament.
They hope those defeats pay off when the postseason begins. 
"When we saw them in warm-ups, they looked pretty good and we were a little nervous about playing them," said senior outside hitter Elli Djerf of taking on the Emeralds in 2019. "There's a chance we could see them again this year if we win our District.
"We learned quite a bit from those losses. With COVID-19 you never know when your season might end. We're not as nervous this time. We play every match like it's going to be our last."
Among the team's highlights this fall was a 3-1 triumph over Marquette at home Sept. 14.
"We made a bit of a statement that night," said Johnson. "Our hitters were executing, and they had a few strong hitters. We were a little worried when we missed two weeks due to COVID, but after the break we came back super fresh."
Djerf was the West-PAC's Player of the Year last season as a junior, and Johnson was the Defensive Specialist of the Year. Now-senior setter Kristi Keranen also made the all-league first team.
Also among the team's leaders is sophomore middle hitter Helen Beiring. "Helen plays well above her age," Bonacorsi said. "She's a very savvy player, and our setter is doing a good job.
"We have strong players at every position, and they challenge each other in practice. Just being able to have a season, maintaining a high standard and living up to expectations has been a highlight."
A member of Calumet's Athletic Hall of Fame, Bonacorsi went on to play at Northern Michigan University, and her sister Erica played on the 2008 team that finished Class C runner-up to Schoolcraft.
"Erica and Abby Storm were co-MVPs in the West-PAC that year," said Bonacorsi. "I remember going to the Semifinals and Finals after we got eliminated from the (NCAA Division II Tournament). It was exciting to see them play."
Lisa Twardzik retired from coaching after leading the Copper Kings to another Semifinal appearance in 2016, and with a record of 625-131-43 over 18 seasons. Matt Laho took over for the next three seasons.
"Matt did a great job maintaining the program and has been gracious enough to help out, and Mom gave me some pointers," said Bonacorsi. "Matt left me with a full cupboard. Mom is so modest and tells me 'I don't want to step on your toes,' and I tell her 'I need your help.'"
Djerf pointed to the team's communication on the floor among areas becoming strengths this season. She also noted the team's serve-receive and serving as contributors to Calumet's overall continued improvement.
All have the Copper Kings in position to again thrive into November.
"It feels great to be part of a tradition. When you're a little girl, you look up to the older girls. We thought they were so cool and wanted to be a part of that," Keranen said.
"We work hard in practice. So far we've gone undefeated, and we want to keep it going."

John Vrancic has covered high school sports in the Upper Peninsula since joining the Escanaba Daily Press staff in 1985. He is known most prominently across the peninsula for his extensive coverage of cross country and track & field that frequently appears in newspapers from the Wisconsin border to Lake Huron. He received the James Trethewey Award for Distinguished Service in 2015 from the Upper Peninsula Sportswriters and Sportscasters Association.
PHOTO: Calumet's Helen Beiring taps the ball over the net during a match against Hancock in September. (Photo courtesy of the Houghton Daily Mining Gazette.)