Volleyball Joins GR Christian Title Lore
November 17, 2018
BATTLE CREEK – Maria Bos' eyes locked onto the MHSAA Division 2 volleyball championship trophy Saturday like they had locked onto every ball set her way that afternoon.
Although rather than spike it to the ground like she successfully did 21 times in the championship match, she joined her Grand Rapids Christian teammates in embracing and lifting the wooden mitten that previously had eluded the program.
"It doesn't honestly feel real," the senior outside hitter said. "You're very tense the entire time, but still relaxed at the same time. All that tension just kind of lets itself go all at once, and I've been dreaming about this for all four years of high school. For it to finally happen on the last match of my senior year, it gets me, and it's just the best."
The Eagles swept 2017 Class B champion Pontiac Notre Dame Prep 25-19, 25-18, 25-21 at Kellogg Arena to claim the first Finals championship in program history. It also was the first time the Eagles had ever played in a Final, and rather than shrink from the moment, they soared.
"We kind of in our minds projected that we would be here," Eagles coach Tiffannie Gates said. "We knew Notre Dame Prep was an amazing team, so we just talked about before we came out, no fear, just play aggressive, play to win and don't try to worry about the outcome. Just play hard."
Grand Rapids Christian (46-5) entered the postseason ranked No. 1 in the division, but the level of dominance against a veteran Irish team that had won 54 straight matches stunned most observers.
"We talked about mentally preparing for the fact to go five, and that it could be 16-14 in the fifth, and to not get down if they started to get a point run," Gates said. "We made sure we played a very tough schedule this year, and we've beaten some really good teams, so we felt confident that we could battle these guys."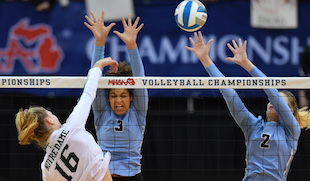 The Eagles took control of all three sets relatively early, and then stifled any Irish attempt at a big run to get back into it – even in the third set when Notre Dame Prep made most every point interesting.
"They're a very good team, as I've said all along, and they played well today," Notre Dame Prep coach Betty Wroubel said. "We had a few hiccups. Every time we started to make a little bit of a run, we had an unforced error that would give them the ball back. I'm so proud of our kids; we had an awesome season. They played well, and we're here – a lot of teams wish they were here. I'm proud of our kids. It's the end of an era for these three seniors (Natalie Risi, Maria Famularo and Maddy Chinn), and that's the saddest part."
Chinn, who was named Miss Volleyball earlier this week, and Risi, who also finished in the top 10 in voting for the award, managed to get theirs in the attack, with Chinn tallying 17 kills and Risi 14. But the Eagles did a good job of staying away from Chinn's blocking by attacking from multiple angles.
"That's been our thing all year, running a fast offense," Gates said. "I noticed that Betty moved Maddy to the right side to stop our outside hitters, so we did a good job of passing well enough to where we could run them out of the middle and avoid her big block for most of the night."
Addie VanderWeide had 17 kills for the Eagles, adding three blocks. Lauren Peal had 12 digs, and Jordyn Gates had 38 assists and 29 digs to help her mom get her first coaching title.
"It was awesome," Tiffannie Gates said. "I feel like they're all my children right now. I really can't point one out, I'm so proud of every single one of them. But, yeah, it was fun to be a part of it with her for sure."
Risi added 12 digs for Notre Dame Prep (64-6), while Famularo had 14 assists and 14 digs, and Aly Borellis had 12 assists and nine digs.
PHOTOS: (Top) Grand Rapids Christian hoists its first volleyball championship trophy Saturday at Kellogg Arena. (Middle) The Eagles' Maria Bos (2) and Olivia Nedd (3) put up a block as Notre Dame Prep's Maddy Chinn follows through on a kill attempt.