Bullock Creek's Brooks Turns Heartbreak Into Motivation
December 9, 2021
It didn't take long for Peyton Brooks to turn disappointment into motivation.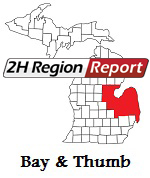 This past spring, he was undefeated and ranked No. 1 in Division 3 at 152 pounds, but on the day before the Regional tournament, the Bullock Creek star had his junior season cut short because of a positive COVID-19 test on the team. 
"I got home, and I was kind of disappointed and I was really down on myself for about a day," Brooks said. "I saw no point in feeling that way, so I actually started using that feeling to better myself for the next year."
It's now next year, and Brooks – a Finals runner-up in 2020 – is focused on putting himself in a position to finish what he started and reach the top of the podium.
"I think I've been putting a little bit of extra work in, going harder in practice," he said. "I want to make sure I do everything right. I know it's my senior year, and it's my last chance to win a state championship, so I want to do everything to make sure that happens."
Brooks seemed to have done all he could a year ago, as well. He was 24-0 through the Individual District, and had helped lead Bullock Creek to its first Team District title in 10 years. In the District Final, he defeated Sanford Meridian's Nick Dodman 5-2. Dodman went on to win the Individual Finals title at 152.
But as the Lancers were going through their final day of preparation for the Individual Regional, one team member's rapid test came back positive. The timing meant there was no way for Brooks, or his teammates who were close contacts, to get cleared.
"Last year was a crazy year all the way around," Bullock Creek coach Alan Curtis said. "There were a lot of other teams that got hit earlier in the season than we did. We just happened to catch it at the end of the season. It's kind of like everybody was waiting for it to happen, but hoping it didn't. There's really not much you can say, and it's really nobody's fault. It is what it is. We kind of looked at every option we had to get him down there, but when it came down to it, our hands were tied."
While Brooks was disappointed in how things ended, he remained positive about the season.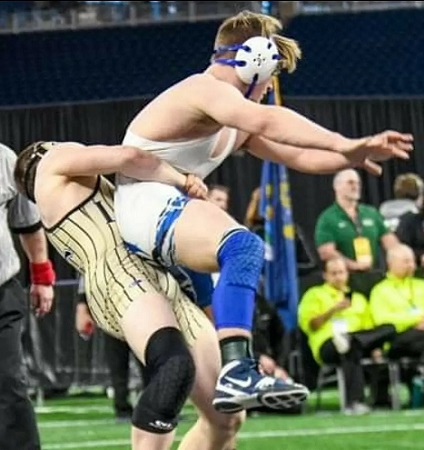 "Personally, I was just happy to have a season," he said. "We started two or three months late – we started in February when the postseason would normally be – so I tried not to take any meet or anything for granted. I felt like I had a chance of not being able to compete at all."
Not taking things for granted is something Brooks has carried into this winter. His work ethic has always been exemplary, Curtis said, but there is an added focus as Brooks prepares for his final wrestling season.
"Right from the first practice of the season, he stays after every practice – he gets guys to stay after and work with him," Curtis said. "He goes through our whole practice, then he stays after another half hour with whoever he can get."
Wrestling isn't the only thing Brooks excels at, as he also was a standout running back and linebacker for the Bullock Creek football team. He said he's keeping his options open in terms of playing at the next level, as he hasn't decided which sport he will continue. Playing both, though, has been a benefit.
"I think they both helped me in both sports," said Brooks, who also is a sprinter on the track team. "I think wrestling has helped me more with football. It's made me a better athlete with my work ethic, athleticism, balance, speed and footwork. It's really made me a better player."
With his focus on football through the fall, there is the challenge of getting down to weight for Brooks. He plays at about 180 pounds on the gridiron but plans to wrestle at 160 for the majority of this season. A drop to 152 also isn't out of the question.
"He's one that I never have to worry about his weight," Curtis said. "He knows what he needs to do, and he doesn't starve himself. He does it the right way. He works out on his own at home. His work ethic is phenomenal."
No matter the weight Brooks comes in at, he figures to be among the favorites to win an individual title. If he's able to pull it off, he admitted the combination of it being his senior year and the events of a year ago would make it that much more special.
His coach agreed.
"I think it would be amazing," Curtis said. "He doesn't normally show a lot of emotion, but I think that would get to him, because he's worked so hard.
"He should have had it last year. I don't know if he feels like he was robbed, but he knows he should have won it last year. That's going to give that extra drive this year to get it done."

Paul Costanzo served as a sportswriter at The Port Huron Times Herald from 2006-15, including three years as lead sportswriter, and prior to that as sports editor at the Hillsdale Daily News from 2005-06. He can be reached at paulcostanzo3@gmail.com with story ideas for Genesee, Lapeer, St. Clair, Sanilac, Huron, Tuscola, Saginaw, Bay, Arenac, Midland and Gladwin counties.
PHOTOS (Top) Midland Bullock Creek's Peyton Brooks, far right, raises his hand signifying a win last winter. (Middle) Brooks attempts to bring down an opponent during the 2020 Individual Finals. (Photos provided by the Bullock Creek wrestling program.)