Constantine Proving Its Power as Postseason Approaches
March 2, 2021
Excuses are not permitted inside the Constantine High School wrestling room.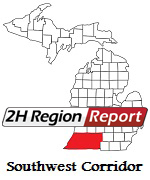 Despite being 15-1 with wins over several top-10 teams in the state, the Falcons are not among the programs ranked in Division 3 as of March 2. Constantine has defeated three of the best teams (Bronson, Union City and Lawton) in Division 4 so far this year and boasts four returning Individual Finals qualifiers. 
But because Constantine has been tripped up at Team Regionals since 2013, seventh-year head coach Dale Davidhizar believes his squad has more to prove before it gets the recognition it might deserve. 
A shortened season due to COVID-19, which eliminated big weekend tournaments that best prepare athletes for the grueling postseason, won't be used as a defense for individuals or the team coming up short this month. 
"With our senior leadership that we have, I think the kids will be ready to go and rolling without a problem," Davidhizar said. "We've filled our team schedule with some pretty good teams throughout the year."
Two of those seniors, both captains, have endured plenty of adversity. Neither one of them has let it derail them. Due to various injuries over the years and waiting their turns behind talented upperclassmen, Gage Ensign (152 pounds) and Isaac Hall (189) finally reached 100 career victories in February as they eye returns to the Finals.
Ensign placed seventh in Division 3 in 2019 at 130 pounds and opted not to duck anyone the following year as a junior. In 2020, a stacked Division 3 Regional at 140 pounds resulted in four wrestlers eventually snagging the first, second, third and fifth podium positions at Ford Field at the championship. Ensign was not one of them. 
"He wanted to stay in the toughest weight class in the state in any region," Davidhizar said of Ensign's competitiveness. "He took on the challenge and fell a little short. Those were some seriously tough kids he went after."
At 12-1 this year, Ensign, who's battling a nagging injury, hopes to finish out his career with a strong run at 152. 
"This year I'm an underdog," Ensign said. "I sort of embrace it, and I feel more relaxed in practice and in meets. I have nothing to lose now. I was pretty dang happy (to reach 100 wins) because I didn't know if I was going to be able to wrestle this year. I'm just happy to be able to be on the mat."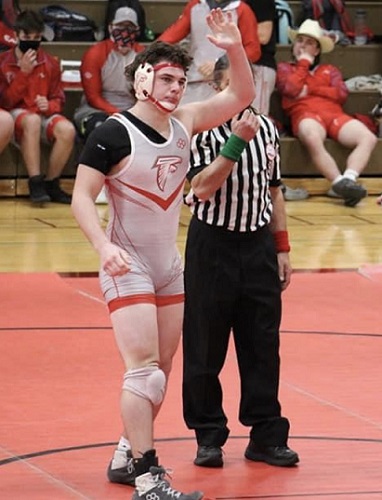 Hall stepped up as a freshman at 171 and finished around .500. He missed time as a sophomore due to an injury — about a third of the season — but accumulated more than 40 victories in 2020 at 189 en route to a fourth-place Finals finish. Hall dropped his opening match by fall in the first period but went on to win four consecutive bouts in the consolation rounds. He's currently 16-0.
"I'm very happy that he got to that milestone (100 wins)," Davidhizar said. "For him to reach that milestone is a huge deal for him and his whole family. It really shows the work he has put in. Without putting too much pressure on him, I feel he should be in the Finals. He's the only returning state placer at 189 in Division 3. He's put in even more work this year. Troy Demas has really been able to push him past some barriers, and it's going to show at the end of the year."
Hall broke through with his 100th win against Vicksburg, bumping up to 215 to avoid a victory by forfeit. 
"I was just excited to get back to wrestling and prove what I could do this year," Hall said. "I wanted my 100th win to be a real match, not a void. It was pretty awesome. I wish I would have hit it sooner, but I'm glad I made it there. 
"I'm confident we will make it to team state this year. I don't know what it's like to make it to state (as a team), and I'd like to experience that. Individually, I'd like to make it to the Finals and get that state championship."
Boe Eckman has been dinged up this year, but he's another Falcons senior leader with a wealth of Finals experience. At 215, Eckman was edged by two points in the Division 3 title match last year by Richmond's Luke Davis. Eckman racked up three pins on his way to the championship bout. 
While trying to get healthy this year, the Falcons have gotten a boost from freshman Bennett VandenBerg, who has bounced between 215 and 189 and has racked up double-digit wins already. 
Senior Dylan Reiff made it to Ford Field last year at 130 and finished eighth. He's 14-2 this season at the same weight class. Sophomore Troy Demas (171) and junior Eric Demas are both 14-2, and senior Chuck Taylor has a 15-1 record. 
"Our practices, they go hard," Davidhizar said. "It shows the level of skill those kids bring in and getting some of those freshmen and sophomores to the level of state qualifiers and state placers. Dylan Reiff hadn't wrestled in three years and he came in last year for the first time and was a state placer. I attribute that to wrestling with Gage and Eric Demas. I attribute that to practice partners and how the guys practice in our room. 
"Boe Eckman and Isaac Hall have been practice partners since seventh grade. Isaac works his tail off to get where he is now, but Boe has helped him along tremendously. Boe had the higher skill when Isaac was just starting out, and now Isaac has gotten to that point. That's teammates working hard together. Kids are pushing everyone in the room."
With a seasoned group in the upper weights and some pieces falling into place in the lighter slots, Constantine continues to gain momentum as the season winds down. 
"I thought, as a whole, we were probably going to be one of the best teams that I've coached in the seven years since I've taken over the high school (program)," Davidhizar said. "We're pretty solid. With our senior leadership that we have with our five core seniors, I thought we were going to be pretty tough to handle for anybody in the state."

Wes Morgan has reported for the Kalamazoo Gazette, ESPN and ESPNChicago.com, 247Sports and Blue & Gold Illustrated over the last 12 years and is the publisher of JoeInsider.com. He can be reached at wmorgan@joeinsider.com with story ideas for Berrien, Cass, St. Joseph and Branch counties.
PHOTOS: (Top) Constantine's Gage Ensign faces off with an opponent this season. (Middle) Isaac Hall's arm is raised in victory, one of more than 100 during his career. (Photos by Terena Reif.)