Davison Breaks DCC's Hold on Division 1 Supremacy
KALAMAZOO — Cameron Freeman tweaked his knee last weekend and admittedly was in a lot of pain the past couple of days. 
The Davison junior still stepped in and gutted out perhaps the biggest win of the season for the Cardinals.
With his team up 26-21 with two matches remaining against four-time reigning Division 1 champion Detroit Catholic Central, the junior 130-pounder went out on the mat and held off his opponent for a 3-2 victory, clinching the Division 1 title for Davison by an eventual 29-24 score.
It marked Davison's first Finals win since 2006, as the Cardinals lost in the championship matches five times since then, including last year's 34-23 defeat to Catholic Central.
"For him to go out there with his knee hurting is amazing. He stepped up for us," said Davison coach Roy Hall. "He has a meniscus issue and I know he's in a lot of pain. But he wanted to go out there and win for us."
Freeman staved off DCC's Anthony Walker in the third period. Walker recorded a takedown and was trying for a second takedown in the waning seconds before time expired.  
"This is for the seniors," said Freeman. "Earlier in the week, I was suffering from a knee injury. I came back and just did this for the seniors. This is the best team I've ever been on."
The Cardinals now own nine Finals team titles and six runner-up trophies. Of those five championship match losses over the last eight years, four were to DCC. 
"How sweet it is — it's awesome for these kids," added Hall. "We came close last year and maybe we could have won that match but came up short. I'm pretty accomplished as a coach, but these kids have never accomplished this before."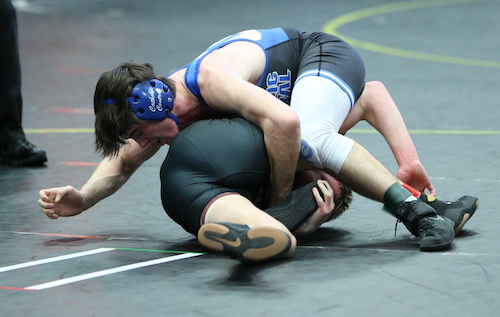 Both teams won seven matches on the day. Davison recorded three decisions, two technical fall victories, one major decision and one pin to record the narrow five-point victory over the Shamrocks. 
Catholic Central (21-2) had won 15 Finals team titles dating back to 1969 — eight during the previous decade — and finished in the runner-up slot only twice before this year. The Shamrocks were trying to become just the second Division 1 school to win five team titles in a row.
Previously, Davison captured five straight from 2002-2006.
Earlier this month, Davison won a match between the contenders 36-9. 
"We lost 12 matches out of 14," said Catholic Central coach Mitch Hancock, referring to that first defeat. "So for our guys to come out today and respond and wrestle the way we did to put ourselves into position to win that dual – that's a great team, and we took them right to the wire. This time we battled them and were right there with them. We split matches with them 7-7; they just scored more bonus points. 
"This stings — look at the faces on our team. Anthony Walker feels a little dejected right now, but he's got nothing to be ashamed of," continued Hancock. "He was right there against a great opponent. Hats off to Davison and Roy Hall. They are a great team this year." 
PHOTOS: (Top) Davison celebrates its Division 1 championship Tuesday at Wings Event Center. (Middle) Davison and Detroit Catholic Central faced off for the second-straight season in the Final. (Click for more from HighSchoolSportsScene.com.)