Linden Seniors Gladly Avoid Collision Course
January 31, 2017
For the better part of the last four years, Dawson Blank and Patrick Kerr have been working to make each other better in the Linden wrestling room.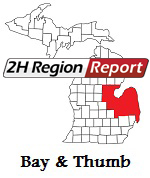 So when the seniors faced the prospect early this season of standing in each other's way for an MHSAA individual title, they had to figure something out.
"Me and him are the best workout partners ever," Blank said. "No matter what we were doing, we were going to make sure we didn't have to wrestle each other at the state meet."
Kerr – who battled injuries early in the season – has now dropped down to 140 pounds, and had a successful first weekend at the weight. He's ranked No. 4 at 140 in Division 2 by MichiganGrappler.com. Blank is ranked No. 3 at 145. Before the rankings were updated Jan. 27, Blank was ranked No. 2 and Kerr No. 3, both at 145.
"I was going to stay right at 145 and just double enter, but me and Dawson have become pretty close, so I was like, I don't want to mess up the chance for one of us to win a state title," Kerr said. "At the beginning of the year I was thinking about going down to 140, then I wrestled at 145 and did fine. Then I went to 152 for (the Genesee County meet) and lost by one point in the finals, so I thought I could stay there. But I decided with all the injuries I've had, it was probably better to go down, and I was only weighing 148."
Teammates with legitimate MHSAA title ambitions entering in the same weight is nothing new. Sometimes, while a rarity, they'll square off in the title match. The most recent example came in 2015, when Corunna's Jarrett Trombley (who is now at Lake Fenton) defeated teammate Tristan Serbus in the Division 3 final at 112 pounds.
Linden won't have to worry about that, but it certainly has two wrestlers with legitimate title ambitions, even if they're coming off two very different junior seasons.
Blank placed third at the MHSAA Finals a year ago at 145, despite it being his first trip to the season-ending tournament. He advanced to the semifinals before losing to eventual champion Austin Melton of DeWitt.
As a sophomore, Blank was a regional qualifier, and he credits Kerr and former teammate Bryce Davis for helping him make the leap as a junior.
"My buddy Bryce Davis, who graduated last year, and Patrick, they really pushed me in the room," Blank said. "It was cool, because I could go from Bryce, who was bigger than me, to Patrick, and in our wrestling room I had two different partners with different styles."
Blank is 30-2 this season with a pair of one-point losses – one coming at 160 pounds. He's confident he can wrestle with anyone in the state at his weight class, and feels his experience at the 2016 Finals will help him as he prepares for another.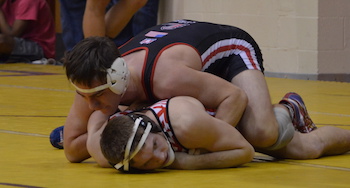 "I think my nerves going into the state meet last year were probably a lot higher than they will be this year," Blank said. "I think I have more confidence, and I'll be more ready for it."
Blank was Linden's lone Finals placer a year ago, but during the regular season it looked as though Kerr was on his way to accomplishing the same before a shoulder injury ended a promising season early.
"Patrick was on the same path, but he got injured in the conference finals," Linden coach Todd Skinner said. "He was having a great season last year – he teched the (Division 4) state runner-up, then he (won by major decision against) the kid from Mason who ended up taking fifth. We knew that he had a shot, and he was going to be battling for it, but he got injured. It was just a bad situation."
Kerr said sitting out a postseason he was set to thrive in was difficult, but his coach credited his attitude while sitting out.
"The run Dawson made last year, even though Patrick couldn't be there, he was his training partner along with Bryce Davis," Skinner said. "And it was cool to see how he supported him. They definitely support each other."
Kerr is 25-2 on the season, and is now motivated to make up for lost time. Although it wasn't always that way.
"I love wrestling, I love the sport, but (the injury) really hurt my drive," he said. "In the summer, at least, I kind of got off track and wasn't paying enough attention at summer practices as I should have. The coaches said, 'You have to focus, get your stuff together and get after it.' Then I was finally able to get back into the swing of things."
With Kerr healthy and motivated, and Blank rolling toward the postseason, Linden has a powerful one-two punch in the middle of the lineup that Skinner can move around to suit his team's needs.
"You're able to adjust, and it's all about matchups and styles," Skinner said. "You want to try and see which matchup or style is best, and Patrick's style is completely different than Dawson's."
Both wrestlers are hoping to be standing at the top of their own podiums next month at The Palace of Auburn Hills, and they agree that would be better than the possibility of meeting in the last match of the season.
The fact it was a possibility, however, gave a sense of pride to both.
"I thought it was awesome," Blank said of the early-season rankings. "Two kids coming out of the same school that are ranked second and third, that's awesome. Not many schools have that."

Paul Costanzo served as a sportswriter at The Port Huron Times Herald from 2006-15, including three years as lead sportswriter, and prior to that as sports editor at the Hillsdale Daily News from 2005-06. He can be reached at paulcostanzo3@gmail.com with story ideas for Genesee, Lapeer, St. Clair, Sanilac, Huron, Tuscola, Saginaw, Bay, Arenac, Midland and Gladwin counties.
PHOTOS: (Top) Linden's Dawson Blank, top, was his team's lone MHSAA Individual Finals placer last season. (Middle) Teammate Patrick Kerr, also top, hopes to join Blank among placers this winter after an injury ended his 2015-16. (Photos by Mary Kerr.)