Repeat Reaffirms Clinton's Spot Among Annual Contenders
March 30, 2021
KALAMAZOO – The Clinton wrestling program took its place at the top of Division 4 a year ago, claiming the first Finals title in school history. 
On Tuesday, it emphatically announced that it's here to stay.  
Clinton rolled through its competition throughout the day, topped off with a 55-9 win against New Lothrop at Wings Event Center, to claim its second-straight Division 4 title. 
"I think now people know that we're the real deal," Clinton co-coach Jeff Rolland said. "We solidified what we did last year. We've got a lot of young kids – there's only four guys in our lineup every day that aren't going to be here next year. We did this without three all-staters in our lineup from last year. We have a lot of depth. We have more coming. I think people know that we're for real now. It's not a one-year deal or whatever." 
Clinton was dominant throughout the postseason, and closed it out the same way, winning 76-6 in the Quarterfinal against Ravenna and 59-9 in the Semifinal against Leslie. That's despite what Rolland said was a performance in the Semifinal that was less than the team's best. But Clinton has reached the point where it can win even when it's not at the top of its game. 
"Since my freshman year we were chasing it and we fell short, then we fell short again my sophomore year," senior Landis Gillman said. "My junior year we really picked it up, and we got into the mindset that we wanted it. We became a family. We've just been striving and pushing ourselves to the limits to reach this point." 
And in case there was any doubt remaining about the program's status, Clinton has won its titles against the two programs that had dominated the division for more than a decade prior – Hudson (2020) and New Lothrop.  
"Last year was big because we had to go through both," Rolland said. "New Lothrop, if they're not the most storied program in the state, I don't know who is. We've got nothing but respect for that team, those guys. It makes it special when you beat a team like that, for sure." 
It was Gillman who started Clinton off with a bang in the Finals, as he bumped up to 140 pounds and won by major decision against New Lothrop's Andrew Krupp in a matchup of wrestlers ranked in the top three.  
Clinton won the first six matches of the dual, five by major decision – by Gillman, Kent McCombs (145), AJ Baxter (152), Spencer Konz (160) and Logan Badge (189) – and one with a first-period pin from Brayden Randolph (171).  
"Landis had a day today," Rolland said. "He went through some kids today. That was big. He's up a weight class. He's very, very good as you saw. But a major starting out, I think our kids fed off that. I'm so proud of that kid. He's a senior, he spent two years on the bench, waited his turn, and now he's got his shot."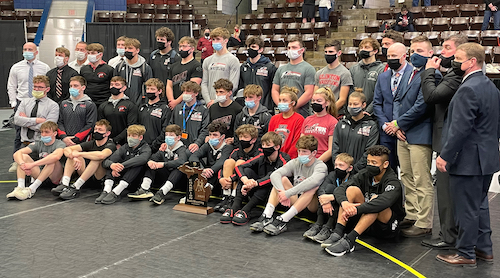 New Lothrop picked up its two wins in the dual at 215 and 285, as Grayson Orr won a 4-3 decision, followed by a second-period fall from Isiah Pasik.  
Clinton closed the dual out with six straight wins, however, as Connor Younts (103) and Ethan Younts (135) each won by pin, Nik Shadley (125) won by technical fall, and Coy Perry (112) and Zak Shadley (130) won by decision. Connor Busz (119) won by forfeit.  
"We did what we needed to do; we wrestled those kids hard," New Lothrop coach Jeff Campbell said. "They sent a kid out at every weight that was a very talented wrestler, a very experienced wrestler who was well-coached, and we had to compete hard against them, and every single kid did. We just didn't have as much ammunition as they did today. But I was really, really proud of our effort. We made plenty of mistakes, but we definitely made every point get earned, and that's all we can try to do." 
The championship match appearance was the first since 2018 for the Hornets, who had made five straight starting in 2014 and have won 15 team titles. 
"It's an expectation – from the youth level up, we try to put ourselves in a position to do well," Campbell said. "I think it's great for our younger guys, and those younger guys that got to step onto the mat. It's another one of those years when we lose a good crop of seniors. I told them out here, 'You seniors, your legacy isn't whether or not you win or lose this last match or you win or lose a state title yourself. It's what did you teach the kids along the way? Even when you didn't know they were watching, what were you doing? How hard were you working? Were you cutting weight the right way? Did you compete in these matches when you were the underdog fearless and wrestle hard?' They showed that today." 
New Lothrop defeated Bark River-Harris 54-20 in the Quarterfinal, and received a bye in the Semifinal, as both Hudson and Schoolcraft were disqualified for putting in a wrestler at an ineligible weight in their Quarterfinal. 
Gillman, McCombs, Baxter, Randolph, Badge, Connor Younts, Perry, Busz and Zak Shadley each picked up three wins on the day for Clinton. 
PHOTOS: (Top) Clinton's Landis Gillman wrestles New Lothrop's Andrew Krupp during Tuesday's Division 4 Final. (Middle) Clinton celebrates its repeat championship. (Click for more from HighSchoolSportsScene.com.)