Richmond 'Works Hard' to Contend Again
February 8, 2016
RICHMOND – Every sport seems to have its glamour position.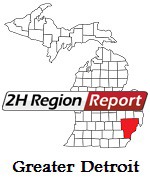 Baseball and softball have their home run hitters. In football, it's the quarterback. In volleyball, the player who collects the most spikes makes the highlight reel. And for those in track and field, the fastest runner receives all the glory.
There's nothing pretty about wrestling. It's a blue-collar sport where athletes compete like tigers in a cage. They eye their opponent, take a few steps, then make their move. Usually the strongest wins, but quickness often trumps strength – especially in the lower weight divisions.
One fact separates an average program from those that achieve success consistently, and that's hard work. Sounds trite, but it's true. Unless there is a wide variance in talent, the wrestler who out-works the opponent wins.
At Richmond, a town of about 6,000 people located in rural northern Macomb County, there's no substitute for hard work. And for the school's varsity wrestling coach Brandon Day, there is no tolerance for a lack of hard work.
The Blue Devils have won four of the last six Division 3 titles including last season. And despite losing 11 of their 14 starters, they are one of the top contenders again and No. 3 in the final regular-season Division 3 rankings.
"We have some talented kids," Day said. "But we get the most out of them. It's a total community effort here. Now I'm starting to get the kids who had dads and uncles wrestle here. We have one of the smallest schools (by enrollment) at the Finals, but we'll have some of the biggest crowds.
"I guess we're a lot like Lowell. It's a community. They made the football Finals and their wrestling program is among the best. A lot of our kids play football, too. The kids want to be a part of it. There's no selfishness."
Day, a graduate of Imlay City, is in his 12th season as Richmond's head coach. Growing up in a rural area, Day understands the mentality of participating in small-town athletics. The student you are competing with as a senior is the same person with whom you attended first grade.
One of five seniors on the team, Aaron Kilburn, is one of the three returning who started last season. As a freshman, he finished third at the 103-pound weight division. Kilburn was an MHSAA champion at 112 his sophomore year and, as a junior, finished second at 119. He competes at 125 this season.
The other two returners are Graham Barton at 135 and Cody Keller at 119. Both were MHSAA Finals qualifiers last season.
"We're young," Kilburn said. "We've developed the young guys as the season has gone on. Here everyone busts their butts every day. There are no slackers.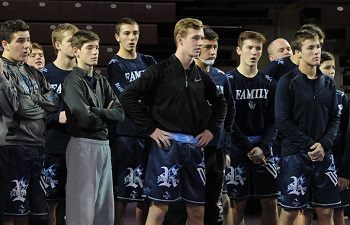 "A lot of the guys play football. I don't. I just wrestle. We get a month off a year. The rest of the time we train in the offseason getting ready. I love the sport. It's a passion. It's just you and the other guy on the mat. Your teammates can't help you then. It's just you. I like working hard."
The Blue Devils are improving.  They lost to Division 1 No. 6 Oxford in a close match early in the season and last week at the Macomb-Oakland Invitational held at Oxford, Richmond went 5-0 highlighted by a 44-24 victory over the host.
Richmond's Team District is Feb. 10 at Algonac, and for Richmond to be successful the Blue Devils must have solid matches from underclassmen like Colton McKiernan (171), Alex Roberts (140) and Tyler Marino (215), all of whom are sophomores.
Day is hoping the demanding schedule he put together begins to pay off. He's taken his team to tournaments in Defiance, Ohio; Fort Wayne, Indiana; and Cleveland to help the team prepare for the postseason.
"We like to have the kids go against the best as much as possible," he said. "We beat (defending Division 4 champion) New Lothrop and we wrestled (Division 2 No. 1) Lowell in Ohio and lost.
"We've been fortunate here. The parents and the kids value hard work and accountability. Being a hard worker is still cool here."

Tom Markowski is a columnist and directs website coverage for the State Champs! Sports Network. He previously covered primarily high school sports for the The Detroit News from 1984-2014, focusing on the Detroit area and contributing to statewide coverage of football and basketball. Contact him at tmarkowski@statechampsnetwork.com with story ideas for Oakland, Macomb and Wayne counties.
PHOTOS: (Top) A Richmond wrestler (right) works for control in a match against New Lothrop at Central Michigan University last month. (Middle) Richmond athletes watch a teammate during the competition. (Click for more photos from HighSchoolSportsScene.com.)