Clutch Seniors Lead Hackett Title Pursuit
KALAMAZOO — A couple of summers ago, Joe Carr caught his last baseball game.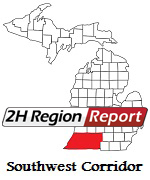 Or so he thought.
The Kalamazoo Hackett Catholic Prep senior was called to action behind the plate during his team's 12-1 victory against Brown City on May 5, making Carr the perfect utility player for coach Jesse Brown's Irish.
Over the past two years, Carr has played all nine positions.
Carr is one of just four seniors winding up varsity careers as the team prepares for MHSAA District play next week. The Irish are 26-3 so far this season and ranked No. 1 in Division 4.
Carr actually had to borrow teammate Garrett Warner's catcher's equipment to complete the cycle.
The last time Carr had caught was the summer of his freshman year with the HBF Maroons travel team.
"It was the last game of the season, and I finished the game and I turned to my dad and said I'm never catching again," Carr recalled.
"And then I did. I do enjoy catching. It's a very fun and very demanding position. I do like that. It's just that every weekend we have three games and (I would be) catching two of the three games."
Carr played seven positions last year then added first base and catcher this spring.
'He kind of struggled with that (utility) role for a little bit from the point that he's a shortstop by trade, and that's the position he wants to play," Brown said. "But he sacrificed it for the team.
"He finished off his true utility mentality. He was (an) all-district, all-region utility player last year and brings a lot of leadership. He's one of those kids who comes up big in clutch situations."
More clutch performers
The shortstop position was taken by current senior Cooper Smith two years ago when his family moved to town from the Detroit area after his father, Jay Smith, was hired by Kalamazoo College.
"Cooper is a fiery kid who is very, very competitive," Brown said. "He's one of the hardest working kids that I've had in my program in the last 13 years. He comes every day to work hard. He's always getting in extra cuts, extra at-bats, extra ground balls."
Although he can pitch and play second base, Smith feels at home at shortstop.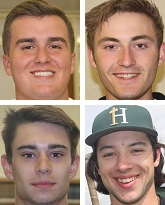 "There's a lot of action and you're involved in a lot of plays," he said. "You've got to be able to handle some of the pressure and adversity that comes with it."
Senior Brenden Warner is one of seven players who also competed for the Brown-coached Kalamazoo United football team, a co-op with Kalamazoo Christian in the fall.
For three years, Warner was the team's punter — he had a broken arm during his freshman football season.
During his four-year baseball career, the outfielder has made just two errors.
"One error was this year when he got caught in the sun on a line drive that hit off the palm of his glove and he dropped it out in left, but he actually threw the guy out at second base," Brown said.
"So yes, it was an error at first but the runner actually got thrown out at second so he got a put-out off it."
Warner, a three-time baseball all-stater, also had an error as a sophomore.
He could not decide which sport he wanted to play in college, so when Division III Trine University offered a chance to play both, he grabbed it.
"Me not being active in college would make me feel bad, or sad, not to be doing anything," he said. "I want to maintain being busy all the time with both academics and sports."
Warner also leads the baseball team in hitting with a .568 average this season, and has hit .438 for his career.
He credits his hitting prowess with "not thinking about it or letting things get to your head," he said. "Once I get out, I just let it go. Also, training helps a lot."
Keaton Ashby, the fourth senior, was also a first-team all-stater last year.
"Keaton is a very passionate baseball player," Brown said. "He gets the team fired up. When we need that extra motivation, sometimes they get sick of hearing it from Coach Brown and they have to lean on a player for that, and that player is Keaton Ashby.
"He's batted in the 4-spot his entire career, and his batting average is just over .400 this year and about .390 career. He drives in runs for us, and he's our leading RBI-getter the last three years."
Ashby knew baseball was definitely in his future as a young seventh grader when he played on an offseason team with members of the varsity and hit opposing pitchers throwing in the mid-80s.
Ashby usually pitches or plays first base and drove in the winning run on a line drive to left field in the team's walk-off win against Grand Rapids West Catholic on April 21 at Fifth Third Ballpark.
"I will never forget that," he said. "It's a minor league field and many of those guys started out my age on that field.
"Knowing I was on the same field as they were, it was just awesome."
Holding on to the top spot
In his 13 years as the Irish head coach, Brown has compiled a 285-109 record. Last season Hackett won its District before falling in a Regional Semifinal to St. Joseph Lake Michigan Catholic.
"This group has been at the top before," he said. "We were at the top last year for about three weeks at the beginning of the season and then finished the season at No. 3 in the rankings.
"This group of seniors and a few juniors are very familiar with what it means to be on the Hackett baseball team. They understand they're going to get everybody's best every time we play them. It definitely does raise the bar, but this group has been very humble and willing to accept that."
Brown said this team's strength is hitting and defense, but "we don't have a defined No. 1 pitcher.
"The last several years we had Adam Wheaton (now at Trine) who was a very clear cut 'This is the guy we're going to roll out in key situations.' We don't have that this year."
Brown said it has been fun watching the young guys step up, including three freshmen varsity starters in Stephen Kwapis at third base, Steven Widger in right field and Sam Shea, a left-handed pitcher who had the walkoff game-winning hit against Flint Powers Catholic in the other game at Fifth Third Ballpark last month.
Sophomore Garrett Warner has caught every inning this season except Carr's five behind the plate.
Two players, juniors Heath Baldwin and Eric Wenzel, also run track.
"Eric's been just huge for us in the top of our lineup and playing center field," Brown said. "Heath has been at the top of the rotation for pitching."
The two other juniors, Andrew Widger and Andrew Bridenstine also have contributed.
"Andrew Widger has been our most efficient pitcher," Brown said. "He's been coming in in relief and closing out some games for us in big situations.
"Andrew Bridenstine has been key for us. He's come up with some big hits for us and plays first base when Keaton pitches for us."

Pam Shebest served as a sportswriter at the Kalamazoo Gazette from 1985-2009 after 11 years part-time with the Gazette while teaching French and English at White Pigeon High School. She can be reached at pamkzoo@aol.com with story ideas for Calhoun, Kalamazoo and Van Buren counties.
PHOTOS: (Top) Kalamazoo Hackett's Brendan Warner powers through a pitch against Schoolcraft during an April doubleheader. (Middle) Clockwise, from top left: Keaton Ashby, Joe Carr, Cooper Smith and Warner. (Below) Hackett coach Jesse Brown. (Action shot courtesy of JoeInsider.com; head shots by Pam Shebest.)