'Hungrier Than Ever' St. Mary's Wins 3rd-Straight Title in Record Perfection
EAST LANSING – Nearing the end of a season that saw Orchard Lake St. Mary's score more than 400 runs, it was a first-inning infield grounder that scored the only run the Eaglets would need to record their third-consecutive Division 1 baseball title on Saturday at McLane Stadium.
"In the moment, nobody thought it would be the only run," said St. Mary's catcher Ike Irish, who drove in Nolan Schubert, who had singled, moved to second on an error and to third on a failed pickoff attempt. "The ball didn't bounce our way, and so that one run was big, but there were a lot of other big plays in the game."
The Eaglets (44-0) became the first team in MHSAA history to win that many games, and extended their second-best-in-state-history winning streak to 66. Their 411 runs scored made them the third team in Michigan this year and 15th on record to surpass 400 in one season.
None of it mattered to Grosse Pointe North lefty Brennan Hill, who gave up only three hits while walking one and striking out nine. 
"I knew that if I trusted my stuff and was in the zone and I was competitive, I could do what I did today," Hill said.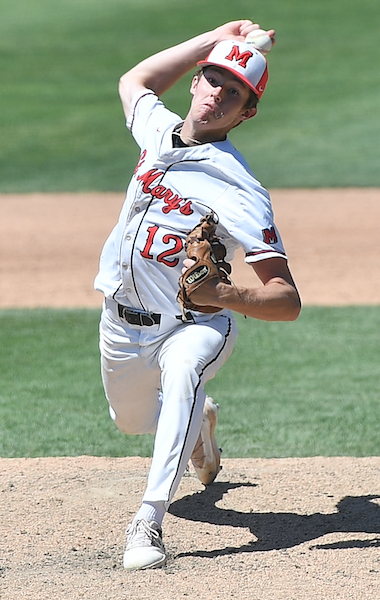 St. Mary's snuffed out rallies by North in the first and seventh innings by picking off runners in scoring position.
"I don't think anyone in the park thought that one run in the bottom of the first was going to be the difference,'' Eaglets coach Matt Petry said. "We executed, played good defense, and Ciaran (Caughey) and Jasen (Oliver) did a good job on the mound."
But the Eagles had to hold their breath in the seventh inning.
Brennan Hill singled and went to second on an infield out. After the second out, Parker O'Neill walked. Drew Hill then hit a hard smash down the first base line. 
But first baseman Blake Grimmer played the grounder perfectly, stepping on first base to end the threat and seal the championship for the Eaglets. 
North first-year coach Kevin Shubnell, whose team finished 23-8, was emotional when asked how his team will be remembered.
"There's been a lot of change and turnover and turmoil in this program the last couple of years," he said. "My one mission was to make this a positive experience for our six seniors. ... I'll never forget them."
The Eaglets, meanwhile, were basking in the glow of achieving a goal they set a year ago. 
"Last year, we wanted to go 44-0," Oliver said of the 2021 team. "We were 43-1, which was OK, but we came back this year, hungrier than ever."
PHOTOS (Top) St. Mary's Blake Grimmer (13) celebrates the final out of Saturday's Division 2 Final. (Middle) The Eaglets' Ciaran Caughey makes his move toward the plate.