Lakeshore, St. Mary's Aces Sharp in Semifinals Show
EAST LANSING – Zach Warren knew he didn't have many pitches left.
Fortunately for the Stevensville Lakeshore sophomore, he had just enough to finish off a dominating pitching performance.
Warren tossed a no-hitter in Friday's second Division 2 Semifinal as the Lancers blanked Gladwin 8-0 at Michigan State's McLane Stadium.
"When my coach came out before my last batter I think I had five pitches left, so I had to finish the batter," Warren said. "I was just trying to get him out. I just wanted to end the game, finish my game."
The Lancers (27-11) advanced to Saturday's 2:30 p.m. Final, where it will face reigning champion Orchard Lake St. Mary's. Lakeshore won back-to-back Division 2 championships in 2017 and 2018.
The 5-foot-9, 150-pound Warren struck out five and walked three in seven scoreless innings Friday. It was the first no-hitter of his career. 
"This feels really good because it advances my team to the championship game, and hopefully we will come out with a win," Warren said. "I just wanted to get the job done and help my team get the win."
Lancers' coach Mark Nate said Warren was approaching his pitch count of 105 after an error and walk put runners on first and second with two outs in the bottom of the seventh inning.
Warren got a ground out to shortstop Jack Carlisle to cap the no-hitter.   
"That was his last pitch right there; that was his last batter," Nate said. "If he would've gotten on there, I would've had to pull him. 
"He had his breaking ball going early, he attacked the strike zone early and I'm just proud of him. His work ethic all year and his endurance really helped. He's quite a ball player, and it's special to have a sophomore as your ace."
Warren, who improved to 9-1 this season, silenced the Gladwin offense with a combination of pitches. 
"I think every pitch was working until the fifth inning, and I started to gas a little bit and then I got a little wild," Warren said. "But I battled and got through it. I was mixing everything up and keeping them off balance so they didn't know what was coming."
The Lancers' bats staked Warren to an early lead. They scored six runs on eight hits over the first three innings to grab the early advantage.
Lakeshore also took advantage of five Gladwin errors.
"I think it really relaxed everybody in the dugout with the early runs," Nate said. "In games like this you have to break the ice and get that run in, and we did that in the second inning.  Once we got those runs, it got a lot looser in the dugout and I think Zach calmed down on the mound knowing that we had a lead."
Leadoff hitter Trevor Griffiths went 4-for-4 with two runs scored, while Michael Nate had two hits and three RBIs. The Lancers finished with 12 hits.
Gladwin, which was making its first trip to the Semifinals, finished the season with a 25-10-1 record. The Flying G's had won their first Regional since 2014.
Orchard Lake St. Mary's 5, New Boston Huron 1
Junior Brock Porter, a Clemson commit, struck out 12 and scattered six hits as top-ranked St. Mary's defeated New Boston Huron 5-1 in Friday's first Division 2 Semifinal.
"He gives us a chance to win every time he takes it, and he had the experience from his freshman year," Eaglets coach Mike Petry said. "It was a different role for him this year as the No. 1, and you have to win that first game to get to (Saturday). 
"He took the ball and did exactly what we needed him to. He saved the bullpen, and now we have everybody but him tomorrow."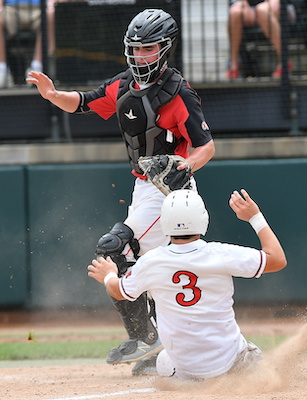 Porter didn't allow a run during his first six innings of work and remained unbeaten on the season at 12-0. His lone run allowed came with two outs in the seventh inning.
"My change-up was big for me, and I could throw it anytime, anywhere," Porter said. "I was confident in that pitch, as well as my fastball. My slider was a swing-and-miss pitch for me.
"I have the best defense behind me and I have the best bats ahead of me, so I go out there and have fun and enjoy every single minute of it." 
The fourth-ranked Chiefs had base runners in five of the seven innings, but couldn't manufacture any quality scoring chances against Porter.
"He's a tough guy to string multiple hits together against if he's not walking guys, which he doesn't do, and we are making the plays behind him," Petry said. "You're forcing the other team to string multiple hits together and get some extra-base hits, which he doesn't give up a whole lot of."
Huron coach Phillip Yancey knew what to expect from the crafty and hard-throwing Porter.  
"We knew he was coming, and we geared up for about 100 mph this week," Yancey said. "I don't believe in pitching machines, but we cranked it up to about 100 and we took batting practice. I think the boys put the ball in play." 
Jasen Oliver gave the Eaglets an early 1-0 lead in the bottom of the second inning with an RBI double.  
St. Mary's (42-1) added another run in the third inning when a safety squeeze bunt by Jack Crighton scored Alex Mooney from third base.
The Eaglets broke it open in the sixth inning with three insurance runs. Oliver delivered again with a two-run single as the lead swelled to 4-0. Jake Dresselhouse tacked on an RBI single to make it 5-0.
"The way Huron battled at the end, it was big to get those three runs in the bottom of the sixth," Petry said. "That's something we've preached in this playoff run. Finding a way to add at least one every inning because things can go awry pretty quickly in a playoff game, so you have to find a way to add, add, add." 
The Chiefs finally got to Porter in the seventh when Gavin Moczydlowski's third hit of the game, down the right field line, scored Shane Mitchell.  
New Boston senior starter Chase Molnar suffered his first loss of the season, but pitched well against a potent line-up before being roughed up in the sixth. He allowed five runs on eight hits and struck out three, but had given up only four hits through the first five innings while keeping it a two-run game to that point.
The Chiefs (26-8) were making their first appearance in the Semifinals.  
"The boys were up to the challenge, and this was big for our community." Yancey said. "We had a great run."
Oliver finished with two hits and three RBI for the Eaglets, while Ryan McKay had two hits and two runs scored.
PHOTOS: (Top) Stevensville Lakeshore's Zach Warren makes his move toward the plate during his no-hitter Friday at McLane Stadium. (Middle) Ryan McKay (3) slides in to score for Orchard Lake St. Mary's.