Richard Pitchers Rise to Occasion Versus High-Scoring Beal City in D4 Clincher
EAST LANSING – Riverview Gabriel Richard baseball coach Mike Magier admitted he was a little nervous while preparing to put in a freshman at a crucial point in Saturday's Division 4 championship game.
"You talk to him in the dugout, we're going back and forth and he doesn't seem fazed," Magier said,  chuckling. "I don't know if he knows the situation or not. But he says, 'I'm ready Coach.' He throws a lot of strikes, and we had our best defense behind him when he's on the mound."
Drew Everingham entered in relief with a runner on and one out in the seventh inning. He hit his first batter, gave up an RBI single, then got a game-ending double play as Gabriel Richard edged Beal City, 4-3, for its second Finals title in five years. The Pioneers also won the Division 3 title in 2018. 
The pitching victory went to senior Ashton Nowak, who started and went 6 1/3 innings before having to leave the game due to the pitch count rule. He was in center field when the final outs were recorded. 
"That's exactly what we needed," he said. "It feels amazing. It took everyone, even the entire school coming out to watch us, to get that win."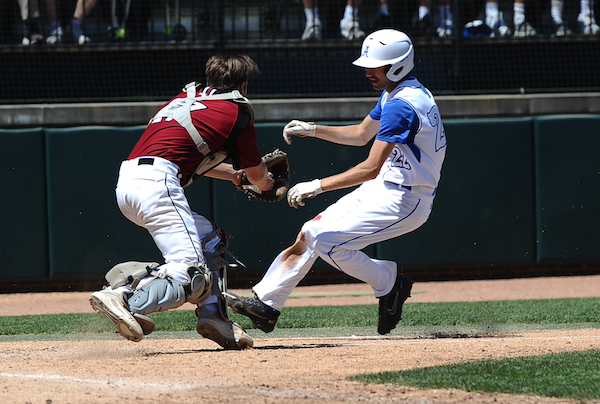 The Pioneers (17-12) took a 1-0 lead in the third inning when Brendan Hills doubled and scored on a single by Connor Silka. Richard added two more runs on a double to the left-center field gap off the bat of catcher Bryan Tuttle. 
Beal City, which finished the season having averaged an MHSAA-record 12.5 runs per game, scored twice in the sixth inning on a bases-clearing triple by Jack Fussman to make the score 3-2. But Richard added an insurance run in the top of the seventh inning on an RBI single by Nick Wisniewki.
The Aggies (30-3) had one more comeback try, trailing by two runs in the bottom of the seventh.
Jake Gauthier walked to lead off the inning and eventually scored on a single by Brayden Haynes. But the rally fell short.  
"Like I told them after the game, they battled," Beal City coach Steve Pickens said. "They battled all year. They're a great group of guys. I'd go to war with them. It bounced a little different today than it usually does, but that's baseball."
For the Pioneers, a season of ups and downs ended at the pinnacle.
"It's unbelievable," said Tuttle, who was behind the plate for all but three innings this season for the Pioneers. "This is what we've dreamed of since the beginning of the season, and now that it's come true, it's unbelievable."
PHOTOS (Top) Brenden Hills crosses the plate for Riverview Gabriel Richard on Saturday at McLane Stadium. (Middle) Pioneers catcher Bryan Tuttle puts a tag on Beal City's Konnor Wilson during the third inning.