Still 'Loose' Swan Valley Loaded Again As Well
April 3, 2019
Mitch Jebb and his teammates on the Saginaw Swan Valley baseball team had plenty of fun a year ago as they made their run to the MHSAA Division 2 Final.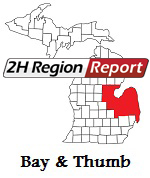 The young Vikings surprised plenty of people with their runner-up finish, and a crucial part of that was how loose the team played. Even with a larger target now on their back, don't expect them to tighten up. 
"If you come to one of our games, we're always loose," said Jebb, a junior shortstop who earned all-state first-team honors as a sophomore. "We're just out there having fun, and why would you play baseball if you're not having fun? That's how we look at things – play your game, but have fun doing it. This year, we're probably more loose than we were last year." 
Swan Valley is still plenty young, with a roster comprised mostly of juniors and sophomores, but another deep postseason run wouldn't come as a surprise to anyone. The Vikings were ranked No. 6 in Division 2 in the Michigan High School Baseball Coaches Association preseason rankings, and they opened the season Tuesday with a pair of mercy-rule victories (13-0 and 11-0, both in five innings) at Chesaning.  
"I think we surprised quite a few people because we were so young and they had never heard of us before," Swan Valley coach Craig Leddy said. "They were just playing and winning, and they were loose. That's not going to happen this year. People have us on the radar." 
The runner-up finish is likely the biggest reason the Vikings are on the radar, but it also doesn't hurt to have three players on the roster who have committed to Big Ten baseball programs – none of whom are seniors. 
Jebb and classmate Brian Ross, a 6-foot-8 pitcher, have committed to Michigan State, while sophomore Avery Goldensoph, a 6-foot-2 pitcher, is committed to Michigan. Goldensoph, a first-team all-state selection as a freshman, opened the season by throwing a no-hitter against Chesaning. 
"I knew the group coming, and we have some more kids coming next year as sophomores, so I'm excited about what we have," said Leddy, who was a longtime assistant before taking over the Swan Valley program a year ago. "This is a special group that's played a lot of travel ball, and that's huge."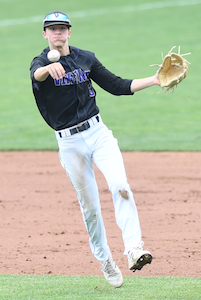 There's plenty of quality depth to go along with those stars, both in the lineup and the pitching rotation. Junior infielder Victor Mancini had 46 RBI through the team's first 42 games a year ago, while junior catcher Easton Goldensoph had nine doubles and 26 RBI. Senior pitcher Conner Sika was the team leader in earned-run average, coming in at 0.51 while striking out 53 and allowing 26 hits and nine walks in 54 2/3 innings. He was superb on opening night, allowing just one hit in his shutout victory against Chesaning. 
"I think we can do it this year," Avery Goldensoph said of making another deep run. "We've got me, Brian and Conner Sika who pitched (in the opening series), he's really good. Our lineup put up 13 runs and 11 runs, that's a great start." 
With a tough Tri-Valley Conference Central schedule ahead, the games figure to get more difficult. But the Vikings view that challenge as a good way to prepare for the postseason, and invite the daily pressure playing in that league brings. 
Because even as they try to avoid it, the pressure of greater expectations is a reality they have to face. 
"I think we have a really good team, in my opinion," Ross said. "Last year we were kind of going after everybody, and now we're being looked at like they want us. So I would say it's a little more pressure, but it's nothing we can't handle." 
The best way to handle any pressure that may seep in? By going back to what worked so well a year ago – staying loose. That starts with the coaching staff. 
"We're a little more relaxed; we're not screaming and hollering," Leddy said about his staff, which includes assistants Mark Jebb and David Finzel, as well as pitching coaches Chris and Nick Sarmiento. "I remember what it was like when I was a young kid; the last thing you wanted was a coach kicking you in the (behind) all the time. You want someone encouraging you to be a better person and a better ballplayer. I'm blessed to have some great coaches on staff that know a lot about baseball and care about the kids." 
The attitude of the coaches has certainly gotten through to the players. 
"What happens, happens, right?" Mitch Jebb said. "If we win, we win. The goal is to win, but it's not like Coach is saying, 'You better win a state championship.' We're all playing the game we love, and it's fun. It's fun playing. If we can win, we want to win – you always want to win. But the overall picture is to go out there and play your game and have fun." 

Paul Costanzo served as a sportswriter at The Port Huron Times Herald from 2006-15, including three years as lead sportswriter, and prior to that as sports editor at the Hillsdale Daily News from 2005-06. He can be reached at paulcostanzo3@gmail.com with story ideas for Genesee, Lapeer, St. Clair, Sanilac, Huron, Tuscola, Saginaw, Bay, Arenac, Midland and Gladwin counties.
PHOTOS: (Top) Swan Valley's Victor Mancini drives a pitch during last season's Division 2 championship game against Stevensville Lakeshore. (Middle) Shortstop Mitch Jebb fires a throw to first.