As Time Marches On, Tuttle's Blissfield Success Sets Record Pace
May 24, 2021
BLISSFIELD – Larry Tuttle spends a little more time in the dugout these days.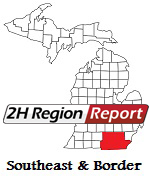 The Blissfield coach, 76, says that is his daughter's idea.
"My daughter tells me she didn't want me out there," Tuttle said. "My reaction time isn't what it used to be."
Tuttle not coaching third base is something new. However, not much else has changed with the Blissfield baseball program since Tuttle arrived more than five decades ago as a budding baseball coach.
He was an assistant coach at Temperance Bedford who wanted to be a varsity head coach. Blissfield gave him that opportunity, and he never left.
"They asked me if I wanted to coach track," Tuttle said. "I said, 'No, I want to coach baseball.'"
Earlier this month, Tuttle's Royals beat Hillsdale, on the road, in front of a large contingent of former players, parents and community members who made the trip to witness history. With a 15-0 win in the opening game of the Lenawee County Athletic Association doubleheader, Tuttle passed former Grand Ledge head coach Pat O'Keefe to become the winningest high school baseball coach in state history. 
Blissfield is up to 27-3 this season, giving Tuttle 1,324 career victories. O'Keefe compiled 1,315 wins during 1968 and then between 1970 and 2019 before stepping down. Both are in the Michigan Baseball Hall of Fame. 
"Pat and I go back a long way," Tuttle said. "We've known each other a long time. We were both active in the coaches association as board members. He is a good man. This record has been between he and I for many, many years."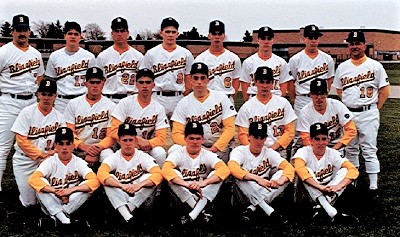 The secret to Tuttle's success is that he treats today's games pretty much the same way he did when he took over the program in 1968. 
"The expectations don't change," Tuttle said. "That's important. It is the same today as it was with all my teams. You set that expectation early on. The kids have been great."
Tuttle has had enormous success at Blissfield. This week the Royals clinched the LCAA tittle, the 40th league title Tuttle has won during his 53 seasons. Also during that span, Blissfield has won 32 District, 23 Regional and seven MHSAA Finals championships. His most recent Finals title came in 2003, which, at the time, was his third in four years. 
He has coached several baseball players that went on to play in college, several at the Division I level, and around a dozen who were either drafted or signed as free agents with Major League Baseball organizations. A couple of them have made it to the Major Leagues, and others have remained in professional baseball as coaches or managers at one level or another.
Steve Babbitt moved to Blissfield in the late 1980s when he was hired as a teacher, and became Tuttle's assistant coach. He eventually became Blissfield's athletic director. He was in the district for 30 years, and has retired – and Tuttle is still at it.
"He already was the head coach for 20 years when I got here, and now I'm retired and he's still coaching," Babbitt said. "It's remarkable. … For somebody to be as passionate as Larry and to do it as long as he has, for more than 53 years, is unbelievable."
Babbitt said Tuttle might have mellowed a little bit over the years, but, to his credit, he's adapted his coaching style while keeping the expectations the same.
"Once you cross that line and get on the field, nothing has changed," Babbitt said. "The expectations are the same. He loves the game."
Tuttle coached third base up until this season, when he decided to turn that duty over to assistant Eric Schmidt, one of his former players. Tuttle not only coached Schmidt, but Schmidt's father as well. The Royals have several coaches, all with various duties.
"Eric is doing third base this year and doing an excellent job," Tuttle said. 
Matt Ganun and Matt Jones – both former Royals baseball players – take turns coaching first base. Another former Royal, Jeff Jackson, helps relay Tuttle's calls from the dugout. 
"Jackson and Ganun were on the 1992 state championship team," Tuttle said. "They know the game."
Having so many coaches in the dugout is a blessing, Tuttle said.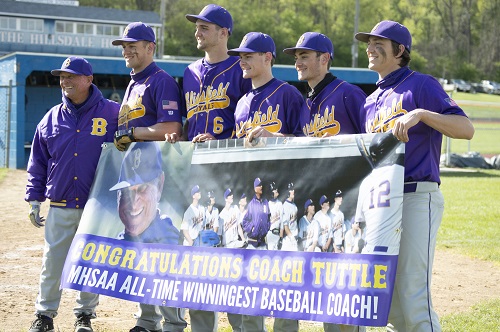 "I've got a lot of great coaches with me," Tuttle said. "Everybody knows their responsibility and it just falls into place, much better than anybody thinks. If someone look at us, it looks like we are stumbling over ourselves. That's not the case at all."
Tuttle has heard from several of his former players and community members since setting the wins record.
"I've had a number of players who have contacted me, some over the internet, some have phoned. It has been very exciting from that standpoint and very rewarding to hear from them," Tuttle said.
"I heard from Brad Fischer. He has been in pro baseball for 43 years with various teams, Major League teams. … He made a comment to me that really hit home. He said, 'Coach, if it hadn't been for you, my career in baseball would never have happened.' That really hits home when someone tells you that. Then I know maybe I've had an impact on some lives."
Blissfield is enjoying one of its best seasons in years, led by five seniors – Nolan Savich, Ty Wyman, Zack Horky, Scott Jackson and Gavin Ganun. Ganun and Horky have signed to play at Bowling Green State University next season. 
Tuttle's goals have been the same pretty much every season for years – win the league, win the District, and make a deep MHSAA Tournament run. This year's team is ranked No. 6 in the most recent Division 3 coaches association poll.
Breaking the record also brought a lot of attention, from newspaper and television stations to Bally's Sports Detroit doing a segment on Tuttle and the team for a Detroit Tigers pre-game show.
"It's been exciting," Tuttle said. "It's been good for our whole community and the school system. In a small town, the school system is a major part of the community."
Tuttle lives across the street from Blissfield High, not much more than a long fly ball from the Royals' stadium. Most days, especially this time of the year, that is where you will find him, working on the field.
"I don't do as much as I used to because I have a lot of people helping me," Tuttle said. "Some of the other coaches won't let me now. But I'm over there almost every day doing something, because usually there's something that has to be done to keep it looking like it does."
Some things never change.

Doug Donnelly has served as a sports and news reporter and city editor over 25 years, writing for the Daily Chief-Union in Upper Sandusky, Ohio from 1992-1995, the Monroe Evening News from 1995-2012 and the Adrian Daily Telegram since 2013. He's also written a book on high school basketball in Monroe County and compiles record books for various schools in southeast Michigan. E-mail him at DougDonnelly@hotmail.com with story ideas for Jackson, Washtenaw, Hillsdale, Lenawee and Monroe counties.
PHOTOS: (Top) Blissfield coach Larry Tuttle poses for photos with his team after setting the MHSAA record for baseball coaching wins this month. (Middle) Tuttle's 1992 team was among his Finals champions; he is standing back row, far right. (Below) Tuttle with this season's five seniors. (2021 photos courtesy of Joe Flaherty. 1992 photo from MHSAA files.)