1 Bloomfield Hills, 1 Win from Title
March 21, 2014
By Geoff Kimmerly
Second Half editor
EAST LANSING – Armand Cartwright and Yante Maten were more rivals than friends during middle school.
But that relationship clearly has grown for the better over the last four years. After all, Cartwright allows Maten to raid his refrigerator, things like that – and together, they've led first-year Bloomfield Hills High to a basketball level the school's predecessors never approached.
Bloomfield Hills – created when Lahser and Andover high schools combined last summer – reached the Class A championship game Friday with an 85-75 Semifinal win over Detroit U-D Jesuit at the Breslin Center.
Neither of the former schools made even the Quarterfinal round during their histories. But with the 6-foot-8 Yaten dominating the post, Cartwright running the show up top and a host of helpers filling in the rest of the lineup, the No. 8 Black Hawks upset a Cubs team ranked No. 3 at the end of the regular season.
"It feels like magic," Cartwright said. "It feels great for us to get all together in one year, to work as a team, to get together to win the state championship."
Bloomfield Hills (24-3) will face top-ranked Muskegon in the title game at noon Saturday.
Although the Black Hawks' roster definitely is Lahser heavy with 12 former Knights and five Andover players, four of the former Andover players were among the 10 who saw the floor during the Semifinal.
Together, a "team from top to bottom," in the words of coach Duane Graves held off another also having its best season of a much longer history – and despite missing one of its top scorers, who was unable to play Friday.
"It's been an honor to coach my boys. … They make me look good," Graves said. "When you coach you're a coach, but it's the players who play hard and make you look like a good coach. If you don't have the players who buy in to what you want, it's makes you just another coach."
Jesuit won its first Regional title on the way to Breslin and carried a 22-2 record into East Lansing. The Cubs didn't show it in falling 22 points down into the final minute of the third quarter – but showed plenty in cutting the deficit back to four with 1:32 to play.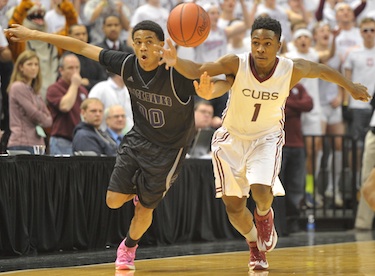 Junior Jamarie Collins scored 10 points during the 33-15 run that pulled Jesuit within 77-73.
"It's just that we got caught in the moment at the Breslin," said senior guard Noah King, who led the Cubs with 24 points and 13 rebounds. "We had a little bit of the butterflies and we didn't concentrate on how we play ball. We were able to do that in the second half."
But they weren't able to stop Yaten.
He finished with 25 points, 18 rebounds, four assists and four blocked shots and had five points and five rebounds as Bloomfield Hills went on an 8-2 run to finish that final 1:32 of the game.
Cartwright added 16 points and seven rebounds, with senior guard Xzavier Reynolds scoring 15 points with seven rebounds and four assists and junior guard Cameron Dalton adding 18 points off the bench.
Sophomore guards Billy Thomas and Cassius Winston added 21 and 16 points, respectively, for Jesuit, with Winston also dishing seven assists and grabbing six steals. Junior guard Gary Collins added 10 points off the bench.
The Cubs took the next step this winter after falling to Detroit Pershing on a buzzer beater in their 2013 Regional Final. Jesuit coach Pat Donnelly said the emotion in the locker room Friday was the same as a year ago – which is a good thing, because he knows that will bring his many returnees back to offseason work looking to avoid heartbreak next season.
"It's definitely a different mindset," Jesuit senior forward Nick Mutebi said. "In years past when we'd lose to a much tougher opponent, we'd just say it's OK, at least we tried. Now, in the years to come, we'll give each opponent our very best. And if we lose, it'll hurt. We don't take losses lightly anymore."
Click for the full box score and video from the press conference.
PHOTOS: (Top) Bloomfield Hills' Armand Cartwright brings the ball upcourt with U-D Jesuit's Gary Collins defending. (Middle) Bloomfield Hills' Cameron Dalton and Jesuit's Spencer Sanders work to corral a loose ball Friday.
HIGHLIGHTS: (1) Yante Maten had 25 points and 14 rebounds to lead Bloomfield Hills to an 85-75 win over Detroit U-D Jesuit in a Class A Semifinal on Friday. Here's a highlights package of plays Maten made during the game. (2) U-D Jesuit mounted a rally in the fourth quarter and got as close as four points from the lead on this Cassius Winston layup off the midcourt turnover by Bloomfield Hills.