Beecher Finishes Emotion-Filled Run with Title #9
April 10, 2021
EAST LANSING – Eight wasn't enough for the Flint Beecher boys basketball team. 
The Bucs won the program's ninth MHSAA Finals championship Saturday with an impressive 75-47 victory over Iron Mountain in the Division 3 Final at the Breslin Center.
Beecher moved into a tie for second with Detroit Country Day and Muskegon Christian/Western Michigan Christian for all-time boys basketball championships won. River Rouge tops all schools with 14. 
"We just wanted to come out and establish our defense," Bucs coach Mike Williams said. "They prepared and fought, and they executed. I couldn't be more proud."
Beecher had last won a Finals title in 2017. The Bucs' only loss this winter was to Division 1 contender Orchard Lake St. Mary's in the second game of the season.  
This was an emotional title run for Williams, whose father passed away nearly a year ago to the championship game date from COVID-19.
Senior Keyon Menifield Jr. lost his grandfather the day after due to COVID-19 complications.
"It's extremely special and these kids have been my therapy," Williams said. "This has been a long year for me and my family, and we had some other kids deal with it as well. This is a part of the healing for me and the community and the people that have gone through this pandemic. I'm just glad we got to the finish line."
Menifield Jr. scored a game-high 37 points – the ninth-most in an MHSAA Final. He was 17 of 27 from the field with only one 3-pointer and two free throws contributing to his total.
"We locked down our defense and we knew we had to get stops, close out and get rebounds," Menifield Jr. said. "I had to attack, and I had to make sure I got in the lane and made shots. The team that makes the most shots wins the battle."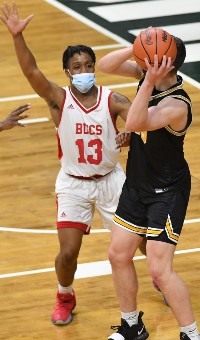 Williams, whose team won its last 15 games with only two opponents coming within single digits, said Menifield Jr. hasn't received the attention he deserves.
"I've been saying all along that he is either the most underrated player or the best player in the state of Michigan, period," he said. "I don't know anyone who wants to guard him, and I've talked to college coaches who have not recruited him and told them they were crazy."
The Bucs also were able to contain Iron Mountain senior standout Foster Wonders, who scored more than 2,000 career points.
He was held to 13 points and didn't score until the third quarter. 
"The best compliment I can give a player is I would pay money to watch him play," Williams said. "That kid can play, and we knew that we had to neutralize him one way or the other for us to have a chance to win." 
The Bucs held a commanding 38-19 at halftime. They led by as many as 34 in the second half en route to the decisive victory.
The Mountaineers simply couldn't match Flint Beecher's size, speed and athleticism. The Bucs' full-court pressure forced 20 turnovers
"All the credit goes to Flint Beecher," Iron Mountain coach Harvey Johnson said. "They were tough, and they did to us what no other team could do completely. They're quick, they're fast and their press and ability to create off the dribble bothered us. He had his team well-prepared."
Iron Mountain finished as Division 3 runner-up for the second time in three seasons, and Saturday's loss was only the Mountaineers' second over the last two seasons. They were 21-1 last year before the pandemic halted the postseason.
"These eight guys were outstanding, and we beat some great teams to get here," Johnson said. "I think they represented themselves, our school, our community, and the entire Upper Peninsula with great class. They worked hard and overcame a ton of adversity like every other athlete in the state did to get here. Not many kids get to play here, and we were blessed to be able to do that."
Jurgen Kleiman added 12 points and eight rebounds for Iron Mountain, while Dante Basanese chipped in 11 points. 
PHOTOS: (Top) Beecher's Carmelo Harris makes his move toward the lane during Saturday's Division 3 Final. (Middle) The Bucs' Taylin Muldrew (13) gets a hand up as Iron Mountain's Foster Wonders looks to pass. (Click for more from Hockey Weekly Action Photos.)