Buckley Ends Wait with 1st Semifinal Win
March 23, 2017
By Geoff Kimmerly
Second Half editor
EAST LANSING – Buckley's boys basketball team waited a long time to make this history – more than 100 years on the court, and then through a double overtime Semifinal on the other side of the Class D bracket Thursday.
But however long it took to earn the program's first MHSAA championship game berth, it was going to be worth it.
The Bears' best run ever will reach this season's final day, as they won their first Semifinal in team history 68-61 over Lansing Christian at the Breslin Center to advance to Saturday's 10 a.m. Final against two-time reigning champion Powers North Central.
Only twice previously had Buckley made the season's final week, playing in Quarterfinals in 2010 and 1998. But the Bears have built a dominating 26-0 run this winter keyed by a talented group of juniors who have brought plenty of attention to their small town tucked 20 miles south of Traverse City.
"Speechless. Unbelievable. (I'm sad) it's over, but I'm glad we're here," junior Austin Harris said.
"Sometimes like tonight, I'm just standing out there watching these guys shoot free throws," junior teammate Denver Cade added, "and I'm like, 'Man, we did it. We're here. Let's just keep winning.'"
That toughest task is next to come. Buckley takes its perfect season into the championship game against the Jets, who needed double overtime in their Semifinal to get past Southfield Christian and extend their nation-best winning streak to 82 straight victories.
That 40-minute classic left Buckley and Lansing Christian waiting a little longer to finish the night. But the Bears were more than ready when they got their chance.
Buckley led for all but 16 seconds during the final 27 minutes against the Pilgrims (19-7), yet by only two after senior Nick Jamieson's 3-pointer pulled them to within 61-59 with 1:03 to play. But the Bears closed on a 7-2 run making 7 of 8 free throws while Lansing Christian connected on only one shot in four attempts while trying to catch up over that final stretch.
"I thought that might be a problem," Buckley coach Blair Moss said of the delay. "But these guys came right out. I said let's go get them, let's attack them. We're not scared of anybody. We've been doing it all summer long, all fall, and I'm so proud of these guys because they took it right to them."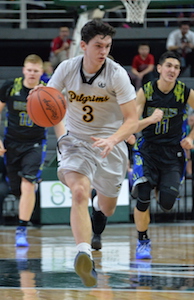 Harris led with 28 points, 10 rebounds and six assists, and Cade added 13 points and nine rebounds. Guard Joey Weber, another junior, added 10 points and six boards.
Lansing Christian said good-bye to a strong senior group, with center Preston Granger leading one more time with 15 points and eight rebounds, Forrest Bouyer adding 13 points and Matt Havey scoring 10. All five starters will graduate this spring, but having brought the Pilgrims to their second Semifinal in five seasons.
"I met with them in August … and said what do you want to do?" Lansing Christian first-year coach Chris Mustaine said. "I'm brand new, this is a senior-heavy team. What do you want to do? What do you want to accomplish? Do we want this to be fun, or what are our goals?
"And they laid it out. They said we want to play at Breslin. We want to be the best possible team we can be, and they have spent every day since that day in August trying to do that, all the way up to today. Even in the middle of the fourth quarter, we said how can we get better? And they did; we just came up a couple shots short, a couple missed free throws short of having a shot at it at the end."
For Buckley, the biggest test is yet to come. But the Bears were looking forward to that challenge already late Thursday night.
"We came down here and we talked," Moss said, "and we said we're not going to go home yet."
PHOTOS: (Top) Buckley's Ridge Beeman (30) tries to direct a shot around the outstretched arms of Lansing Christian's Forrest Bouyer. (Middle) The Pilgrims' Matt Havey (3) pushes the ball upcourt.