Dollar Bay Adding to UP's D Dominance
March 6, 2018
DOLLAR BAY — Small school. Huge tradition.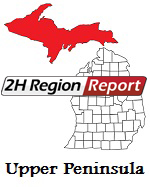 That's pretty much the way it is with the boys basketball program at Dollar Bay, a high school of 100 students in this tiny community in the Keweenaw Peninsula.
Dollar Bay completed a perfect regular season Thursday night with a 70-59 victory at Painesdale Jeffers and opened District play Monday with a 47-24 win over Chassell in Class D.
The Blue Bolts (21-0) hope to go deeper into this year's tournament and next host Baraga in a Wednesday District Semifinal.
A year ago, they reached the Regional opener at Negaunee where they dropped a 75-73 decision to Powers North Central. The Jets then went on to capture their third consecutive Class D title.
"The biggest thing I took from that game is what we can do as a team," said senior forward Jaden Janke, an all-Upper Peninsula Class D second-team pick last season. "That got us excited for this season. It made us want to work that much harder."
Senior guard Devin Schmitz, an all-U.P. Class D first-team selection, had similar thoughts.
"We wanted to show we had good Class D teams up here," he said. "We didn't have Brandon (Thompson) for that game. Just having all the guys coming back made us excited for this season."
If the Blue Bolts win the District, they would be shooting for the school's first Regional crown since 1979.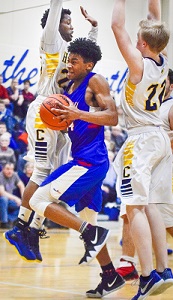 "To have a successful program at Dollar Bay, it has to start from the ground up," said coach Jesse Kentala. "The kids love basketball and play it on their days off. It's really a joy being around these guys every day. In a small community, you get to know the families real well. There's a lot of basketball history here."
Pete Dix, a 1994 graduate, holds the all-time career scoring record at Dollar Bay with 1,556 points.
Schmitz scored 30 at Painesdale on Thursday, running his career total to 1,537. But Kentala said the players have always put the team before their personal goals.
"I've been coaching for 11 years and these are some of the most competitive practices I've seen," he added. "The strength of our team is we have all five guys working together. This is the most unselfish group of guys I ever coached. For them it's all about sharing the ball."
"Our second unit is also real good," Schmitz added. "Having these guys to practice with helps the starters. It's kind of like playing with your little brother. They're going to beat you sometimes."
Dollar Bay already has some experience playing on a big stage this season. Last month it earned a 51-42 victory over Ewen-Trout Creek in front of a crowd of nearly 3,300 at nearby Michigan Tech.
"We were originally scheduled for Tuesday (Feb. 6) at our place, then we changed it to Wednesday night because nothing else was going on," said Kentala. "We thought they would draw 1,000-1,500 people. None of us expected that kind of atmosphere. They were at capacity. There were people sitting on the hardwood. That might have been the biggest attendance for a jayvee game in the U.P."
The contest was heavily promoted by Houghton Daily Mining Gazette sports editor Bryce Derouin and got media attention statewide.
"Bryce promoted the game real well," said Kentala. "We had two real good basketball teams, programs that have had success for years. I think it was great for both programs.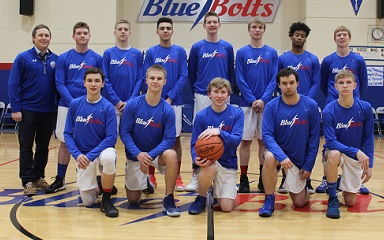 "Moving the game to Tech is a decision we'll never regret, and that's something the kids will remember for the rest of their lives. I even talked to a writer from the Detroit Free Press who did a small article on our team. You can't help but chuckle when you think about it."
What was it like playing in front of so many fans?
"It was real exciting," said Schmitz. "We never played in front of that many people before. It was very loud. We couldn't hear the coaches. When we went out and saw that many people, we said, 'This is going to be fun.' It made us want to dunk before the officials came to the floor. We could feel the building shake. We were lucky to experience that."
Dollar Bay had a close call two nights later, edging Ontonagon 62-61 on its home floor.
"The week before, (the Ewen-Trout Creek game was) all people were talking about," said Janke. "We're trying not to make that game our peak. It was exciting to play at Tech, but we were glad to be on our home floor. Ontonagon has a good team. They're not to be taken lightly."
PHOTOS: (Top) Dollar Bay's Devin Schmitz goes up for a layup during Monday's District win over Chassell. (Middle) Dollar Bay's Jacob Iacono drives to the basket. (Below) This season's Dollar Bay boys basketball team, after its win Monday. (Top and middle photos courtesy of Bryce Derouin/Houghton Daily Mining Gazette. Below photo courtesy of the Dollar Bay athletic department.)