Guards Answer Call for Country Day
March 23, 2013
By Geoff Kimmerly
Second Half editor
EAST LANSING – Before Saturday's MHSAA Class B Final, Kurt Keener challenged guards Edmond Sumner, Mory Diane and Austin Price to carry Detroit Country Day to one more win.
In the recent past, Keener might've asked something similar of guys like 6-foot-11 Amir Williams or 7-0 Da'Shonte Riley. But this was not like most teams Keener has coached to 678 wins over the last 35 seasons.
Of course, Country Day has had outstanding guards lately as well – Ray McCallum and Kenny Knight keyed the 2010 title run – but it's been a while since a Yellowjackets team has been this guard-driven.
But as they've done all season, the trio was ready to answer. Price had 15 points, Sumner 13 and an ill Diane seven in just 16 minutes as Country Day survived its closest game of the tournament to defeat Detroit Community 57-49 and earn its ninth MHSAA championship.
"We're used to it. With our hard work in practice, we knew what to do when we came down the stretch," Edmond said. "It was nothing new to us."
But a title is to this group. Although Price played in Semifinals the last two seasons and Diane joined him in the starting lineup in 2012, none had played in a championship game before facing Community, located just 10 miles south of the Yellowjackets' campus.
Country Day (25-3) was the favorite coming in to the tournament as the top-ranked team in the final Associated Press poll. But Community (18-10) proved to be much closer in ability than the teams' records indicated.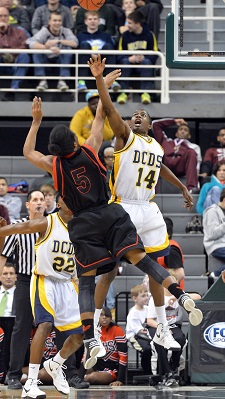 Much has been mentioned during the tournament of the tough schedules both played during the regular season, and particularly of the ranked Class A teams that handed Community a few losses but also pointed the Hurricanes down the path toward their first championship game.
Although Country Day led by a handful of points for most of the final three quarters, Community tied the score 36 seconds into the fourth.
"Sports at times, you've got to just dig deep and make a stop. I just kept saying, 'one more,'" Keener said. "I asked Mory at one point at halftime, 'Can you give us one or two plays?' One or two plays in a game like this make all the difference in the world."
Diane made the jumper that put Country Day back ahead 46-44 with 7:09 to play. Price hit six free throws and Sumner a pair down the stretch as the Yellowjackets finally pulled away for good.
But not until the final minute did it feel like Community had run out of comeback opportunities.
Country Day broke 100 points twice but scored fewer than 62 points only once before Saturday. The Hurricanes outshot the Yellowjackets 41 percent to 39 and had only one fewer rebound. The difference came in part at the free throw line, where Country Day made 20 of 26 tries and Community made only 9 of 16.
"The pressure bothered us a little bit. … If we made some free throws and layups, I think we're right there," Community coach Venias Jordan, Jr., said. "This is right where we wanted it. Going into the game, I told (my players) if we keep them 55ish, we had a chance to win."
But Country Day and especially 6-foot-4 sophomore Deshawn Thomas also did well in limiting South Florida recruit Byron Zeigler. The 6-6 senior had 17 points Friday, but only nine on five shots in the Final.
"They made it pretty hard for us to get in our spots on offense, made it tough for us in the post," Zeigler said. "They fronted us, double-teamed us, trapped us. They did everything possible to make us uncomfortable so we couldn't get into our sweet spots."
Senior forward Jerrell Martin led Community with 13 points and eight rebounds.
Thomas had six points and eight rebounds in 18 minutes off the bench for the Yellowjackets.
PHOTOS: (Top) Detroit Country Day's Maurice Ways (22) and his teammates rush the floor after the Yellowjackets clinched the Class B title Saturday. (Middle) Country Day's Austin Price (14) and Community's Landie Davis go for a loose ball during the championship game. (Click to see more at HighSchoolSportsScene.com.)