North Central Finishes Memorable Run
March 28, 2015
By Geoff Kimmerly
Second Half editor 
EAST LANSING – Powers North Central's three-season quest to win its first boys basketball championship since 1984 will go down as one of the most successful in MHSAA history.
And how the Jets finished this winter should make them among to most memorable Class D champions for at least a few seasons to come.
North Central capped the run with a 67-47 win over Morenci in Saturday's Final at Michigan State University's Breslin Center, and in doing so pushed its three-season record to 75-5 – with the wins tied for seventh-most over three seasons in MHSAA history. 
The Jets finished this winter 27-0, combining what coach Adam Mercier calls a lost art, a sizable lineup unlike any Morenci had faced this season, and an incredible scoring touch that showed to a statewide crowd when North Central hit an unreal 70 percent of its shots from the floor during the first half.
"We have a lot of skill players, a lot of kids who love basketball," Mercier said. "These kids just play a style that I like to coach, and I know fans like seeing." 
North Central's last two seasons had ended in the Semifinals and Quarterfinals, respectively. Despite entering this postseason ranked No. 1 in Class D, a pre-Breslin exit looked possible with five top-10 teams hailing from the Upper Peninsula, and three playing in the Jets' Regional.
They dispatched No. 5 Munising in the Regional Semifinal, then No. 7 Lake Linden-Hubbell in the Regional championship game. North Central downed another top-10 team, No. 6 Hillman, in the Quarterfinal. 
Morenci wasn't ranked heading into the playoffs – but eliminated previously-undefeated and No. 3 Waterford Our Lady in its Semifinal. Still, and despite playing a Class C-heavy schedule, Morenci hadn't faced a team with North Central's ability to put three players on the floor 6-foot-4 or taller, and all capable of handling the ball, scoring – and this season, playing much better defense as well.
"When your gameplan is to do your best to not let them beat you to the basket, make them shoot from the outside, and then you see continual 3 after 3 going in, it's kinda deflating," Morenci coach Jim Bauer said. 
The Jets made 10 of 13 first-quarter shots – 77 percent – including a pair of 3-pointers in jumping out to a 26-17 lead.
Senior Rob Granquist Jr. had nine of his 11 points during the opening period. 
"Coach and the guys told me to be aggressive," Granquist said. "It's my last game, so I was going to go out and do what I do. They trust me, and we trust each other."
The margin between the teams never got smaller than 18 points during the second half.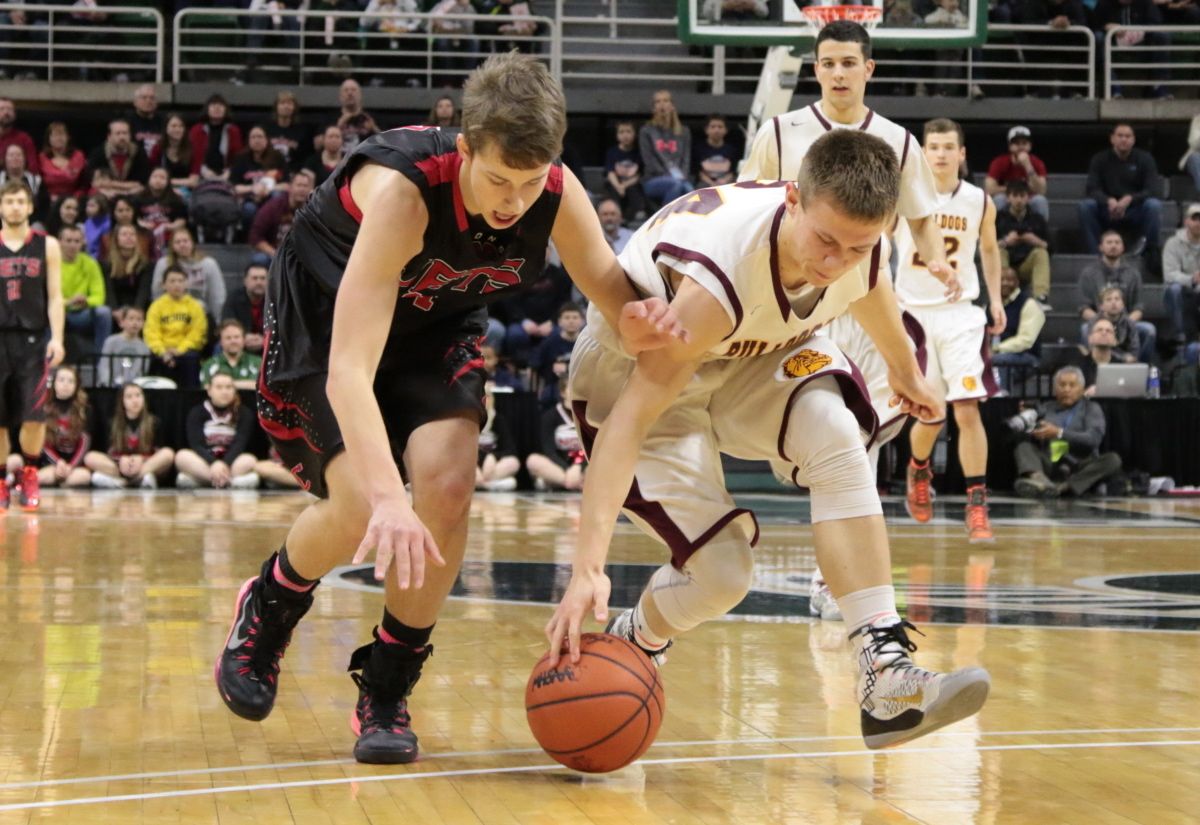 Senior center Torin Merillat finished his Morenci career with 11 points, 12 rebounds and three steals. Senior point guard Austin Sandusky also finished with 11 points. But the team's 3-point shooting success of Thursday's Semifinal and throughout this season wasn't of assistance Saturday – the Bulldogs (24-3) made only 4 of 28 attempts from beyond the arc – and total they connected on only 29 percent of their shots from the field in their first MHSAA championship game appearance.
"We knew lightning would have to strike, when we're playing a team with that size, quickness, ball-handling, rebounders; that team had it all," Bauer said. "I talked (to our team) about if we played them 10 times, they'd probably beat us nine, but we were hoping today we'd strike a little magic, play a perfect game and hang with them. For the most part, we did a respectable job. 
"The guys played with all their heart, what I've asked of them all year long. They have nothing to be ashamed of, I don't think."
Sophomore guard Jason Whitens led North Central with 19 points, making 9 of his 12 shots, and also had seven rebounds and four assists. Junior center Caleb Martin added 13 points and sophomore guard Bobby Kleiman also had 13 points, plus six rebounds. 
Granquist and guard Ryan Whitens are the team's only seniors. The MHSAA doesn't keep a listing for best win-loss record over four seasons, but the Jets will be worth following again as they pursue 100 wins and a second straight team title in 2015-16.
"They're basketball savvy, and you see that on the floor. They knew where they're passing before they get the ball even. We don't have set positions. We play in space. … I'm not a big set guy," Mercier said. "It's a matter of getting guys in good position to score and being ready to roll." 
Click for the full box score and video from the postgame press conference.
PHOTOS: (Top) Powers North Central players and fans celebrate after clinching their first MHSAA title since 1984. (Middle) North Central's Dawson Bilski (left) and Morenci's Bobby Black scramble for a loose ball.