North Farmington Reaches 1st Final
March 25, 2016
By Geoff Kimmerly
Second Half editor
EAST LANSING – North Farmington coach Todd Negoshian was glad his team drew the second Class A Semifinal on Friday at the Breslin Center.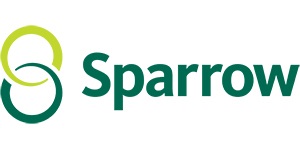 That meant an opportunity for the Raiders to get here for part of the day's first game and soak in the atmosphere before taking the floor themselves against Lansing Everett.
And they clearly were ready. North Farmington, playing in its first MHSAA Semifinal, jumped to a 9-2 lead over the first four minutes and never trailed in downing Everett 60-48 to earn an opportunity to play for the program's first Class A championship.
The No. 5 Raiders (24-2) will take on top-ranked Detroit U-D Jesuit in Saturday's noon Final. The Cubs ended North Farmington's season in a Regional Final a year ago.
"With (that) being back then our first trip to a Regional Final, we folded a little bit," North Farmington senior Alex Darden said, recalling the last time his team faced U-D Jesuit. "We weren't used to the atmosphere. But thankfully we learned from that, and we have 11 seniors this year, and we know what it's like. Going on this run, we've been playing in a great atmosphere for three or four games.
"I think we'll be prepared – we'll know what to expect this time."
Seniors supplied 75 percent of North Farmington's scoring Friday, led by guard Billy Thomas' 26 points. Total, eight seniors saw the floor, bringing valuable experience against a team that had more at Breslin – Everett also made the Semifinals last season, and this month became the first team since 2006 and just the sixth Class A team ever to reach this round of the tournament after beginning the postseason with 10 or more losses.
The two starters back from that team – senior guards Jamyrin Jackson and LeAndre Wright – led the charge to keep it close. A Jackson 3-pointer with 3:48 to go in the third quarter took North Farmington's lead to nine, and another jumper kept the Vikings only nine down heading into the fourth quarter.
Another Jackson 3-pointer pulled Everett within eight points with 4:37 to play. But North Farmington continued to answer and made all six of its free throws over the final minute to keep the Vikings (16-11) at arm's length.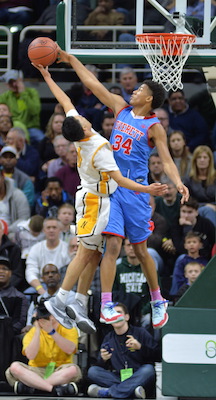 The Raiders led by as many as 17 during the third quarter and 15 during the fourth, extending again and again every time Everett tried to catch up.
"This season would've ended a week, or two, or three weeks ago but we kept coming back and winning games in the third or fourth quarter," Everett coach Desmond Ferguson said. "We've had slow starts all season for a number of different reasons. I don't know if we're not warming up good enough or think we can just turn it up. That's something that's plagued us all season, and it came back to bite us." 

Jackson finished with 27 points and Wright had 10 points, six assists and six rebounds.
Junior Amauri Hardy added 15 points for North Farmington, and Darden had 14 rebounds and four blocks. All five Raiders starters scored at least five points, and eight players saw the floor for at least seven minutes. 
"Any time you have kids the caliber that we do, with how unselfish they are, who sacrifice for the betterment of the team so we can keep winning, it shows their true character," Negoshian said. "When we left the gym this morning (at North Farmington), we talked about how it would be the last time that this group would be in the gym together. We wanted to make the most of it – and we're doing that right now."
The Boys Basketball Finals are presented by Sparrow Health System. 
PHOTOS: (Top) North Farmington's Alex Darden connects on one of his four blocks during Friday's Class A Semifinal. (Middle) Lansing Everett's Diego Johnson also gets a block, one of his two for the game.