Warren De La Salle Follows 'Big Mike' to 1st Final Since 1982
EAST LANSING – The guy his teammates know affectionately as "Big Mike," came up huge for Warren De La Salle Collegiate in Friday's first Division 1 Semifinal.
Michael Sulaka, a 6-foot-8 junior, scored a game-high 20 points, with eight rebounds and four blocked shots to power the Pilots past Grand Rapids Northview 59-45 and into their first boys basketball championship game in 40 years.
"I wasn't getting boxed out, so I was able to grab the rebounds, read the dude in front of me and put it back up," explained Sulaka, who managed to post big numbers despite playing just 21 minutes due to foul trouble.
The Pilots (19-7) were the more aggressive team and dominated the interior, holding a commanding 35-20 rebounding edge and even more impressive 20-1 edge in second-chance points. Tamario Adley, an athletic 6-3 senior, grabbed a game-high nine rebounds.
De La Salle, which won the Division 2 title in football this fall, will vie for its first boys basketball championship at 12:15 p.m. Saturday against Grand Blanc.
"We will enjoy this win for another half hour or 40 minutes and then get ready for one more," said second-year De La Salle coach Gjon Djokaj, whose team reached the Finals after completing the regular season 13-7 and fourth place in the Detroit Catholic League Central. "I have the utmost confidence in these kids.
"I was telling people this summer that you can go 13-7 and finish fourth in our league and still have a chance to go to the Breslin. Well, guess what? We finished 13-7 and fourth in our league and now we're in the state championship game."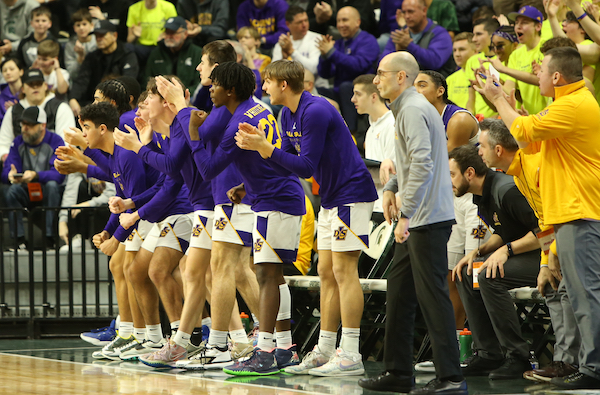 Djokaj is hoping his team starts Saturday like it did Friday, spotting Northview a 5-0 lead before ripping off a 16-2 run to take control.
The Pilots set the tone with defense, as their constant 2-2-1 full-court pressure and aggressive zone defense rattled the Wildcats. Northview started cold, making just 2-of-9 shots in the first quarter and finishing at 34 percent for the game, with Sulaka altering many shots from his middle spot of the Pilots' 2-3 zone defense.
"I'm 6-8 and I put my hands up, and it's hard for dudes to shoot over me," Sulaka explained, matter-of-factly.
While Sulaka was dominating the action inside, the Pilots' point guard duo of junior Nino Smith and senior Caleb Reese controlled the pace of the game. Smith scored 16 points, while Reese had just four, but contributed a game-high six assists.
"The strength of our team is our guard play," said Djokaj, who returned four starters off last year's team which lost in the Semifinals. "Our guards were making the right choices early and, in many cases, Big Mike was the beneficiary of that."
Northview (25-2) fought back from its early 16-7 deficit in the second quarter behind the play of 6-6 senior Jalen Charity, a Grand Valley State commit. Charity scored seven points in the second quarter as the Wildcats trimmed the lead to just six points by halftime, 30-24.
However, Charity picked up his fourth foul early in the third quarter and was forced to the bench. He scored just two points in the second half, finishing with nine and a team-high six rebounds.
The lead was still six points entering the fourth quarter, 43-37, as 6-4 senior Kyler Vanderjagt tried to spark a rally. Vanderjagt, a Belmont (Tenn.) recruit and the runner-up in the state's Mr. Basketball voting, finished with a team-high 19 points, but the Wildcats were unable to cut into De La Salle's lead.
"We didn't get some of those rebounds we really needed," said third-year Northview coach David Chana. "That's basketball. Some nights it just doesn't work out for you. All in all, it's been a great ride. We'll be back."
Tyran Thomas added nine points for the Wildcats, including three dunks.
Northview, the champion of the Ottawa-Kent Conference White, reached the Semifinals for the first time since 1990 and seemed to have its entire community packed into the Breslin.
De La Salle, meanwhile, gets the chance to win its first boys basketball title. The Pilots lost to Okemos in the Class B Final in 1982.
PHOTOS (Top) Warren De La Salle Collegiate's Nino Smith (0) works to get up the baseline as Northview's Cam Martin (24) defends. (Middle) The Pilots cheer on their teammates during the first Friday Semifinal. (Click for more from Hockey Weekly Action Photos.)