Performance: Plymouth's Carter Solomon
Carter Solomon
Plymouth senior – Cross Country
Plymouth's top runner the last three years capped his high school cross country career as the state's best – and one of its fastest champions all-time. Solomon won the Lower Peninsula Division 1 championship Saturday at Michigan International Speedway in 15:01.2, the sixth-fastest 5K Finals time in state history, earning him the MHSAA "Performance of the Week."
Solomon had finished 18th (and second among Plymouth runners) at the Finals as a freshman, then fifth as a sophomore and second as a junior before crossing the line first and five seconds ahead of the field in his last high school race at MIS. The win capped an unbeaten season for Solomon, and that's no small achievement – not only is LP Division 1 generally the fastest annually in the state, but four more of the top seven runners at this year's meet were from Solomon's Kensington Lakes Activities Association. He also ran at invitationals against a number of other contenders from other divisions, including twice against Dearborn Divine Child's Anthony and Michael Hancock, who finished second and third, respectively, in LP Division 2. Solomon's season and personal-best 14:42.7 actually came at the Regional at Ann Arbor Huron, where he cleared the field by more than 31 seconds.
As a team, Plymouth finished 12th at the Finals after earning the championship in 2018 and finishing runner-up in 2017 – again, both times with Solomon in the lead. He also will help pace the track & field team one more season in the spring after finishing fourth in the 1,600 and ninth in the 3,200 at last year's LPD1 Finals. Solomon will continue his running and academic careers next year at University of Notre Dame; he's carrying a 4.0 grade-point average this school year and will study either mechanical or aerospace engineering.
Coach Jonathan Mikosz said: "Carter is one of those runners that you dream about being able to coach. Not many other coaches have ever had the opportunity to coach a better runner in this state. When you have a guy on your team of that caliber, I think it helps bring out the best in other guys as well. He was a huge part of our teams that were state champions and state runners-up back-to-back years. … In this day and age when people are hiring private coaches and looking at the internet for advice, it has been great that someone of his abilities has bought in 100 percent into our system and our coaching plan. He has bought in since day one and always trusted us as coaches. That's rare in this day and age, but him being so coachable has also (contributed) to his success. I couldn't be prouder of what he has been able to accomplish. … He has worked hard and has stayed humble with his success. That's one of the things I am most proud of. We have both learned a lot from each other. He will definitely be missed next season."
Performance Point: "This weekend was awesome. I keep thinking about that race and everyone at the end and how it truly was an experience I will never forget. (It was) the last piece of the puzzle for my high school career. My season's not quite over yet; I want to race at Foot Locker. The team title was awesome – I was happy for the team – but coming in second (individually last year) was a bummer and I knew I wanted to come back next year and win it and check off the team title and individual title boxes on my resume. Getting that done this year was truly awesome."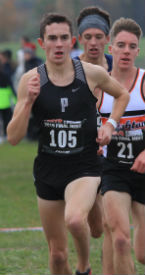 Providing the push: "I talk to the guys at other schools too; we talk about our races and what not. Having them there definitely is motivation, and I use that to push me while I am training. I have teammates too; Patrick Byrnes, he is a good training partner. I'm thankful for my competition."
Ready to rock: "Before I even go to the meet, I will run around my neighborhood for a shake-out run, but that's pretty common. I listen to music in my headphones. I have a playlist mixed with Foo Fighters, Korn, a little Metallica, your heavier metal classic rock kind of music."
No place like home: "(My favorite course) is our home course, Cass Benton Park. I like it because everyone else hates it, People come in, 'Oh, we have to race there …' Well, you're lucky you get to race it. It's a tough course – it's hilly, it's long, it's hard to mentally get through. But I've raced it so many times throughout my high school career, and even in middle school I raced it a couple of time. I've just grown to love it."
Running is for me: "I think the feeling I get after accomplishing my goals is what I work for. Practice six days a week, training a long time and coming up short is demoralizing. But when you reach the goals you set for yourself, and you do the things you didn't know were possible a couple of months before, I think that is really why I am addicted to it."
Engineer it: "When I was young, I was curious about how things worked and taking stuff apart. My dad introduced engineering to me, and I joined the engineering program at our school my freshman year. We did a lot of cool stuff in the engineering field, trying to get an introduction to it, and I really like it."
– Paige Winne, Second Half
Past honorees
Nov. 1: Jameson Goorman, Muskegon Western Michigan Christian soccer - Report
Oct. 24: Austin Plotkin, Brimley cross country - Report
Oct. 17: Jack Spamer, Brighton cross country - Report
Oct. 10: Kaylee Maat, Hudsonville volleyball - Report
Oct. 3: Emily Paupore, Negaunee cross country - Report
Sept. 26: Josh Mason, South Lyon soccer - Report
Sept. 19: Ariel Chang, Utica Eisenhower golf - Report
Sept. 12: Jordyn Shipps, DeWitt swimming - Report
PHOTOS: (Top) Plymouth's Carter Solomon races down the home stretch during Saturday's Division 1 Final at Michigan International Speedway. (Middle) Solomon leads a pack, including Brighton's Jack Spamer, earlier in the race. (Photos by Matt Yacoub/RunMichigan.com.)