CHASSELL — Small school. Big tradition.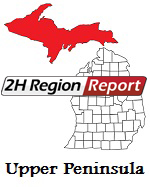 That's pretty much the way it is at Chassell High School, which captured both the girls and boys Upper Peninsula Division 3 cross country championships Oct 20 at Munising.
Both teams won for the fourth time in five years, with the girls retaining their title and the boys edging 2017 champ Brimley by seven points (47-54)
"These folks brought it against some strong competition," said sixth-year coach Marco Guidotti. "This team is grateful to race against such strong competition from all over the U.P. They're grateful for family, friends and teammates that support them through it all. It's nothing short of a privilege to have the opportunity to coach athletes of such character with steady support systems around each and every one."
Guidotti and four seniors had a chance to reflect on this season and the program's success Tuesday afternoon.
"It felt great for all of us, especially us seniors," said Abraham Gockenbach. "We lost to Gogebic and Houghton this year, but we didn't get crushed. We knew if we could compete with them, we'd be in the race (at Munising). Getting the championship trophy after a season of hard work was rewarding."
Kurtis Kytta said competing with D-1 runner-up Houghton and D-2 runner-up Gogebic (Wakefield-Marenisco/Bessemer) helped prepare the Panthers for the Finals.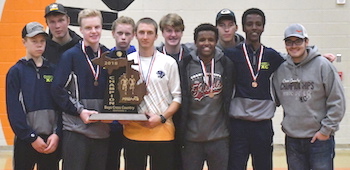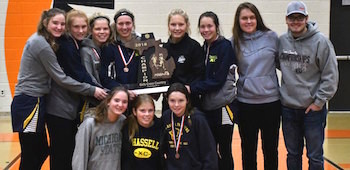 "The Finals kind of leveled the playing field because we were able to compete with schools our size," he added. "Our (Copper Mountain) conference has been real hard the past couple years, and it pushed us to work harder. When we first started (in 2014), we never thought this would happen. We knew we had to keep working hard."
Lela Rautiola remembers taking top individual honors as a sophomore two years ago. Cedarville, however, was crowned team D-3 champion.
"We were real close to Cedarville," she said. "I walked away from that with mixed feelings. I was happy that I won, but disappointed the team didn't win. I think that motivated the whole team.
"It feels pretty awesome to win it. This year we lost to Hancock in the first meet (Jeffers Invitational at Atlantic Mine on Aug. 28). It was a little disappointing at first, but it made us want to work a little harder. Then, we were runner-up to Marquette at Presque Isle (Park) in the next meet (in Marquette), which pumped us up a little."
Jenna Pietila fondly recalled the Panthers winning the Houghton Invitational on Oct. 4.
"That was our last meet with Houghton and Hancock this year, and it kind of set the tone," she said. "Knowing we could compete with them gave us a good feeling going into the conference meet and Finals.
"I remember when I was in eighth grade, we had no idea what to expect in the Finals (at Marquette) and we won it. It was total excitement. We weren't expecting that to happen. We didn't know what we were in for coming in."
Competition had been tight among Chassell, Houghton and Hancock all of this season.
"We're really grateful to be in position to compete that well against bigger schools," said Guidotti. "We have an area with great coaches who show a lot of devotion to their programs. We started with a handful of guys and two girls. Now, it stretches down from the senior class through sixth grade. Being good teammates and leaders are things we put a pretty big premium on. It's all for one and one for all."
Guidotti also is grateful for the support the team has received.
"The support we've had is remarkable, and I think it's undoubtedly linked to the team's desire to keep proving that hard work pays off," he said. "Every fall, my wife Sarah picks up the slack to keep our family running smooth at home, all while teaching and remaining such a positive influence on these athletes and the rest of the incredible Chassell family. It's the only way I can devote the time I do to the team.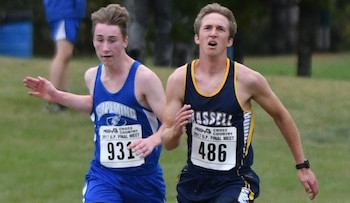 "Runners' families open their homes and host team dinners to help them bond and eat well before races, and our local VFW opened its doors for a tremendous meal toward the end of the season."
The Panthers also were treated to a meal the evening before the Finals.
"We went to Mr. Guidotti's in-laws in Marquette and had spaghetti, bread and fruit," said Pietila. "Then, we stayed overnight in Munising and did a lot of team bonding. It's fun to be together as a team. The bus rides got pretty interesting, and we tried to have fun at practice. The whole season was fun."
The Panthers then received a hero's welcome upon their return from the Finals.
"Parents and fans organized the most wonderful welcome-home celebrations for the team with firefighters giving their time to lead us back to the school from the (Houghton-Baraga) county line," said Guidotti. "Our community has expressed unwavering support to let us know they have our back. Chassell is a small town, but it sure feels big with the school and community support we've experienced."
PHOTOS: (Top) Chassell's Lela Rautiola (263) leads the pack on its first pass by the crowd at the U.P. Division 3 Final at Pictured Rocks Golf Course in Munising last month. (Middle) The Chassell boys and girls teams hold up their newest championship trophies. (Below) Chassell's Ben Tuomi (486) edges Ishpeming's Jordan Longtine (931) at the Tracy Strom Memorial Invitational held in Ishpeming earlier this fall. (Photos by Cara Kamps.)