Champions Prevail by Narrowest of Margins
June 1, 2018
GLADSTONE — A tie-breaker was needed to determine a team champion Thursday at the Upper Peninsula Division 3 Boys Golf Final.
Cedarville and Ontonagon finished with 351 strokes apiece on this warm and humid day at Irish Oaks Golf Course.
It was Ontonagon, however, crowned champion for the first time since 2006 based on a lower score by its fifth golfer.
Ontonagon's No. 5 golfer, senior James Domitrovich, shot 100 and Cedarville's fifth score was 104, enough to give the Gladiators the edge.
"The kids on both of our teams have a great work ethic," said Ontonagon coach Adam Spaulding. "The boys and girls are out there every day practicing, and the results have shown. The kids have come a long way in three weeks. Our course (Ontonagon Country Club) didn't open until May 12 (due to weather and course conditions), but they understand the situation."
Crystal Falls Forest Park placed third at 355, followed by three-time reigning champ Carney-Nadeau at 370 and Dollar Bay at 484.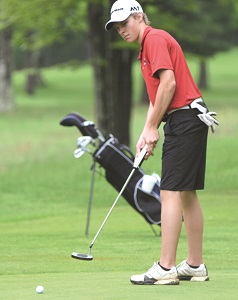 Forest Park senior Lee Hedtke was medalist with 80, followed by Ontonagon juniors Henry Menigoz and Ed Polakowski and Cedarville senior Trevor Khollman at 82.
"In the first nine holes, I played solid," said Hedtke. "I hit the ball straight, and staying on the fairway makes the game a lot easier. My short game was real good, and my putting was even better. It's a great feeling to do something like this at the end of the year."
Hedtke, who plans to enroll at Northeast Wisconsin Technical College in Green Bay this fall, fired a 35 through his first nine holes. A brief downpour then provided its share of challenges during the second half of the tourney.
"It was pouring for three holes in a row, and I got a little frustrated for about 4-5 holes," said Hedtke. "That can get into your head very quickly. Then, I became a little more patient and birdied one hole.
"A 35 in the first nine set the tone. We were waiting for the rain to stop, yet we wanted to keep playing at a fast pace. You just have to play through it."
Cedarville freshman Caleb Khollman placed fifth at 83. He was followed by Powers North Central senior Ben Snyder at 86, Carney sophomore Max Baumler, Cedarville freshman Jay Freel and Chassell junior Blade Warren all at 87 and Forest Park sophomore Evan Hedtke and junior Riley Hendrickson and Dollar Bay sophomore Ashton Janke all firing 89.
"That wasn't bad at all," said Cedarville coach Rob Freel. "Our second, third and fourth guys played about the same. I'm happy with the way we played. Our boys have a young group coming back, and our girls finished in a good place."
Pickford junior Cody Campbell sank a hole-in-one, using a 9-iron on the No. 5 hole.
"It felt nice," Campbell said of his tee shot. "It came off great and got a lot of elevation right away. It was jaw dropping. It was also very exciting. It's a very rare event to have happen."
PHOTOS: (Top) The Ontonagon boys won the U.P. Division 3 Golf Final title Thursday at Gladstone's Irish Oaks Golf Course. Members of the team are, from left: Henry Menigoz, Bradley Myhren, James Domitrovich, Eddy Polakowski, Tomas Immonen and Coach Adam Spaulding. (Middle) Forest Park's Lee Hedtke watches a putt roll toward the hole Thursday; he shot 80 for the boys medalist honor. (Photos by Mike Mattson.)