Skyline's Favorite Status Stands with 1st Finals Win
EAST LANSING – Ann Arbor Skyline was ranked No. 1 all season, which meant bringing high expectations into the Lower Peninsula Division 1 Boys Golf Finals as the prohibitive favorite.
And with a lineup that boasted two freshmen, the Eagles delivered at Michigan State's Forest Akers West.
Skyline recorded a two-day total 594, placing ahead of runner up Detroit Catholic Central (603), plus Traverse City West and Forest Hills Northern (each at 613).
Three of the Eagles' five players had never been to the Finals before. 
"So, they really didn't understand what all the hype was, which kind of served as a good thing, to not know exactly what they were getting into," said Skyline head coach Ashley Mantha. "But once they got here, they understood what I was talking about. Fortunately, our (program has) been here before so I could share with the newbies on what to expect."
Skyline had four players place among the individual top 25 to pace the field. Freshman Ieuan Jones was part of a three-way tie for runner-up to medalist Davis Codd of Brighton, followed by Skyline brothers Vibhav and Vimal Alokam at T13 and T23, respectively, plus Mitchell Strickland at T23.
"Usually we're the underdogs (coming into a state final), so there a big role reversal today," Mantha said. "We've never been in this situation so how do we prepare for people coming for us, so to speak?
"Each player has like a key phrase I can use to get them in the right head space. We talk about things like how they play with their buddies, or I say 'Washtenaw,' just little things that kind of bring them back down to their own game."
Mantha pointed out how the win was truly a team victory as Skyline counted a normally fifth-player score toward Friday's first round.
"Luke Richard, my junior, shot his best season score on Friday in the five spot," she said. Normally he's in the high 70s but he got a 74 for us, which counted because my No. 1 shot his worst score (on Friday). You can talk about how we should play, but he really played to the moment."
On the individual side, Brighton's Codd had spent the last two weeks at an NHL prospects hockey camp in Erie, Pa. – and had to return there immediately Saturday night to play in a game Sunday in front of several NHL pro teams' scouts. 
Yet that didn't stop the high school golfer from returning to Michigan twice to become co-medalist at his Regional and finish the season at Forest Akers.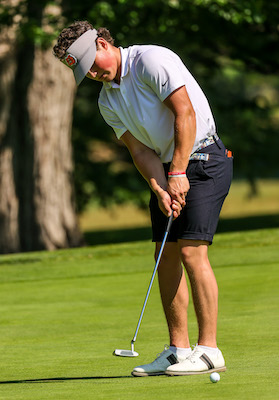 And did he ever finish it in style.
Codd came back from 12th place after Friday's first-round score of 73 to shoot 5-under par 67 on day two (140 total), to win the individual championship.
"Going into this day I had a game plan to go out there and make as many birdies as I could," Codd said. "The entire day I didn't look at the leaderboard once. After I walked off that green (No. 13) I kind of figured it out (that I'd won). But I had the same game plan all day, to go and attack the hole."
Attack he did.
Codd birdied his first four holes (Nos. 14-17), and after some up-and-down play midway through the round, he stepped up to the last hole, the par-5 13th, and ripped a drive down the long, skinny fairway to within wedge length. He made a two-putt birdie to top off his final round as a high school player, who happens to double as a professional hockey player for the Ontario Hockey League's Saginaw Spirit. Prior to joining the Spirit, he finished Division 1 golf runner-up as a freshman and sixth as a sophomore, and he was able to compete again this golf season because the Spirit have not played in over a year.
Codd out-paced three others who tied for runner-up at 143 – Murphy Kehoe of Traverse City West, first-round leader Jack Zubkus from Grand Rapids Forest Hills Northern, and Jones of Skyline.
"When you start off with four birdies in a row, that gets the wheels going around and sets a pace," Codd said. "But I had just a different level of focus on those first four holes, and when that happened, I felt like it was my day, and my day to win, so it was great to start that way."
Codd said he didn't get in a practice round for Finals, so he didn't set any expectations for himself. 
"I just went out there to try and enjoy my last two rounds as a high schooler, and it worked out," he said.
"It's pretty special to be a part of this Brighton program," Codd added about the team that took seventh place Saturday. "I was just so fortunate to have my coach, Jimmy Dewling, such a great golf mind and such a great friend, to guide my golf career these last few years and I can't thank him enough. And I've had great teammates over the years. We weren't the best my first couple of years, but the character in that group set this program on where it's headed. It's been a couple of great years in this program."
PHOTOS: (Top) Ann Arbor Skyline's Vibhav Alokam lines up a putt during Friday's first round. (Middle) Brighton's Davis Codd connects with one of his putts during Friday's first round. (Click for more from High School Sports Scene.)