Accomplished College Coach Giving Back to HS Track at Salem
April 23, 2021
PINCKNEY – John Goodridge has coached athletes of just about every level imaginable.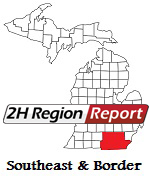 "My passion for coaching is just as high as ever," said Goodridge, 72, recently named the head boys track & field coach at Salem High School in Canton. "It's been fun. You really do come full circle." 
It's been a tremendous coaching journey over the past 50 years for Goodridge, a New York City native. It was not long after retiring from Eastern Michigan University in the fall that Goodridge got the coaching bug again. It started when he began attending cross country meets in the Ann Arbor area. Soon he realized he wanted to continue coaching and spoke to one of his former EMU athletes who was coaching at Salem and had found out the job as boys track coach was going to be open. 
"At some point, late in my career, I had the notion that someday I'd come back and coach high school, where it all started," Goodridge said. "In the fall, after I retired, an EMU alum who coached at Pinckney High School invited me to his home opening cross country meet. 
"It was enough being out there and seeing the young kids that it brought me back to 40-50 years ago. I spent the fall, every week, going to various local cross country meets. Just observing, just to see if I thought it was something I wanted to do." 
Ultimately, Salem athletic director Tim Baechler hired Goodridge, who has an incredible resume as a track & field and cross country coach. From coaching Olympic athletes to the United States team at the World University Cross Country Championships in Austria, Goodridge has coached world class athletes and NCAA championship-level contenders for decades.  
High school coaches have always had a special place in Goodridge's heart. One reason is he interacted with coaches from across the country while recruiting athletes to compete for him at Michigan State University (1979-1982), Wake Forest University (1984-1999) and Eastern Michigan (2001-2020). Another reason is that he started out coaching at that level.
"It's natural," he said. "A lot of people think college is a higher level and that kind of stuff, but I've always told people that being a high school coach is such an important role and opportunity to work with young people.  
"In many cases it's the most special relationship. A high school coach sets the tone. You are introducing the sport to young kids. That's quite a responsibility." 
Goodridge graduated from Long Island University in 1972. He and wife Francie (Kraker) met in the northeast while working for a shoe company. They returned to her native Ann Arbor while she was an elite world class athlete. Francie ran on U.S. Olympic teams in 1968 and 1972 and owned a world record in 1967.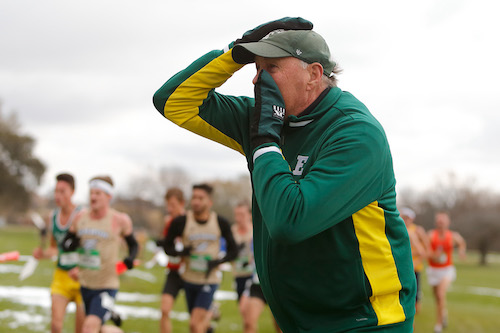 While in grad school, Francie was offered the position of track coach at Ann Arbor Huron but couldn't accept it because she was still an amateur athlete and couldn't profit from that status and remain eligible for the Olympics. 
Instead, she suggested to the Huron athletic director that the school hire her husband. His coaching career was launched. 
"We were two young people, trying to get through school on part-time jobs," Goodridge said. "We didn't even have a car. (Coaching) was a source of income." 
While coaching high school track, they also coached younger athletes on club squads, before moving to the University of Wisconsin-Milwaukee where they both were hired as coaches – Francie as the women's track coach and John the men's. After a short stint there, they returned to Ann Arbor and both took on roles at Ann Arbor Greenhills. 
Both coached for years. Goodridge had a long tenure at Wake Forest, coaching both cross country and track & field at a time when the Demon Deacons had unparalleled success in school history with 14 individual Atlantic Coast Conference champions and seven All-Americans. Francie coached at Wake Forest as well. 
The couple returned to Michigan in the early 2000s, with Goodridge taking over the Eastern Michigan cross country program and serving as an assistant track coach. He later became the head track coach. During his time at Ypsilanti, he directed numerous Eagles squads in both sports to conference titles. During his distinguished career, he coached conference cross country championship teams in the Mid-American, Big Ten and Atlantic Coast Conferences. He was the MAC Coach of the Year 13 times in cross country and coached 22 NCAA track & field All-Americans. 
This season he has more than 100 athletes on the Salem boys track & field team. He's having a blast with it, especially with the freshmen athletes who are just starting out learning about track. 
"Some of them may not be the most talented, natural athletes but they want to be part of the team," he said. "They might not be able to make another team, but they want to be involved in athletics and be on a team. It's been very intellectually challenging and inspiring to come up with new things for ninth graders, to make it fun and not let them get discouraged. 
"They put a smile on my face just about every day. I hope it's going to be keep me a young 72 and a young 73 and as long as I keep doing this." 
Goodridge also is building relationships with other area coaches. He's not been afraid to seek out advice. 
It's been a long time since I designed workouts for the young ones," he said. "It's fun to sort it out, to my own approach to training, with that age group. All athletes respond differently to training and intensity and what you give them. The age of the athlete is a factor in that. It's been a long time since I had experience working with freshmen. That's been fun." 

Doug Donnelly has served as a sports and news reporter and city editor over 25 years, writing for the Daily Chief-Union in Upper Sandusky, Ohio from 1992-1995, the Monroe Evening News from 1995-2012 and the Adrian Daily Telegram since 2013. He's also written a book on high school basketball in Monroe County and compiles record books for various schools in southeast Michigan. E-mail him at DougDonnelly@hotmail.com with story ideas for Jackson, Washtenaw, Hillsdale, Lenawee and Monroe counties.
PHOTOS: (Top) John Goodridge, center, retired in the fall from coaching the men's track & field team at Eastern Michigan University. (Middle) Goodridge also served as coach of the men's cross country team. (Photos courtesy of the EMU athletic department.)