Alwine's Risk Rewarded with Top Vault
June 5, 2019
Wyatt Alwine was one more failed attempt away from having a very bad day at last Saturday's MHSAA Lower Peninsula Division 3 Track & Field Finals.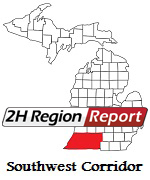 With some of his adrenaline reserve drained from a long rain delay, the Constantine junior — seeded No. 1 entering the meet — described himself as a "mental case" after having missed his first two tries at an opening height of 12 feet, 3 inches, one of which ended in the grass.
After finishing third overall for all-state status a year earlier, Alwine was in danger of not posting a height at all.  
"My head just wasn't there," he said. "The rain delays didn't help. I think that was one of the main reasons for a lack of focus."
A calming influence for Alwine throughout the storms was first-year Constantine pole vault coach Stephanie Teeple — a past three-time Finals champion at Sturgis (1998, 2000, 2001) who went on to do big things at the University of Nebraska and Western Michigan University, including breaking the WMU outdoor record. She always could count on her coach and father, Wes Teeple, who set a school record at Eastern Michigan University and won two league titles, and her mother, Cheryl, who also coached at Sturgis. Oh, and there was older brother Brad to lean on as well. Brad Teeple won a Class B crown in 1999 and went on to compete for Alabama and Nebraska.
Wes and Cheryl Teeple have made it to most Constantine meets this season after Stephanie joined the staff.
"It's good to have their whole family," Alwine said. They all come out and support us. It's a family thing. They definitely know what they're talking about."
And when Alwine found himself on the brink of elimination Saturday, he was ready for some encouragement.
"He struggled a little bit on the first two and put it together on the third one," Stephanie Teeple said of Alwine's start to the day. "You can either give up or want it, pull through and clear it. Once he got those jitters out, he just improved from there."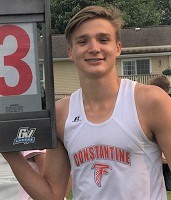 Alwine ended up with a personal-record of 14-3 to win the LPD3 championship, edging Beaverton junior Will Aldrich, who topped out at 14-0 in what ended up being a much more high-flying finals than in 2018. Alwine jumped 13-3 last year for his third-place finish — a height that was not even good enough for a top-eight spot this year.
But even after regaining confidence, Alwine had to trust his coach in crunch time. After clearing 13-9, it was time to take a chance.
Teeple told Alwine to move up to a 15-foot pole that he had never tried. This might not sound difficult to the uninitiated. But for anyone who has had the guts to vault, it's a rocket ride into the unknown. Added length requires more speed, more strength, a rock-solid plant and nerves of steel. Breaking one out on the biggest stage amplifies the importance of all the above.
"I said, 'I don't know about this,'" Alwine recalled. "It's a big pole. I just listened to her, and it ended up working out."
"If he wouldn't have gotten on that bigger pole, I'm not sure he would have gotten over 14-3 to win the meet," Teeple said. "That's all it takes, is one kid to get on a bigger pole and it makes all the difference. But that's what's good about Wyatt; he is pretty fearless. He has the tools to be a good vaulter, so I'm just glad I get to coach him and do what I know how to do best. I'm really excited for the future to see what he can do."
Alwine wasn't able to get over 14-6 cleanly as his leg caught the bar on his descent. After reviewing film of the attempt, Alwine said his body was nearly a foot over the bar.
"I knew I had something special when I got third at state," Alwine said. "This year, with Miss Teeple coming in, she gave me pointers that really helped me more. It was a lot different. But it kind of clicked a lot better with me. Miss Teeple brought up how the bottom arm is your power. The plant is most important. That and moving up poles got me up to higher heights. 
"It kind of got me stoked to do some summer vaulting with her because I know the height is there. It's exciting (that I won), but I'm already excited to get back to it."

Wes Morgan has reported for the Kalamazoo Gazette, ESPN and ESPNChicago.com, 247Sports and Blue & Gold Illustrated over the last 12 years and is the publisher of JoeInsider.com. He can be reached at wmorgan@joeinsider.com with story ideas for Berrien, Cass, St. Joseph and Branch counties.
PHOTOS: (Top) Constantine's Wyatt Alwine clears the pole vault bar during the 2018 season. (Middle) Alwine, this spring. (Top photo courtesy of JoeInsider.com; middle courtesy of Wyatt Alwine.)