East Kentwood Adds Perfection to Streak
June 1, 2019
By Dean Holzwarth
Special for Second Half
KENTWOOD – A hard pounding rain began to fall shortly after the East Kentwood boys track & field team reached the podium.
It was only fitting, as the Falcons reigned once again.
East Kentwood completed a three-peat Saturday at home in the MHSAA Lower Peninsula Division 1 Finals.
The Falcons scored 63.5 points in winning the Finals for the eighth time in the last 11 years. They also won three consecutive championships from 2009-11.
Ann Arbor Pioneer placed runner-up with 43 points.
"An amazing group of kids that just fought and fought and fought all day," East Kentwood coach Dave Emeott said.
The Falcons did so despite winning only three events. East Kentwood claimed top honors in the 800 and 1,600 relays, while Stephan Bracey won the long jump (24-1.25).
"We only had three firsts today, and everything else was a battle and they did it," Emeott said. "They stepped up in every opportunity they had, and they hung together. They trusted each other as teammates and came out on top at the end of the day. I'm just so proud of this team."
Junior Michael Osteno helped the winning 1,600 relay team as he joined Elijah Ealy, Junior Hie and Jeremiah Applewhite to clock a 3:18.54.
"It's something you dream about, running on this track and winning another state championship," Osteno said. "Going back-to-back-to-back was the goal today and we wanted to finish, execute and give an elite mindset to get that third one.
"We came out and did what we've been doing all season, and when it came time to step up like we knew other teams were going to do, that's what we did."
The victory also culminated a perfect season. The Falcons went undefeated in duals, in the conference championship and also won their Regional.
"At the beginning of the season the seniors talked about what we wanted to accomplish, and they talked about a perfect season," Emeott said. "That hadn't happened in the last couple years. They wanted to be perfect, and that's hard to do, especially in the O-K Red, but they stepped up and did it.
"We have a lot of young athletes, and some of them sacrificed for the team. They did four or three events. The other day I said that I didn't know why I was so stressed because I have nothing to be stressed about, because they are so nice and so great."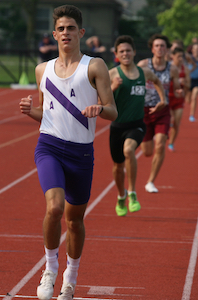 Ann Arbor Pioneer finished second for the second straight year and was led by senior standout Nick Foster, who capped an illustrious prep career with wins in the 1,600 (4:12.32) and 3,200 (9:08.55).
"This is the last time wearing a Pioneer uniform, and it's been a crazy last four years," Foster said. "I just wanted to go out with a bang, and our team got second. I'm going to miss all these guys, and it's pretty awesome to go out like this."
Foster competed in four events, and actually got a little rest because of delays due to inclement weather.
"I knew it was going to be a similar challenge, and I knew I was stronger coming in," Foster said. "This year there was more of a goal of winning all the events and trying to place in the 1,600 relay.
"There was a lot of pressure coming back, but I knew I was strong enough to do all these events and I tried to take one race at a time. Mother Nature helped with the delays."
Foster's final race was the 3,200, which he won by a little more than two seconds ahead of Alpena's Aden Smith.
"My third one, that was the toughest," Foster said. "I knew I had to stay close, and I had confidence in my finish."
Lansing Waverly's Keshaun Harris repeated in the 300 hurdles (37.75) and also won the 110 hurdles (13.98) after placing runner-up last season.
Rockford's Noah Stallworth also took home a pair of titles in the 100 (10.76) and 200 (21.64).
The following also collected individual championships: Grand Blanc's Ethan Vargo (high jump), Brownstown Woodhaven's Clarence Corbett (shot put), Alpena's Gabe Bullis (pole vault), Alpena's Eli Winter (discus), Novi's Miles Brown (800) and Westland John Glenn's James Flournoy (400).
PHOTOS: (Top) East Kentwood stays just ahead of Oak Park to claim a relay championship Saturday in LP Division 1. (Middle) Ann Arbor Pioneer's Nick Foster leads the way. (Photos by Carter Sherline. Click to see more from RunMichigan.com.)